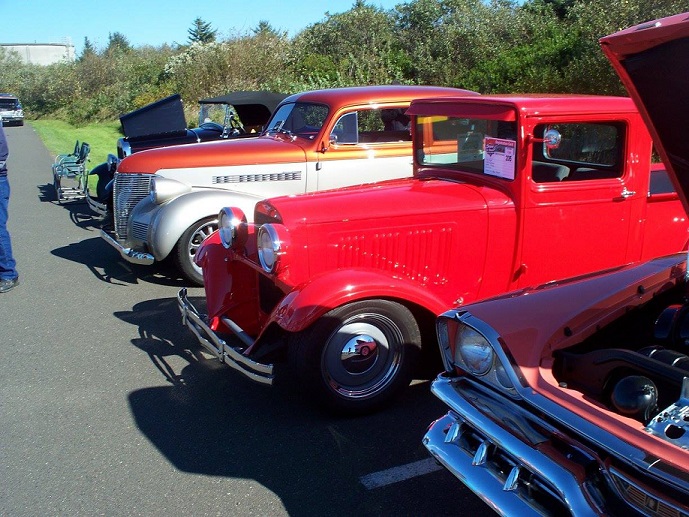 Nothing says summer like a weekend of sun, surf, hot rods, and high stakes fun. Friday and Saturday, April 22 and 23, enjoy it all at Quinault Beach Resort and Casino's 7th annual High Rollin' Hot Rods at the Beach.
With over $2,500 in cash and prizes awarded throughout the two-day festival, event organizer Johnny Manson is proud that "hundreds of classic cars turn out for this event with the masses parked in the designated parking area as you enter the grounds. It seems to get bigger every year."
Organized by Pushrods of Hoquiam as a fundraiser for local charities and college scholarships, the weekend is packed full of classic cars, food, music, vendors, raffles and activities. Manson says, "Pushrods of Hoquiam are Hot Rod Hall of Fame inductees and one of — if not the — oldest car clubs in the state." Rain or shine, bring your beloved project car, love of all things loud and shiny, and excited gaming spirit.
Registered hot rod participants are eligible for door prizes every 15 minutes and all visitors will find themselves surrounded by auto-related vendors, showcased vehicles on display, and a closing awards ceremony at 3:00 p.m. on Saturday, April 23.
Also attending will be newly retired Vintage Vehicle Show host Lance Lambert, a local journalist, author, appraiser, auctioneer and TV personality. Lambert will mingle, sign autographs, and happily talk cars and take photos with one and all.
Friday afternoon from 1:00 p.m. to 4:00 p.m., registered cars can participate in a citywide Poker Run, cruising around town collecting tokens that are later exchanged for prizes.
Enjoy both days by turning things into a fun-filled staycation. Quinault Beach Resort has discounted hotel stays available by using room code WIN2 when you call 888-461-2214 or booking online. They will also offer food and drink specials throughout the resort for the entire show.
High Rollin' Hot Rods at the Beach takes place from noon until 4:00 p.m. on Friday, April 22, and from 8:00 a.m. until 3:00 p.m. on Saturday, April 23. To inquire about registering your chrome-detailed baby, call Tony Halekakis of the Pushrods at 360-532-1918. Registration is $20.
The event is free to attend, but make sure to bring your Q Club membership card for extra perks. Q Club members receive discounts and bonuses across the Resort and a Burnout Bucks Grand Finale prize winner will be chosen on Sunday, April 24 at 2:00 p.m.
Directions to Quinault Beach's Great Hall at 78 State Route 115 in Ocean Shores can be found online. Come enjoy a first taste of summer fun while benefitting such generous organizations as the YMCA of Grays Harbor, Meals on Wheels, the Hoquiam Senior Center, Wounded Warriors, and police, fire, and benevolent organizations across the county.
Whether a hot rod is snug and dry in your driveway, in pieces in your garage, or still a figment of your imagination, make time to see the latest and greatest our region has to offer. You could return home richer in knowledge, contacts, prize money, or much-needed relaxation.
Sponsored