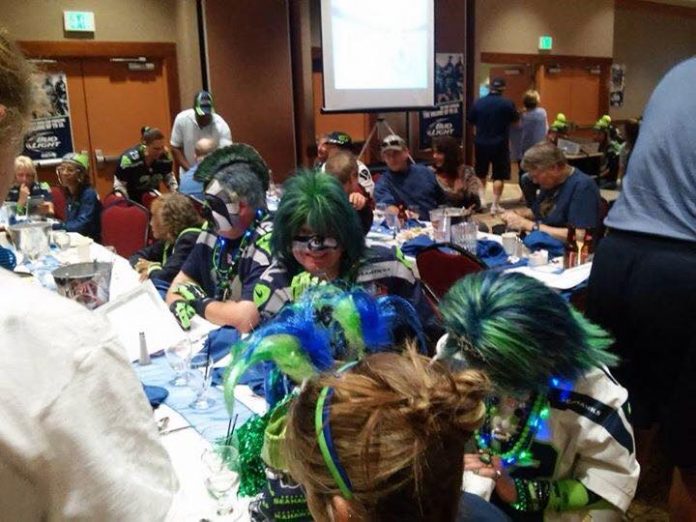 Brace yourselves, opening day for the 'Hawks is just around the corner. We take on the Miami Dolphins on Sunday, September 11, so you still have plenty of time to air out your jerseys and stock up on tailgating snacks galore.
Even before our recent Super Bowl adventures, the Pacific Northwest was Seahawks crazy. And we're not alone. Polls report that football is still the number one watched sport in most households, and viewership of the Super Bowl topped 110 million for the last three years.
Kick off this year's season in style at the Quinault Beach Resort and Casino's Fan Fest August 19 – 21, organized by the Mighty Alliance. Like tailgate parties, afternoon kick-offs, and cheering for the home team, this event is open to all ages and promises a weekend of activities, superstar players, and dawn-to-dusk fun.
Start by watching the Hawks take on the Minnesota Vikings Thursday, August 18, at a free viewing party in the resort's Ocean Lounge. There will be big screen televisions, food and drink specials, and giveaways throughout the game.
Friday is full of family-friendly scavenger hunts, vendors, and a Kids Zone at the nearby Ocean Shores Convention Center. There will also be kite flying, miniature golf, bumper boats, go carts, bowling, horseback riding, and moped rentals. At 5:00 p.m., return to Quinault Beach for autograph signings with Seahawks players, Mama Lynch, and many more.
Early birds and fitness buffs can join in a 5K run/walk on Saturday morning at 8:00 a.m. This is followed by a 10:00 a.m. parade, afternoon golf tournament, Native American dancing, more live music, family fun, and summertime excitement. Saturday night there will be fireworks at approximately 10:00 p.m.
Sunday begins with a charity pancake breakfast and ends by burning off the carbs at a rollicking flag football game with celebrity coaches.
Fan Fest events take place across Ocean Shores, with activities occurring almost hourly. Find a detailed schedule online with pricing, locations, and information. Can't decide which day to attend? Book a discounted room with code SUM1 (one-night stay) or SUM2 (two-night stay) and don't miss a thing.
Superfans (or those prone to excitement-based overindulgence) can book spa treatments in advance or plan to cool off in the resort's indoor pool. There will be plenty of ways to recharge thanks to dining specials, gaming fun, and on-site shopping.
Quinault Beach is located at 78 State Route 115 in Ocean Shores, an easy two-hour trip from Tacoma. Call them at 888-461-2214 with questions about this event, to book a room, or to buy tickets to the Ricardo Lockette Honors Dinner on Saturday, August 20.
During the 2015 regular season, Seahawks attendance averaged almost 70,000 people a game. This puts your odds of a handshake or selfie solidly in the 'slim to none' category. But thanks to Fan Fest, you'll have the opportunity to mingle with the greats for a relaxing four day weekend.
Sponsored