The holiday season is here and with it comes Christmas lights displays. There may be no finer way to get into the spirit than bundling up and heading out to admire either curated displays or driving through a neighborhood filled with houses decked out in lights.
Pierce County is an ideal place to go looking for lights as there is more than one option. Choose your own well-lit adventure, put on some holiday tunes of your choice and be prepared to get into the spirit.
1. Zoolights at Point Defiance Zoo & Aquarium
Tacoma's Point Defiance Zoo & Aquarium lights up for the holidays during their annual Zoolights display. Photo courtesy: Point Defiance Zoo & Aquarium.
When: November 24-January 1
Every night from 5:00 to 9:00 p.m., Point Defiance Zoo & Aquarium quite literally lights up. Zoolights has become a holiday tradition for many as it's one of the top Christmas lights displays in the area. Grab a mug of hot chocolate from the cafe near the entrance and stroll at your own pace through the lights. Many of the displays are animal themed – you'll see parrots, a giant octopus, polar bears and other animals who take up residence at the zoo. Others are holiday centric, and yet others present a touch of local pride like the Narrows Bridges display that goes up every year. An especially iconic display is the flame tree – a tree with thousands of purple and green lights on it near the center of the zoo that makes a great photo spot.
If you need to warm up, the aquarium building is usually open unless a private event has booked it, and a few other zoo residents tend to stay up late for the event like the meerkats and sometimes the river otters. The carousel and camel rides provide a little something extra for younger visitors (though, no one is stopping adults from taking a ride on the camel or carousel). If you want to combine a night at the zoo with a day, you can get combo tickets. Discount tickets are available in advance at Fred Meyer, or you can buy for full price at the gate.
2. Fantasy Lights
Enjoy beautiful Christmas lights without having to face the weather. Photo courtesy: Pierce County Parks and Recreation.
When: November 23-January 1
Fantasy Lights in Spanaway is another of the area's largest lights displays and offers a different experience from Zoolights. Where Zoolights is out in the open, Fantasy Lights is a drive-through display – perfect if you have little ones, if it's raining or if you just don't like strolling out in the chilly night air. About 300 displays line the roadsides of Spanaway Park and include stationary displays as well as animated ones. Don't forget to pause so Rudolph or Santa or the gingerbread man can jump over your car! Each year brings new displays, but long-time favorites include a giant red teddy bear, a dragon that flicks its tail, and the animated displays that leap over your car.
Fantasy Lights is open from 5:30 – 9:00 p.m. each night. On Fridays and weekends, you'll probably see a line of cars backed up onto Pacific Avenue, but it moves steadily. Turn on some holiday tunes of your choice, or flip the radio to FM 95.3, and enjoy the show.
3. Neighborhoods to Drive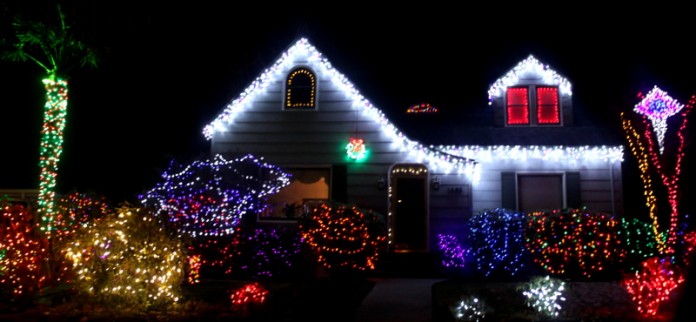 This Union Ave home in Tacoma is lit up with all the colors of the rainbow.
While curated lights displays are a lot of fun, no one says you have to pay a cost of admission to admire Christmas lights. Most neighborhoods have their fair share of homes that get decked out in everything from a single strand of lights to fully coordinated song and light displays. If your neighborhood isn't so great on the holiday front, North Tacoma especially around the Proctor District features enough lighted homes to make the drive. Driving around West Tacoma or University Place also yields plenty of finds, as do drives through Silver Creek or Gem Heights in Puyallup. But don't be afraid to just start driving as half the fun is coming around a corner to find a decorated house you didn't expect to find.