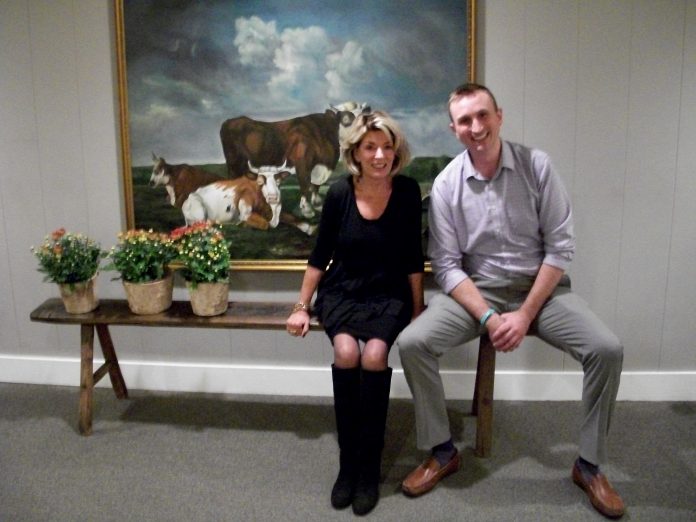 I once saw a French translation of the word antiques as "objects that talk." When visiting the Weatherly Inn assisted living community in Tacoma, the beauty and charm of its many antiques becomes abundantly clear. From vintage-inspired seasonal decorations to custom-framed art, the pieces combine to create a delightful atmosphere for both residents and visitors alike.
"It was so important to me to create a visually appealing atmosphere for the residents," co-owner Nancy Koelsch Bunn Munro told me on a recent tour of the Tacoma community. At Weatherly Inn, antiques and other artful finds are nestled throughout. "I got my love of older items from my mother. She used antiques to decorate our home and then family business starting in the 1960s and '70s," recalls Nancy fondly. "I just fell in love with the warmth, stories and energy of each piece."
When you are considering assisted living for your beloved family member, antiques and decor may not be the first things that come to mind. Weatherly Inn, with locations in Tacoma and Kent, is known for being family-run and for the quality of everything they offer, from dining (think customized, restaurant-quality meals) to programming (outings, weekly sign language classes and more). Their services are top notch. Yet, their thoughtful approach to resident care extends to literally every square inch of Weatherly Inn's environment, and it shows.
Nancy is the former owner of Nantucket Antiques and Interiors in downtown Olympia. Naturally, her love of antiques and skill for decor have spilled over into Weatherly Inn. In fact, she has brought in a number of pieces from her personal collection.
"I wanted to bring them here where they could live comfortably and bring pleasure to others," Nancy notes. She loves combining the old with the new, including some reproduction pieces and some downright modern touches. The unique mix works, blending beautifully to create pleasant and stylish surroundings.
As we toured the facility, Nancy stopped in several spots to make sure the lighting was just so. It is attention to details like this that bring Nancy's interior design experience to bear. The decor is just one example of the thought she and her family put into every aspect of the business. Though her son, Alex Bunn, runs daily operations at both facilities now while Nancy enjoys being a grandparent, Weatherly Inn is clearly always close to her mind and heart.
Nancy gathers antiques on her travels, choosing additions that will add something new and special. Pieces come from places all over the Pacific Northwest and as far away as England. A recent addition is a collection of antique Chinese pottery from a long-standing shop in Palm Springs. David Colgrove, owner of The Key Antiques in Lakewood, has been a reliable source of terrific finds. And the family has worked with Centralia's Ron Zucati, utilizing his vintage-reproduction furniture for decades.
While this effort creates a visually pleasing experience for residents, it also means much more. Whether an antique plate or a vintage Christmas decoration, Nancy says, "The residents and their families will smile and share stories about a piece that evokes special memories for them." By including objects from years past with newer items, residents feel increased harmony, peace and belonging in their surroundings.
Marketing Director Alex Lynn, who accompanied us on the tour, also exudes the compassion and dedicated spirit that is infused throughout the Weatherly Inn staff and operations. "The responses to the antique and vintage-style pieces is very positive," he notes. "It's just one thing that makes us unique."
These touches also go hand-in-hand with Weatherly Inn's philosophy of care. By including youthful portraits of many residents on the walls, playing old-time music and including familiar objects throughout the setting, residents experience an enhanced sense of integration and wholeness.
The Kent location, dedicated exclusively to memory care, features an old-time "Town Square," complete with a general mercantile store, ice cream shop and a fully restored 1948 Dodge car. (Learn more about their memory care approach here – and see a photo of the unique Town Square).
The antiques at Weatherly Inn bring new depth to the expression "a trip down memory lane." They are one of many threads of thought and care that are woven together to create a home for the residents, and a new "extended home" for the families who visit them.
To learn more about Weatherly Inn, visit their website or call them at 253-752-8550 (Tacoma) and 253-630-7496 (Kent).  Take a tour during the month of December and not only will you see the festive holiday decor by David Colgrove of The Key Antiques, but you'll also receive a free pound of Weatherly Inn Christmas Coffee. You can also read some resident reviews and see some great examples of their current programming on Facebook.
Sponsored