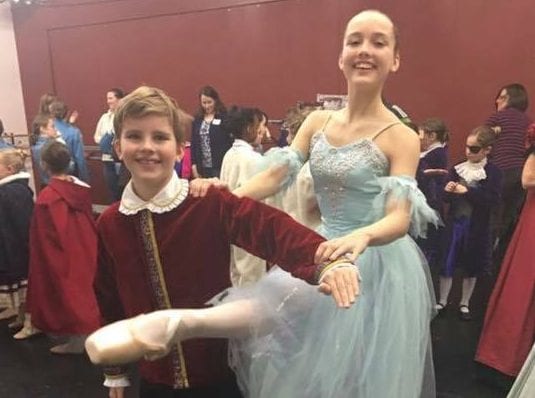 Dancing is a fun way to move your body and stay in shape. It can be good for you, but it can also cause a strain on your body when the training is frequent. The popularity of celebrity dance shows on television and the availability of dance classes from ballet and hip-hop to jazz and tap means that more people are dancing at every age. Dancing is a great way to exercise and there are many dance studios and troupes to join in our region.
Fortunately for dancers in the community, the professionals at Olympia Orthopaedic Associates are here to help them stay on their toes. I sat down with Dr. Richard Lamour to learn more about dancer wellness and injury prevention. Dr. Lamour did a fellowship in foot and ankle surgery at the Las Vegas Orthopaedic Foot and Ankle Institute. Treating members of the famous Cirque du Soleil troupe gave him the expertise and experience that he is now bringing to our local dancers.
Dr. Lamour wants dancers to know that it is important to listen to their bodies and address issues before they turn into obstacles. He is educating dancers and their parents about the best ways to stay healthy and injury free while maintaining a rigorous dance schedule. "Dancers, like many other athletes, are often reticent to slow down and take a break when they are suffering from an ankle sprain or a bone bruise," explains Dr. Lamour. "Seeing a professional, identifying the problem and coming up with a diagnosis and plan is the first step to avoiding a prolonged injury or even surgery."
"Contrary to what people may think, very few dance injuries require surgical intervention if diagnosed early," adds Dr. Lamour. Orthopaedic surgeons are pleased when they can help their patients avoid surgery.
The most common dance injury is an ankle sprain. Some simple sprains will heal on their own, but 20-30 percent can have complications such as an avulsion fracture, or a small fragment of bone tearing away. Bone bruises and cartilage tears are examples of injuries that can occur due to a physical trauma, but most injuries are due to overuse. Olympia Orthopaedic Associates wants dancers to know that there is world-class care right here in our community to help keep dancers on their feet.
There are nearby college-based dance programs as well as dance studios and local performers. When a dancer experiences pain or injury, they are encouraged to follow the PRICED protocol: Protect the injury, Rest, Ice, Compression, Elevation and Diagnosis. An appointment with Olympia Orthopaedic Associates can help to ensure that there won't be further damage to an already compromised area.
Keeping Gymnasts on the Mat
Another sport that enjoys widespread popularity throughout our community is gymnastics. Like dance, gymnastics is a rigorous activity that requires repetitive motion in areas like ankles, wrists and knees. Dr. Tracy Hamblin is a physician at Olympia Orthopaedic Associates who specializes in Sports Medicine. Dr. Hamblin relates to the demands that gymnastics places on the body because she herself was a competitive gymnast. She understands the long hours of training that are required of athletes to excel at the higher level. "I was a gymnast with Olympic hopes until an injury sidelined my own gymnastic dreams," she shares. "My experiences with sports and injuries sparked my interest in a career in sports medicine."
Emily Lackey is a gymnast at Black Hills Gymnastics in Lacey and a patient of Dr. Hamblin. Emily's mom Karin Lackey says that the combination of a great coach and a great doctor is key to Emily's success as a gymnast. "She has a great relationship with Dr. Hamblin and trusts her to help her make good decisions," says Karin.
Activities like pilates and yoga strengthen the smaller structural muscles that in turn protect the larger musculoskeletal system. When an injury has occurred, Dr. Hamblin stresses that, "It is important to know when to back off, it can be hard for adolescents to understand the concept of rest and sometimes their fears prevent them from seeking treatment."
Dr. Hamblin concurs with Dr. Lamour that in the areas of dance and gymnastics, rarely is surgery the best answer. "We always try non-operative measures first and we can take films or do an MRI to rule out anything that is too serious," assures Dr. Hamblin.
Gymnasts and dancers can be reassured that the professionals at Olympia Orthopaedic Associates not only understand the rigors of their training, but have the tools to keep them training as soon as possible after an injury. For more information, visit the Olympia Orthopaedic Associate website.