It's projected that by 2020 there will be nearly 19 million military veterans in the United States. In Washington alone, veterans represent almost 10 percent of our population. When they choose to leave service, many look for job retraining and continuing education opportunities to build a strong and vibrant civilian future.
Thanks to programs like those at Wells Fargo bank, vets can enter the banking world and be trained in lending, borrowing, and all manner of finance. "Companies like Wells Fargo are more focused than ever on hiring veterans," says Pacific Northwest Regional Communications Officer David Kennedy. "With the veteran unemployment rate at a record low, many who have served in the military are now in the driver's seat when it comes to civilian job hunting. This is in part because employers understand that veterans bring a wealth of translatable skills and experience to the workforce, including leadership, teamwork, and attention to detail."
With this in mind, the corporate team put their heads together. "Wells Fargo understands that companies must offer a career path, not just a job, so we have launched several programs to help veterans transition from the battlefield to banking," explains Kennedy. "In Washington, we are piloting a military apprenticeship branch manager training program that allows veterans to gain hands-on experience working in many facets of the branch. Our program was developed as part of the U.S. Department of Labor's Apprenticeship USA program, which offers companies the opportunity to create rigorous, structured programming to develop a highly skilled workforce, with a particular focus on veterans."
Three such programs include their Veteran Employment Transition (VET) internship to learn day-to-day banking skills, the Wells Fargo Veterans Scholarship program to help fund post-secondary education, and American Corporate Partners which mentors vets recently returned from active duty.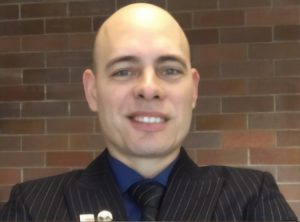 Jose Otero is a military apprentice at the Lacey Wells Fargo branch. A military police officer for 26 years, he developed tremendous rapport and counseling skills. "Wells Fargo's culture mimics many of the same values as the military — taking care of your people being number one. I love Wells Fargo because they allow me to be of service to others and give back to the community," said Otero. "I'm thankful that Wells Fargo took a chance on me. I want to stay with Wells Fargo for the next 26 years."
In 2018, the bank also made a $50,000 donation to help launch the Goodwill Career Readiness Certification Program. This echoes their commitment to all veterans and military service families nationwide. Since 2012, they've hired nearly 11,000 vets with a goal of 20,000 by 2020. They've also donated more than 350 homes and $79 million dollars to veteran's charities and nonprofit organizations.
Last fall, local Wells Fargo employees participated in the Auburn Veterans Day Parade and then donated a brand new car to Marine Sargent Richard Wallace and his family. This was organized through the Military Warriors Support Foundation's Transportation4Heroes program.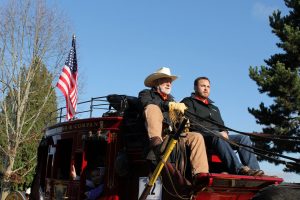 Bank staffers explain: "Retired U.S. Marine Corps Sergeant Richard Wallace joined the military in 2009 to follow in his grandparents' footsteps to serve and protect our country. He served with the Security Forces at the Strategic Weapons Facility-Pacific in Bangor, Washington from 2010 to 2012. In 2013, Wallace was wounded during combat while serving as a team leader in Afghanistan and was the recipient of the Purple Heart for his injuries. After his injury, he joined the Wounded Warriors Battalion-East and retired in 2015. Today, Wallace lives in Washington with his wife, family, and three dogs."
Read more about Wells Fargo's dedication to all soldiers and their families in the bank's military resource center. This portal helps with advice, employment, education, resources, banking, and mortgage services. You can also follow them on Facebook, Instagram, Pinterest, Twitter, and YouTube.
If you'd like to help or learn more, find a branch near you and give them a call. Beyond that, take a minute to thank the service members, military families, and veterans in your life.
As Senator Tammy Duckworth, herself a combat wounded vet, once said, "Our soldiers show every single day that they are more than good enough…We owe it to all our veterans to make sure that they have a chance to achieve the American Dream, just like the rest of us."