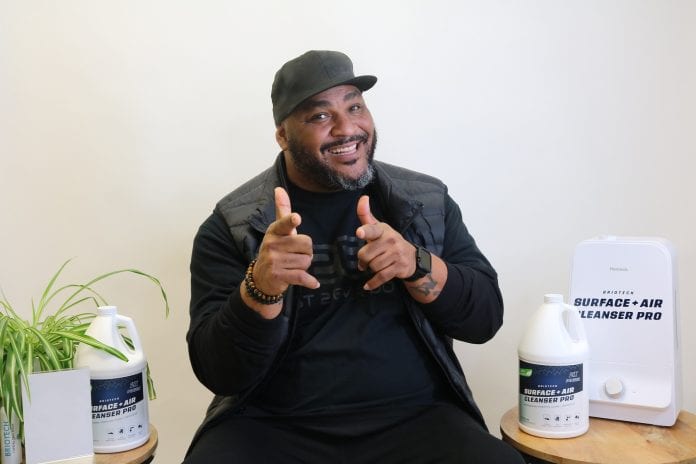 What's Pro Football Hall of Famer, NFL Top 100 and Former Seahawk Left Tackle Walter Jones and a start-up cosmetic company, Briotech, have in common? The same game plan we all do: To get back to normal, or at least a new normal, in our fight against COVID-19. It all began when mask mandates happened. Jones found ready-made masks on the market did not comfortably fit his head.
"The little Blue N95 Masks were too small, and they didn't fit my face," Jones explains. "I knew that masks were going to be part of our daily lives for a while, so I wanted to give a shout out to the Big Guys out there who needed something that fit them. I also wanted to make something fashionable and comfortable for bigger guys to wear." Since he already had a clothing brand Best 2 Ever Do It (B2EDi), he decided to make his own masks, tailored to fit larger and athletic body types. He launched his masks in January 2021.
Signing with Briotech
While Walter Jones was working on finding comfortable mask options, a small start-up cosmetic company in a 10,000-square-foot building in Woodinville, Washington happened to be working on an eco-friendly, health-conscious disinfectant, made of HOCl. Briotech's disinfectant was launched right as COVID-19 hit US soils, in what can only be considered kismet. HOCl is FDA and EPA registered and with just three, completely natural ingredients, it disrupts the idea that cleansers nor disinfectants have to be toxic and full of chemicals to work. "We're made of an all-natural ingredient that's found in our own immune system, so it's very biocompatible," shares Jennifer Wiens, director of commercial for Briotech.
A year later, Briotech is in an 80,000-square-foot building as a global enterprise offering HOCl around the world. The real kicker is how safe it is. "It's amazing because you can spray it around people, unlike many other disinfectants," explains Wiens. "There's no side effects. No fumes, no chemicals. It's a solution to allow businesses to reopen safely because you can use it when customers are around and reduce the viral load in the environment. You just can't do that comfortably with other disinfectants."
In fact, the same formula is used in their mouth wash, eyewashes and body sprays. It's that safe. How? "This is our immune system's tool," answers Wiens. "All we did is we took what our immune system already has developed, a molecule that fights off infection and helps us heal, and we found a way to make it pure, stable and mass-produced. The other two ingredients are just water and saline."
Walter Jones was immediately interested when he heard about the COVID-19 killing disinfectant from an employee of the company. "She introduced me to the Mask Spray when I was first working on the Mask line," Jones explains. "I loved the mask spray but I wasn't quite ready to launch the B2Edi masks at the time though." However, he was definitely ready to sign on as an affiliate with Briotech after trying it himself. "I tried Briotech's Disinfectant and I liked it," he adds. "I started using it in my home daily and I use it in the room where I fold all my merchandise. I believe in the product and I believe in the company."
Bringing Game Days Back
Everyone wants to get to a new normal including opening businesses and having events, especially sports. One of the keys to getting fans back into the seats is being able to disinfect, not just after everyone leaves, but during the games. Since it's all-natural, HOCl is okay to use around the elderly, kids, even pets. That makes it a great choice for use at sporting events. "We've been approached by stadiums all over the country because they can use this with fans around," says Wiens. "We are hoping we can help get sports and crowds happening again."
Walter Jones agrees. "The Briotech building is probably the safest/cleanest place you can be in," he shares. "Briotech can help give facilities, teams and fans peace of mind that wherever Briotech products are used, people will feel a sense of security."
You can purchase Walter Jones's masks on his website, B2EDi. Be sure to follow him on Instagram for product updates! Visit the Briotech website for more information on products and to purchase. Use code: B2EDi for 15% off to get a discount on your order! Briotech is also available on Amazon.com, but in order to use the code, you must purchase through the Briotech website.
Here's to a healthier 2021 and a time when we can all go out to the game once again.
Sponsored