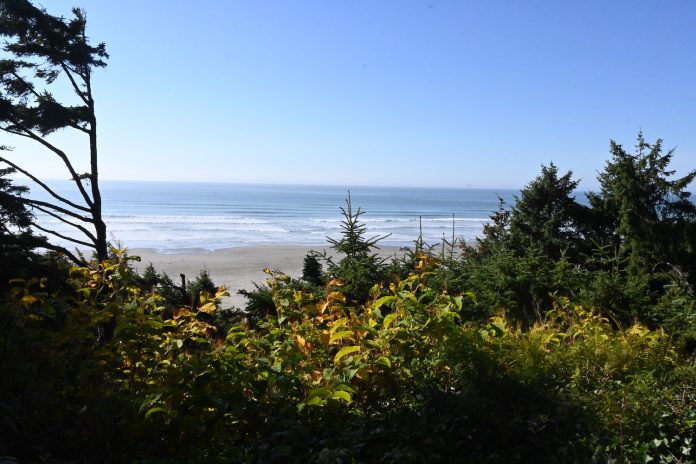 Welcoming visitors back to the Washington coast is something Ocean Crest Resort and Restaurant has mastered over their many decades of service, and as new ownership has taken over, the story remains true. Often considered a hidden gem of places to stay in Grays Harbor County, Ocean Crest's pride runs deep when it comes to treating their guests like family.
Historic Resort on the Coast of Washington
The history of Ocean Crest dates back to 1953 when the Curtright family built Ocean Crest Cottages in the small town of Moclips. Perched high upon a 125-foot bluff, the sweeping views of the Pacific Ocean not only offer unparalleled sunset and wildlife viewing but also a one-of-a-kind position in which to welcome visitors from around the globe.
After extensive work went into building the resort, expansions were completed over the years to include a restaurant in 1963 where the matriarch of the family performed all the cooking. Two years later, a liquor license was acquired to mark the addition of a bar, and as time progressed and success graced Ocean Crest, a separate building dedicated to relaxation was built to house an exercise room, pool, sauna and hot tub alongside various other upgrades.
Ocean Crest Resort's New Owners are Committed to Excellence
While many additions and changes continued throughout the resort, including the 2021 sale to new owners, Masudur and Taslema Khan from Khan Properties, one main aspect remained the same: the five-star hospitality. One of the reasons it remains intact is due to Jess Owen, the third generation of the Curtright family, who continued on the Ocean Crest team as general manager.
"Staying on during the sale of the business was important to me because of family legacy," says Jess, "but also because of the lasting relationships I've built over the years. Ocean Crest is a special place in many of our customer's eyes, and I want to help maintain that feeling for them while offering a relaxing place that they feel welcomed back to."
The sale of Ocean Crest took place during the uncertainty of the pandemic, but there was some light at the end of the tunnel. While international travelers were few and far between, a rebirth of the classic American road trip happened. "The summer of 2020 was the best summer ever for both hotel bookings and the restaurant," explains Jess. "During 2021, the trend continued with over 20% more visitors than in 2020." Just over one recent weekend, the Ocean Crest welcomed guests from Texas, Alaska, and North Carolina, while international travelers are beginning their resurgence.
Reserve Your Grays Harbor Vacation Today
For many, the discovery of the Washington Coast during the pandemic has been a game changer, but for others, this area of the state has always held a special place in their heart. With the help of the new owner's vision and their roughly 40 employees, Ocean Crest is taking steps to maintain careful attention to detail and a coastal vibe while also modernizing the property to become a luxury resort.
A few of the major changes that are soon to be completed include renovations to the first 15 out of 43 original rooms. There are also plans for a property expansion that will include up to 100 total rooms plus around 20 glamping cabins.
Renovated rooms and plans for the cabins have a high emphasis placed on reducing the property's carbon footprint, something that was done already with the restaurant when it was carefully rebuilt after a 2011 fire. New features include smart thermostats, AC, geothermal HVAC from the on-site well, and hopefully, a hook-up to fiber internet in the future.
In addition to the changes happening on-site, Khan Properties is dedicated to investing more in the area. Recently, they purchased acreage at the four-way stop in Pacific Beach with plans to partner with Seabrook to build walking paths into the city and a footbridge across Joe's Creek.
Ocean Crest Restaurant: Top Notch Place to Eat on the Washington Coast
As the resort around them begins its facelift, Ocean Crest Restaurant, with talented chefs Amanda Jaeger and Chris Box, continues to plate unique and delicious meals utilizing local ingredients.
Working collaboratively with Jess, the duo put great effort into maintaining their rotating menu that continues to live up to their long-standing reputation. Local offerings typically include ingredients such as razor clams harvested by the Quinault Indian Nation, fresh oysters from Lytle Seafoods, and, when in season, locally foraged chanterelle mushrooms that are oven roasted with white wine, butter, garlic, and thyme. Fish from the tribe is also a favorite, especially when blueback salmon are running, while huckleberries from the foothills of the Cascades are crafted into an onion marmalade spread on the popular Roosevelt elk burger. These specialty items and many others can be enjoyed throughout the year, but one item that will never change is Grandma's Famous Clam Chowder. Raved about by celebrity visitor Apolo Ohno on two separate occasions, almost everyone who tries the unique bowl of chowder tends to agree that it's the best around.
"The advantage of being a small independent resort is that we have the ability to create really special memories for our guests," states Jess. "We once had someone call in advance requesting a special bohemian duck dinner for a woman's 80th birthday party. We had never made it before, but after some research, we were happy to purchase and prepare the duck served with traditional bread dumplings and sour kraut. Her reaction was unforgettable."
While Ocean Crest continues to evolve throughout the years, it's certain that the local hospitality will endure. "We always work with the attitude that if we can't do something right," expresses Jess, "we won't do it."
To learn more about dining at the restaurant or to make hotel reservations, visit the Ocean Crest Resort website or call 800.684.8439.
Sponsored