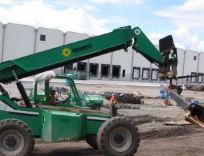 By Gail Wood
The construction of a 1-million square-foot warehouse for the online retail giant Amazon is nearing completion in DuPont.
Construction began earlier this year on 92 acres and the doors to the warehouse are expected to be open by early fall.
The new distribution center is reportedly expected to create as many as 900 jobs. The arrival of the retail king will certainly change the face of DuPont, once a sleepy town.
But the city is embracing Amazon's arrival.
"We are excited to welcome Amazon as the newest member of our community," said DuPont mayor Michael Grayum in an Amazon release. "We are focused on attracting new businesses, creating quality jobs and strengthening economic growth."
In the last decade, DuPont's population has spiked with the arrival of several other businesses and with the growth at Joint Base Lewis-McChord. In 1990, the city's population was 592 and in 10 years it ballooned to 2,452. Three years ago, the city's population had nearly quadrupled to 8,199 and was estimated to be 8,808 last year.
With Amazon's arrival, the city is going to continue to grow.
But growth is inevitable for a town on the I-5 corridor. Amazon's arrival will help a financially strapped city.
"We're very excited to welcome the Amazon fulfillment center to DuPont." said Roger Gieseke, president and CEO of Community First Credit Union, which is Washington's oldest credit union. "The creation of that many jobs should certainly help our community grow. We're looking forward to welcoming any and all Amazon employees to join our Community First family."
Amazon, a Fortune 500 company based in Seattle, reportedly spent over $100 million on the project. At the warehouse, workers will pack and ship large items such as televisions and canoes to customers.
Amazon has a military recruiting program and has committed to hiring at least 1,200 veterans in the coming year. That's key since DuPont is neighbors with Joint Base Lewis-McChord.
"I hope they're going to be big military supporters," said Ken Swarner, a long-time resident of DuPont and publisher of the weekly newspaper The Ranger. "I'm hoping to get to know them better. As far as DuPont goes, anything is great that helps with the tax base."
Amazon paid $26.1 million for 92 acres in DuPont, which was incorporated in 1912. Originally, the town was purchased by the company DuPont in 1906 for construction of an explosive plant. Within four years, the town had more than 100 houses.
Businesses continue to shape and influence the city today.
Duke Reality, an Indianapolis-based realtor that has partnered with Amazon before in other building projects, purchased the land in November and is building the warehouse in DuPont.
"We are excited to increase our presence in the state of Washington with this new fulfillment center," said Dave Clark, the vice president of Amazon, in a release posted on the company's website. "We appreciate the state and local leaders who have helped us make this site in DuPont a reality."
At a time of continual high employment in the county, Amazon's arrival will bring high paying jobs. Amazon said its pay for jobs at its new distribution center will be 30 percent higher than traditional retail jobs. Plus, worker's pay includes stock grants for full-time employees.
Since 2011, Amazon has been working at a distribution center in Sumner in a nearly 500,000 square-boot warehouse. This site in DuPont is twice as big.
Amazon's new warehouse in DuPont is next to Intel Corporation, another business giant.
"The building looks like it's done," Swarner said about the Amazon construction. "It's gone up fast. They haven't put in a parking lot yet. But the building is done."