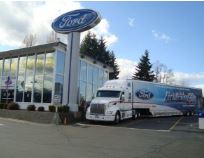 All Star Ford has been supplying Thurston County drivers with the largest selection of Ford cars and trucks since 2000, when owner Dorian Boyland purchased the dealership from Steve Boone.
"All Star Ford motto for the way we do business. Where everyone's treated like an all star," says general manager Kevin Neiswanger. "We like to make the purchase experience fun for the customer."
The dealership strives to build its solid reputation on selection, price, and value.
"That's what it's all about," says Neiswanger. "Because car buying is stressful enough. It can be hugely stressful, and we're aware of that."
Research has shown that people don't necessarily prefer the one-price stop, no-dicker sticker price, according to Neiswanger.
"People ultimately really do like to negotiate," he says. "That's part of the fun of it, the negotiation."
And he says that, for him and his team, when the negotiations turn to a smile and laughter, they know the customer is having fun and is happy.
"Our philosophy has always been: If it's good for the company and it's good for the customer, we do the car deal," he says. "It's really simple."
All Star Ford is the top-selling Ford dealer in five surrounding counties – even outselling some King County dealers. "We've outsold Sound, Titus, Korum, Lakewood, you name it," he says.
And they do it by carrying the largest selection around between their two Olympia stores: one off I-5 at Exit 107 and a second on the Olympia Auto Mall off Cooper Point Road.
Neiswanger started at All Star Ford at its beginning, in 2000, as the parts and service director. He eventually moved into a general sales manager position, and in 2007 became the general manager of the entire dealership.
He's been in the car business since 1979, so he's seen a lot of industry ups and downs.
"It's weathered every storm, except that last one," he says. "It really hurt the car business badly, starting in 2008."
But, he says, the automobile industry and All Star Ford are back up and running.
"We're not to the levels we were at in 2007, but no one is," he says.
Some good has come out of the slowdown.
"We've learned how to manage better and be more frugal with what we have," he says. "You realize how gluttonous we all were in the day, when you didn't have to really count down to the final pennies. But then you find out how many little details you can really clean out. It's helped us tremendously."
He gives kudos to his loyal staff. "Our employees have been awesome," he says. The dealership employs 85 across both of its locations. "A lot of people have been with us since our inception in 2000."
The sales team rotates between the eastside and westside stores, as do finance managers. While the main service department is at the eastside location, the main office and larger sales force is at the westside Auto Mall.
All Star Ford plans to add an expanded service center to its Auto Mall location in the next year. And even bigger plans are in place for the eastside store.
"We're working with our landlords – who are great – to get a brand new building here in the next three or four years," says Neiswanger of the lot that's situated right next to the Olympia Food Co-op. The current building was built in 1965 and though it has aged well, it's time for a new space.
"It will go up behind where we are now, and then this building will come down and become a display area," says Neiswanger.
All Star Ford understands the importance of supporting its community and strives to help where and when it can.
It puts on two Drive One 4 UR School events every year, which can raise up between $5,000 – $6,000 for each participating school. All Star Ford has held Drive One 4 UR School events at Timberline High School and one at Black Hills High School.
"This year we're going to Tumwater High School, and then we'll do Olympia or Capital the year after that," Neiswanger says. "It really helps the local schools around here which are struggling right now."
For the event, All Star Ford takes 15 to 20 new Ford vehicles to the school and invites people to come and test drive them. Ford then donates $20 to the school for each driver.
"It's not a sales event," Neiswanger says. "It's just a fun time. We supply the cars, the fuel, and the bodies to do it, and it's just a great event because you get out into the community."
All Star Ford along with Ford motor Company also helped bring the latest technological breast cancer screening bus to the Briggs YMCA, which then offered free screenings using the latest imaging technology.
All Star Ford's latest promotion is for the Washington state chapter of the March of Dimes.
All Star Ford CFO Joel Olsen and his wife are very passionate supporters of the March of Dimes. When Olsen approached Neiswanger about having All Star Ford doing something for the charity – which works to improve the health of babies by preventing premature birth, birth defects, and infant mortality – Neiswanger helped getting the plan into motion.
All Star Ford is currently sponsoring a raffle and giveaway of a brand new 2012 Ford Focus SE emblazoned with the March of Dimes logo.
Raffle tickets are $10 each and the drawing will take place on June 2, 2012.
"We're hoping to raise a lot of money for March of Dimes," says Neiswanger. "And that car's going to be all over Western Washington, giving March of Dimes great exposure."
All Star Ford – Eastside
3121 Pacific Ave.
Olympia WA 98501
360.943.9300
All Star Ford – Westside
Olympia Auto Mall
1925 Cooper Point Road NW
Olympia WA 98502
360.352.9300
Sales: 877.860.8309
Service and Parts: 800.285.0385