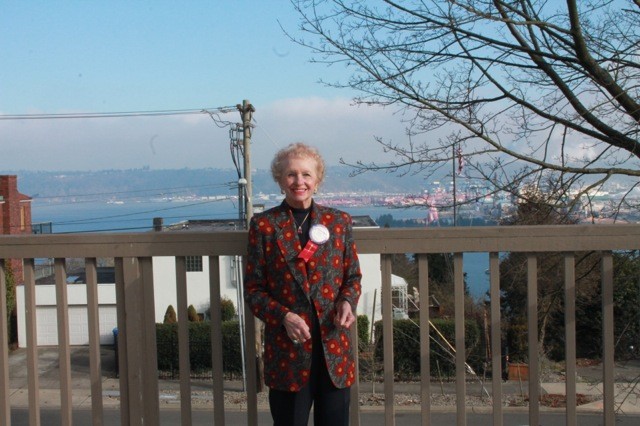 By Jessica Peyton Roberts
"I think Tacoma is the gem of the universe," Dawn Lucien declares. "This is the place to be."
Dawn's dedication to Tacoma spans more than half a century of civic service to the city's government, arts, education, and waterways. During the course of our conversation, she showed me pictures of her as a Pan American World Airways stewardess, letters from Vice President Hubert Humphrey, and an award for leading the effort to save the Murray Morgan Bridge just last year.
I had the pleasure of sitting down with Dawn on a foggy Friday morning in her immaculately decorated condo at Stadium Way, a building envisioned by her late husband, F.H. Lucien over 1973-1975. "Its foundation was the biggest pour in the history of Tacoma," she explained, as I poured over the scrapbook she had set out for us to go through together.
Dawn's appreciation for art was the first thing I noticed upon entering her home. "Do you collect art?" I asked. She explained that two of her six sisters were artists, and she herself was an art major when she attended college. Although Dawn would continue to develop her commitment to the arts in Tacoma, she decided that college was not preparing her to pursue her goals. "Women were so restrained with what they could be – I didn't want to be a teacher or a nurse. I felt like I was wasting my time."
Instead, Dawn left school for Pan American World Airlines, the first stewardess hired by Pan Am who was neither 21 nor a registered nurse. She traveled from Seattle to Fairbanks, Alaska, and quickly distinguished herself as a leading stewardess. After meeting her first husband, Paul A. Olson, she announced her resignation, in accordance with the rules that Pan Am girls had to leave upon marrying or turning 27, whichever came first. Pan Am regretfully told her they were about to make her their poster model, but did not change their policy to accommodate Dawn's status as a married woman.
Dawn was now free to embark on two new adventures: motherhood and politics. After three years of marriage, she had three boys within four years: Paul Jr. (who passed away from cancer almost 15 years ago); Kurt, an inventor and founder of Envision Innovation; and Navy SEAL Admiral Eric T. Olson, former commander of U.S. Special Operations Command.
Meanwhile, Dawn supported Olson's mayoral campaign, prior to their marriage and later launching her own political career. In 1956 she was one of two women elected to the Tacoma Board of Freeholders, and participated in drafting a new charter underwriting a strong mayor form of government for the city. Ultimately voters rejected the charter, but Dawn's contributions won her the esteem of both fellow politicians and community members. She went on to serve as an appointed member of the Tacoma City Council (1960-1962) and was a Nominee to Congress (1962), before being approached by Vice President Hubert Humphrey for her assistance overseas.
As I thumbed through letter after letter from Vice President Humphrey, who apologized in nearly every note for not writing Dawn often enough, she explained how she had almost turned down the opportunity to represent the United States in Geneva at the 1967 United Nations Economic and Social Council.
"I was very busy at the time as the Director of the Allied Arts of Tacoma. I was in the middle of bringing the Robert Joffrey Ballet out here and I told him, 'Oh, I don't know if I can go.'"
Vice President Humphrey insisted Dawn was the best person for the job, and finally convinced her to make arrangements to go to Geneva. The following year the vice president requested Dawn head his "National Citizens for Humphrey for President Committee" during his bid for the presidency. In the note asking for her help, he sends her a silver charm bracelet with the vice presidential seal on it.
After Vice President Humphrey's unsuccessful campaign, Dawn continued to serve at both the local and national levels with Tacoma's Pantages Centre for the Performing Arts (1974-1987) and working with Congressman Norm Dicks (1976-1987). In 1989 Dawn ran for mayor of Tacoma, a campaign that was ultimately unsuccessful but did not deter her from pursuing other leadership positions within the city.
Anyone reading over Dawn's remarkable two-page resume might wonder, as I did, where her commitment to civic service and interest in politics stems from. She explains that both her mother and father, parents to seven girls, told them they could do anything. She recollects sitting around the dining table each evening with her father, who engaged his daughters in conversations about politics and world events.
Dawn is still serving on several committees and councils, including the Advisory Board of UW-Tacoma, the World Affairs Council, the Tacoma Urban Waters Board, the Tacoma Rotary 8 Club, and the Mayor's Task Force on Education and the City Club Program Committee. She also helped orchestrate bringing the University of Washington to Tacoma in 1990.
Last June Dawn was given the Ghillarducci Award by the Tacoma Chamber of Commerce for her role in saving the 11th Street "Murray Morgan Bridge", which was restored and opened in February 2013.
But the last thought she leaves me with, as she helps me into my coat and walks me to the door, is the importance of renaming Mount Rainier back to its original name, Mount Tacoma.
She is optimistic about Tacoma's future, insisting the city's best years are still to come. "We have 46 miles of salt water shoreline within city limits…. I believe Tacoma will become extremely desirable as the world's water problems continue to increase."
She notes Tacoma was called the City of Destiny a century ago when rich people from the east first started investing in it.
Dawn has certainly contributed to reorienting Tacoma on to a renewed path to prosperity, and her story is a fascinating intersection of women's, urban, national, and art histories. While she insists Tacoma is the gem of the universe, Dawn is undoubtedly one of the gems of Tacoma.