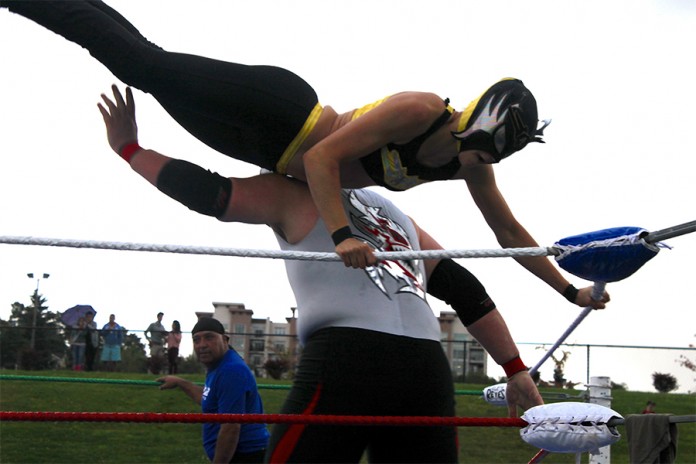 By Shelby Taylor
The day dawned drizzly with swollen rain clouds loitering on LeMay-America's Car Museum's Festival Del Carro. As part of the International Tacoma CarFest entertainment, a "lucha libre" – or Mexican wrestling – ring was set up on the lawn. A man was hard at work mopping up the rain-slicked stage, preparing for the California and Washington luchadores (including two Tacomans) to arrive.
A largely Latin audience surrounded the ring, eagerly waiting for the match to begin. For most, this was not their first lucha show, as evidenced by the great cheering and booing accompanying the introductions of competing wrestlers. After all, in the narrative of lucha libre, there is a hero and a villain, fighting for both the win and the audience's heart.
This was most clearly seen with the clash between Acero (which means "steel" in English) and La Avispa (which translates to "wasp").
The first was larger than life, with face and chest clad in a steely gray. Acero's mask was also adorned with a black grill of sorts and had slanting eye holes, adding an evil air.
Acero's opponent, on the other hand, was every bit Mr. Steel's opposite. La Avispa was half Acero's size and built for speed and agility. Her emblematic "A" emblazoned winged mask and sports bra read very superhero.
Warm ups actually begin in the ring after Acero, La Avispa and their two teammates enter. Actions and postures are too a part of the show, with La Avispa nimbly climbing up the ring, posing with arm muscles flexed. Acero practices in the opposite corner and is a bigger gesturer, making himself take up space.
The two finally have at it, with Acero more than once overtaking the slippery La Avispa and literally throwing her down, mere girth appearing to dominate. But the crowd favorite twists and turns out of the hold, darting from the grasp and using the height of the ring's ropes to her advantage. La Avispa flies onto the big Acero and overtakes him with sheer acrobatics. Agility ends up claiming the match as her own, with the audience erupting into chants of "La Avispa." The hero has won.
Behind the Mask
The woman behind La Avispa's mask is  a Tacoma local luchador who wrestles with Renton-based school Lucha Libre Volcanica. Fellow wrestler Ave Rex had met La Avispa at University of Puget Sound's Circus Club and thought she could be a great addition to the Pacific Northwest lucha libre troupe.
"When I got there to the wrestling class, it was kind of automatic," La Avispa recalled.
Both La Avispa and Ave Rex train under Jose Gomez, who himself toured Mexico as a professional wrestler. The company Lucha Libre Volcanica is young, but has seen interest in lucha grow tremendously in recent years.
"We are doing three shows just this month. We used to do three shows a year," Ave Rex said.
So hooked are La Avispa and Ave Rex that they both do the commute from Tacoma to Renton five days a week. For Ave Rex, who first came to the sport as a longtime wrestling fan and an aspiring American Pro Wrestler, there is nothing else but lucha.
"I love it for its own sake. It's the best workout ever and more stunning, more graceful and faster than professional wrestling as we [Americans] know it. And it's also hard work and kind of dangerous. There are kicks, slaps, headbutting. You can't fake a slam," Ave Rex explained.
La Avispa chimed in, "Yeah — watch out for flying luchadores!" Audience members have been known to get injured when standing too close to the ring.
What keeps La Avispa coming back for more is being a role model to young girls.
"I'm the only woman debuting in Lucha Libre Volcanica, and I [strive to] defy stereotypes. When I take pictures, I pose in strong-looking positions and get little girls to make a muscle. It's smashing patriarchy," she said.
In terms of specifically training for a big show, the core of Mexican wrestling, luchadores practice, practice, practice.
"When we're in show prep mode, we go into what we'll do in the show. While there is improvisation, we also rehearse, needing to be prepared. The day of we set the tone, the narrative of the match," Ave Rex said.
High dive rolls, small rolls, handstands, front bumps, flips, jumping, diving, cartwheels and endless tumbling are additionally mastered in practice. But perhaps most important of all is learning to fall without reaching out to break one's fall. Survival instinct be darned.
To see the highflying lucha libre action yourself, keep an eye on the company's Facebook page for upcoming events. Or if interested in getting schooled in "acrobatic stunts of epic proportions," look no further than Lucha Libre Volcanica's website, which has a training schedule, tuition, and other requirements posted.