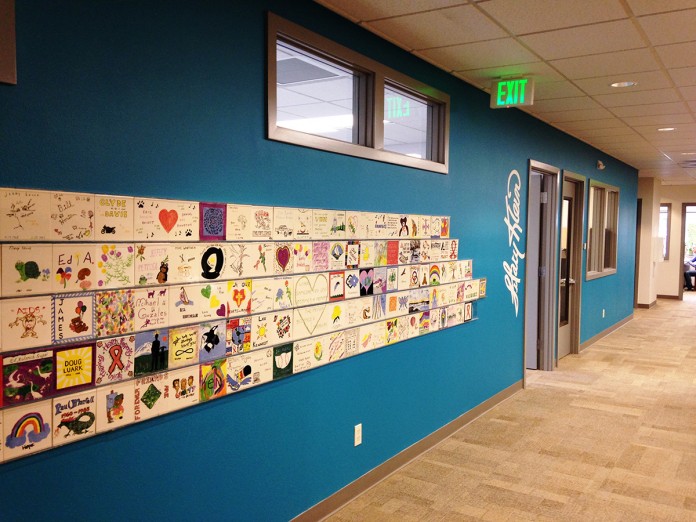 Submitted by Pierce County AIDS Foundation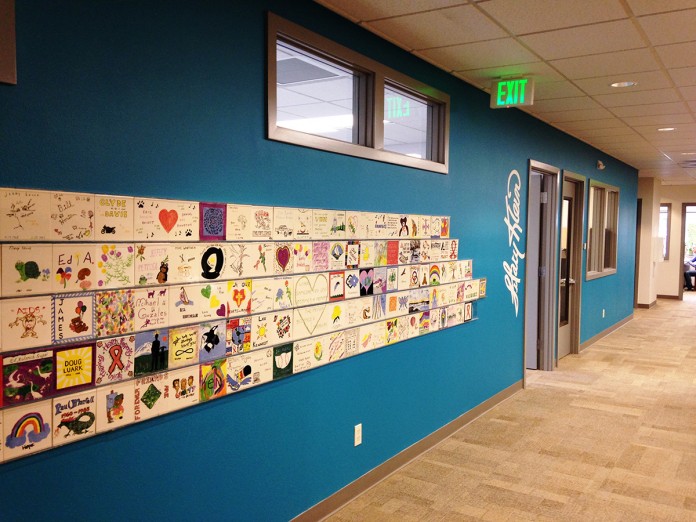 On Wednesday March 18, Pierce County AIDS Foundation (PCAF) is celebrating the opening of its new facility by having a Grand Opening and Ribbon Lighting ceremony from 5:30 p.m.–7:30 pm. The new facility, owned by PCAF, is located at 3009 South 40th St. in Tacoma. Tacoma Mayor Marilyn Strickland will be in attendance to help lead the celebration. This will include the dedication of the Hilary Klein Community Room and the lighting of a 7 foot red ribbon at the entrance of the building, commissioned by Kel-Tech Plastics.
PCAF purchased the building last summer and began renovations in the fall, moving into the completed building in February. The building was designed with clients in mind, and features six private meeting rooms, a more spacious and welcoming waiting room, several flexible meeting rooms, energy efficiencies, and the use of reclaimed materials, among many other amenities. The Hilary Klein Community Room will be available for the community's use for meetings.
The total project budget for purchase and renovation is $1.6M and was funded in part by support from individual donors, the Norcliffe Foundation, MetMeds Pharmacy and other sources. Zenczak & Partners Architects designed the facility, and the renovation was completed by BPCI/Accrete Construction.
"We are proud and excited to welcome the community to our new and permanent home," said Duane Wilkerson, Executive Director. "Now in our 28th year of service, this building is a tangible representation of PCAF's dedication to our mission, which includes combating the stigma associated with HIV/AIDS that is still so pervasive. By putting a large red ribbon on the building, we affirm that we are here to stay, we are visible, and we are committed to improving the quality of life of those living with HIV or AIDS and to creating a healthier community."
At the event, guests will be invited to reaffirm their personal commitment to increasing HIV/AIDS awareness by helping to publicly launch a "Pin It On" campaign to reduce the stigma associated with HIV/AIDS. Judith Billings, PCAF Board member, former Superintendent of Public Instruction, and passionate HIV/AIDS advocate and educator, will launch PCAF's Pin It On campaign at the event.  "By putting a giant ribbon on our building and asking members of our community to join us in launching the Pin It On campaign, we can work together to increase visibility and to eliminate the stigma that prevents people living with HIV/AIDS from living their best lives," shared Lori Bundrock, PCAF's Deputy Director.
For more information about the Grand Opening, PCAF, or the Pin It On campaign, visit piercecountyaids.org or call 253-383-2565.