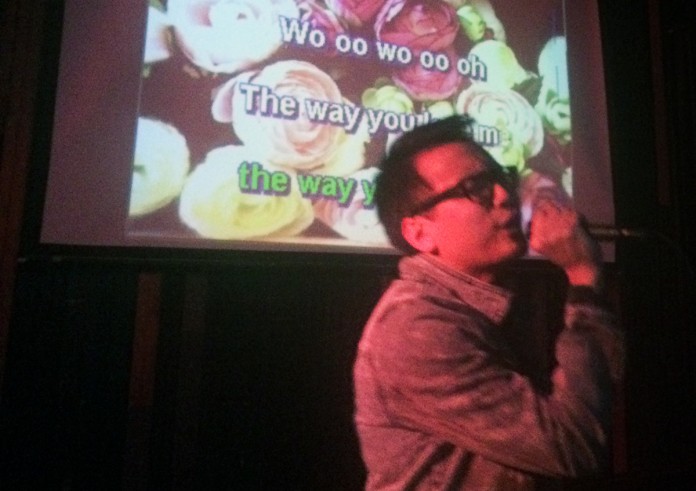 By Margo Greenman
The first time I performed karaoke I was 16-years-old. It was the summer before my junior year of high school and I was at journalism camp at Central Washington University. I didn't consider myself a good singer and I was never the first person to volunteer to present in front of the class. I was shy, a little sheepish, and enjoyed solitary activities like writing (I was spending my summer at journalism camp, after all). Karaoke was nowhere on my radar. Nevertheless, on the last night of camp during a celebration complete with food, games and — you guessed it — karaoke, two girls I had befriended during the week-long retreat insisted that we all go up and sing. I reluctantly followed (they may have even dragged me part of the way) and, while I don't remember which 80s pop hit we decided to sing, I do remember shamelessly belting something out at the top of my lungs.
It would be several years before I would revisit the stage, and the next time I did get in front of the mic I was appropriately fueled by a few pints of liquid courage. Throughout my early- and mid-20s, karaoke became a favorite activity among my group of friends. And, we were always thankful that, no matter what night of the week it was, there was always a bar in Tacoma open that could fulfill our desire to publicly embarrass ourselves. I mean, rock the house.
While responsibilities like families, jobs and the inability to stay up past 11:00 p.m. prevent some of us from going out like we used to, every once in a while my friends and I get a wild hair to hit the bar and sing our hearts out. Next time you're uncertain how to spend an evening out with your friends, consider karaoke. After all, a karaoke bar is the only place you can channel your inner Annie Lennox and get applauded for it.
The New Frontier
The New Frontier is a popular venue for live musical performances on the weekend, but mid-week on Tuesdays from 9:00 p.m. to close, this gritty Tacoma bar fills with rambunctious night owls eager to belt out classic karaoke hits. Just put your song in with Teddy, the New Frontier's karaoke host, grab your can of Rainier, and get ready to sing.
The New Frontier
301 E 25th Street
Tacoma, WA 98421
253-572-4020
The Mix
Not only was The Mix voted the Best of Western Washington's best gay and lesbian bar in 2014, but it's also a karaoke hot spot seven days a week. Every night from 9:00 p.m. to 1:30 a.m. The Mix packs with men and women eager to take the bar's tiny stage. Enjoy a round of pool while you wait for your turn on the mic.
The Mix
635 St. Helen's Ave.
Tacoma, WA 98402
253-383-4327
Puget Sound Pizza
A popular pizza place and bar, Puget Sound Pizza, located just around the corner from The Mix, offers karaoke Wednesday through Saturday. To stay in theme with the edgy pizzeria's ambiance, Puget Sound Pizza's karaoke book is a curated selection of rock n' roll and punk rock classics.
Puget Sound Pizza
317 S 7th Street
Tacoma, WA 98402
253-383-4777
Odd Otter Brewing
This new-ish Tacoma brewery is hopping every night of the week, but join the veteran-owned bar on Tuesdays for its karaoke paired happy hour where you can enjoy unique brews like Odd Otter's Coconut Chai Porter, Strawberry Blonde Otter and more at a reduced price.
Odd Otter Brewing
746  Pacific Ave.
Tacoma, WA 98402
253-209-7064
Flying Boots & Wings
After 9:00 p.m. this Tacoma bar and grill turns up the volume with karaoke, Tuesday through Saturday. Kick up your boots and belt out your favorite country Western tune or other karaoke classics at this popular Tacoma dive.
Flying Boots & Wings
614 S. 38th Street
Tacoma, WA 98418
253-475-9628
Engine House No. 9
This popular bar and brewery, originally an engine house from the early 1900s through the 1960s, plays host to some of 6th Avenue's best nightlife with a massive selection of microbrews, delicious grub, shuffleboard, pool, and, of course, karaoke. Join karaoke host Rev. Colin every Saturday from 10:00 p.m. to 1:00 a.m. for a night of brews, food and music.
Engine House No. 9
611 N Pine St.
Tacoma, WA 98406
253-272-3435
Jazzbones
Want to feel like a rockstar? Every Monday from 9:00 p.m. to 1:00 a.m., 6th Avenue's Jazzbones hosts Rockaraoke — the popular club's take on karaoke, but with a live band. Beers are $1, so you can fuel up for cheap.
Jazzbones
2803 6th Ave.
Tacoma, WA 98406
253-396-9169
Bob's Java Jive
When this historic Tacoma landmark isn't blaring with the sound of local and traveling punk and indie bands on Saturday night, passersby can hear the sound of patrons singing along to their favorite tunes every other night of the week (Sunday through Friday). Step inside, grab a beer, and sign up to sing on the historic stage.
Bob's Java Jive
2102 S Tacoma Way
Tacoma, WA 98409
253-475-9843