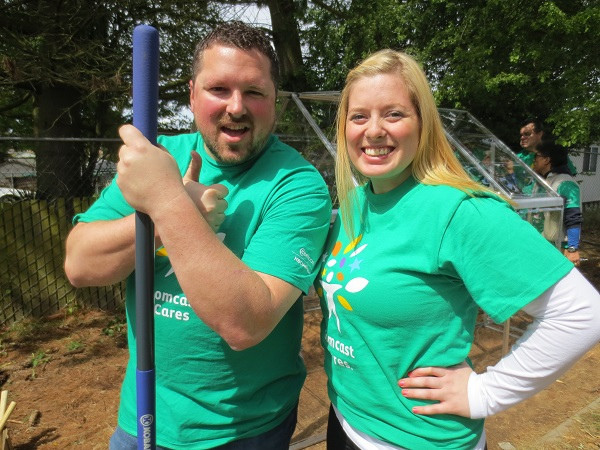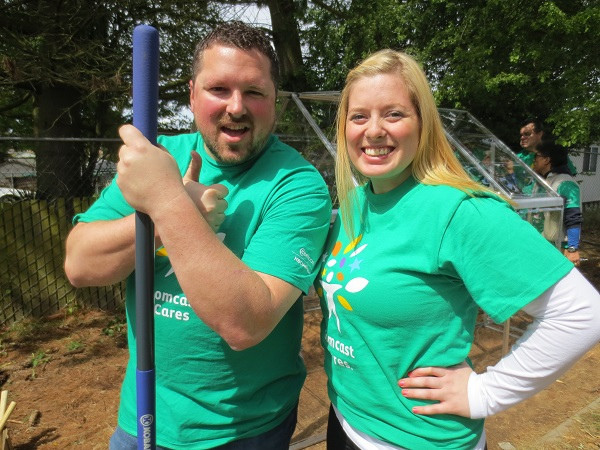 If it takes a village to raise a child, how many people does it take to clean-up an elementary school? Roughly 200 is the number of employees that the Comcast Call Center in Fife arrived at when they were tasked with rounding-up a group of volunteers to rehabilitate and beautify the facilities at Custer Elementary School in Lakewood. This project is part of this coming Saturday's Comcast Cares Day event.
For the past 50 years, Comcast has been a leader in improving the communities where its employees live and work. For 14 of those years, one special way Comcast has been doing this is through Comcast Cares Day — an annual, nationwide event that brings Comcast employees together with their neighbors to rehabilitate, improve and beautify the communities where they live and work. The annual event, which started in 2001, began with 6,100 volunteers working at 110 sites and has since grown to nearly 95,000 volunteers at nearly 1,000 sites nationwide.
Gary Sabol is the Community Relations Manager for Clover Park School District and he says Custer Elementary School couldn't be more excited to have been selected as a project site for this year's event. Sabol says that, despite the old age of Custer Elementary School (the school was built in 1933), the facilities staff has worked hard to preserve and maintain the school's buildings and grounds. Unfortunately, the inevitable wear and tear of time can take its toll, and the school is overdue for a makeover. Having a group of volunteers come in to help with general maintenance and other special projects will help breathe new life into the school.
"We are very excited and grateful that Comcast chose Custer Elementary as the site for their Comcast Cares Day," says Clover Park School District Director of Community Relations Kim Prentice. "Custer has a number of great volunteers who help in classrooms every day. Having Comcast employees and other volunteers working to beautify the school extends our community pride."
Custer Elementary School project lead LaTonya Hernandez is the Sales Performance Manager at the Comcast Call Center in Fife and she says Comcast has set quite a few goals to accomplish for this coming Saturday's Comcast Cares Day event. Some of the items the volunteer team hope to tackle is laying beauty bark and planting flowers to beautify the school's landscape along with repainting curb lines for the bus drop-off, replacing parking signs, pressure washing the play toys, and reorganizing and cleaning the staff lounges, just to name a few.
But, improving the overall well-being of the school doesn't just benefit the teachers, students and families of Custer Elementary School, it's a win for the entire community. Comcast Cares Day is about more than just improving the individual project sites it serves, it's about bringing the community together for the greater good. "It's an overall feeling of altruism," says Hernandez. "It's more than just working on a local project. We're involving our friends and families and neighbors."
And, with roughly 200 volunteers joining the effort, Hernandez says the goals Comcast has set out to accomplish should all be well within reach. Of course, Comcast always welcomes others to join the fun and offer a helping hand.
"We encourage participants of all ages," says Hernandez. "Even if we have families with small kids, we have activities for them to do." Hernandez says there's a job for everyone. From signing thank you cards to laying beauty bark, there's an activity for every age and skill level.
This is Comcast's first year working at Custer Elementary School, but Custer is only one of several South Sound Comcast Cares Day project sites that Comcast employees and community members we'll be busily beautifying and improving on Saturday, April 25. You can view a full list of South Sound and Washington State Comcast Cares Day project sites by clicking the link here.
If you're interested in participating in this Saturday's Comcast Cares Day event at Custer Elementary School or one of the other project sites listed in the above link, you can learn more and register online here. Volunteer groups of 15 or more are also eligible for a special grant, which you can learn more about by online.
As the 26th largest school district in Washington State and the fourth largest school district in Pierce County, Clover Park School District serves a large number of students from both Lakewood and Joint Base Lewis-McChord communities.
Comcast Cares Day is an opportunity to help improve the local community through generosity and stewardship. For more information, click here.