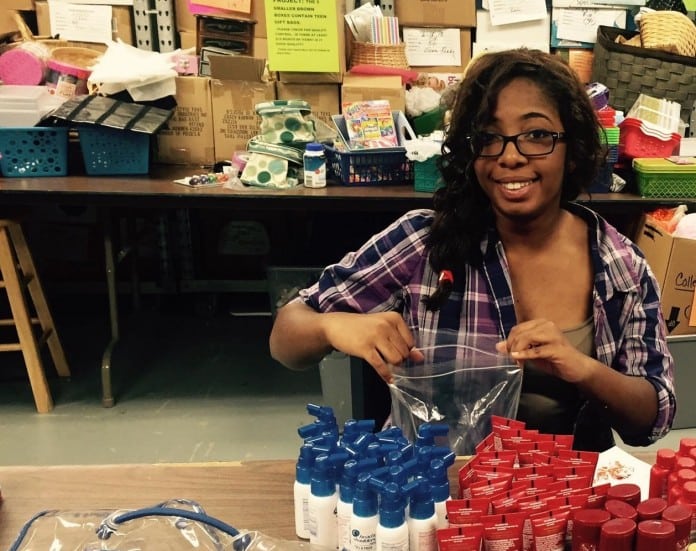 By Mariah Beckman
Every child remembers one dog-eared and well-traveled companion of the cloth or plastic persuasion. Raggedy Ann, My Buddy, a GloWorm or cheerful teddy — these beloved items take many forms, but nearly every child owned a special Barbie, a stuffed cat, or a plush crime-fighting hero that was precious to its beholder.
For Karol Barkley, founder of Tacoma Toy Rescue Mission, that irreplaceable friend was a Poor Pitiful Pearl Doll. Karol received this chubby-cheeked plaything as a gift from her father for Christmas. That holiday season would be Karol's last with her father; he passed away the following year.
Karol moved from place to place after his death, and Poor Pitiful Pearl came with her wherever she went. She valued this keepsake tremendously, and over time, Karol came to understand how important any cherished token can be to a child.
Many years hence, after her own children had grown, Karol was approached by a neighbor who needed financial help to celebrate her child's birthday. Karol was not in a position to provide financial support, but as an avid thrift-store shopper, she knew how to find quality toys at a fraction of the cost. Karol sojourned to Goodwill and found several gifts for pennies on the dollar. These toys and books weren't all in pristine condition, so Karol took them home, washed them, mended a few frayed edges and wrapped them up to look as new as possible.
While doctoring one pre-loved present after the next the idea came to her that many toys like these ones often end up in landfills. Why couldn't I do this? she thought to herself. Why couldn't I rescue these toys for children in need? Thus, over the course of only a few more years and another dozen gifts or so, Tacoma's Toy Rescue Mission was born.
Martha Davis, executive director and president of the mission, met Karol in the program's infancy. "I became involved with the Tacoma Toy Rescue Mission in the early nineties as a donor. The founder, Karol Barkley, stopped in a retail business that I managed looking for a donation. She went on to explain the mission and why she started it, and I became intrigued. I told her, 'If you would like my help or need volunteers, call me,' and the rest is history."
The Tacoma Toy Rescue Mission started with humble beginings in a spare room in Karol's home. Now, an official 501(c)(3) non-profit, the Tacoma Toy Rescue Mission's volunteers operate nearly year-round out of a 4,000-square-foot building that is equipped with a workshop, warehouse space and a small toy store where parents can shop for their children for free.
The organization serves low-income children all over Pierce County as well as a sample of low-income senior citizens who reside in permanent care facilities. The screening process is minimal: each individual or family is interviewed briefly to determine eligibility, and then the provision of a State of Washington services card and state medical card is all that is required to receive assistance. Providing for birthdays, Easter and Christmas holidays and even back-to-school necessities, the Tacoma Toy Rescue Mission is dedicated to collecting, cleaning, repairing and distributing toys and goods that might otherwise have outlived their usefulness.
Tacoma's Toy Rescue Mission is the only organization of its kind in the United States, and Davis explains that the program is ninety-eight percent volunteer-run — a figure that includes the majority of staff and board members. Families who receive assistance aren't required to give back, although the practice is definitely encouraged.
The men, women and children who support Tacoma's Toy Rescue Mission are plain-clothes elves who donate their time, used toys, ingenuity — and sometimes funds — to breathe new life into gently-used toys and electronics for children all year long.
Games, books, toys, clothing, electronics, make-up and beauty products for little ladies are among the most sought-after donations that find their way to more than 11,000 families in Pierce County each year through the Tacoma Toy Rescue Mission. For those who don't have a fix-it bone in their body, the Tacoma Toy Rescue Mission is in need of skills outside of repair and repackaging as well.
"In addition to refurbishing," Davis explains, "we have many talented hands on deck that sew, quilt and crochet. We have ladies that make doll clothing, Christmas stockings, hats, scarves and items for our senior program. For the seniors we make lap blankets, walker bags and Christmas stockings. All of the seniors served are in low-income nursing homes and most have no family."
The environmental impact of the Tacoma Toy Rescue Mission is sizable — since 1995, it is estimated that the organization has repurposed more than 240 tons of toys. However, Davis says that the impact on the community cannot be measured by the weight that has been diverted from landfills or the thousands upon thousands of children whose lives have been touched by its efforts.
"The main reason we refurbish is to provide a fun and meaningful place for people to come together for one common cause, and that is to help those in need. We have folks from all ages and backgrounds that simply want to help. We have retirees that want to stay busy and use former work skills and maybe chat with someone for a bit."
Davis says that students from high schools and colleges looking to fulfill community service hours make up a sizable number of volunteers, but there are so many families and individuals who have contributed to the program's success. "Many companies require junior level executives to work in the community and we provide that experience for them, too." Anyone interested in volunteering need only complete a short application and a media release form as well as submit to a background check.
What Davis says the Tacoma Toy Rescue Mission needs most, however, is a new facility. "One of our biggest concerns now is the building we are in. First and foremost, we have outgrown it. Secondly, it's for sale. The current owners who support our cause have been generous with the rent to keep it affordable. We are concerned that if the building sells, we may have to close if we cannot find a new affordable location. We have to be on a bus line as many of our clients don't have cars. It has to be at least 6,000 square feet to accommodate the work room, toy store, shrink wrap room, bathrooms and office space."
Until then, Davis encourages anyone with a few free hours and the memory of a favorite doll or board game to come by and see first-hand how many lives Tacoma Toy Rescue Mission touches on a daily basis. The company is always accepting new and used toys, games, books, school supplies, clothing, monetary donations, new volunteers and — with any luck — the address to a larger building for rent so that this team of tinkers can continue their good works.
Tacoma Toy Rescue Mission
607 S. Winnifred St.
Tacoma, WA 98465
(Across from Tacoma Boys on 6th Ave)
253-460-6711
Gently-used toy donations are accepted office hours:
Tuesday, Wednesday, Thursday from 9:00 a.m. to 3:00 p.m.
Saturday from 8:00 a.m. to 1:00 p.m.