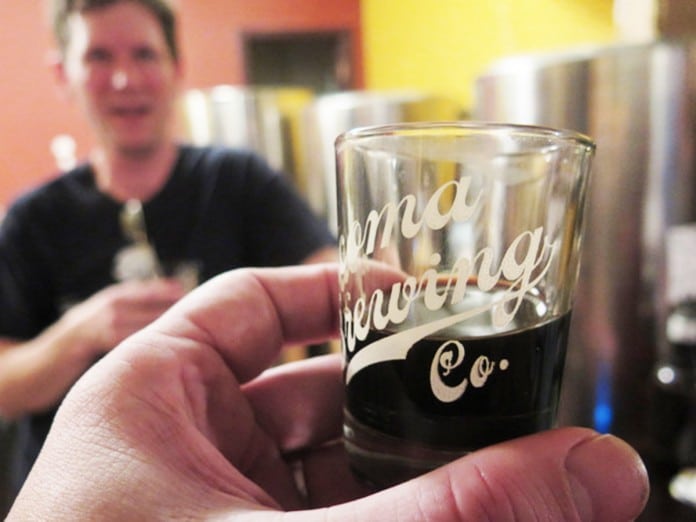 With tap rooms and breweries opening their doors the way coffee shops opened in the 1990s, Pierce County has become a rising star in the beer-brewing world.
Here is a roster of seasonal brews from around Pierce County to try this Christmas:
Tacoma Brewing Co. — Black Sun
Tacoma Brewing Co. has a bourbon stout called Black Sun that will be released on December 12. The Black Sun 2015 is a refined Russian Imperial Stout that was aged for a year and a half in JP Trodden bourbon barrels and comes in a unique, hand-screened collectible bottle. The huge size of this beer is belied by a light mouth-feel, low sweetness level, and just a slight alcohol burn. Flavors of cherry, chocolate, malt, molasses, oak and port wine are on the palate — and of course, tons of bourbon.
Tacoma Brewing is releasing this special brew to celebrate its third anniversary. On tap at the event will be four variations of Black Sun made with coffee, chili, licorice and cocoa nib. Admission is free, however due to limited supply, Black Sun will only be available in 3 ounce pours. Guests may purchase a limited edition taster glass, which comes with six tasting tickets for $20. A portion of sales from the event will be donated to the Foundation for Tacoma Students.
Pacific Brewing and Malting Co. — Spiced Lager
Pacific Brewing and Malting Co.'s Spiced Lager is a special winter release featuring the brewery's award-winning 1897 Pale Lager as the base recipe. The beer maker infuses the legacy recipe with orange peel, cinnamon, nutmeg, clove, star anise, allspice and ginger to craft a brew that is both aromatic and delicious. It is available in the taproom and in 22-ounce bottles at better beer sellers around Puget Sound. But really, just stop by the taproom so you can also try the Dirty Skoog IPA, Grit City Porter, Moon Yard Strong Ale, Citra Ale and Griswold's Winter Warmer, which can take take a bit out of a winter's chill.
M.T. Head Brewing — Robust Porter
M.T. Head Brewing has a Robust Porter as well as coffee and vanilla bean porters on tap that are perfect for rainy days or foggy nights by a warm fire. The brews, the views and the chats with brewers Tim and Renee Rockey are worth the journey out to Graham. If you want to go off book and opt for a non-seasonal brew, try Zeus's Revenge or the  Bonehead Brown Ale.
Northwest Brewing Co. — Foggy Goggles
Northwest Brewing Co. has a seasonal oatmeal stout called Foggy Goggles that is worth a pint if you can find it in your quest for the perfect seasonal brew.
Cockrell Brewing — Valley Red Raspberry Cider
One standout brew this season is not even a beer. Cockrell Brewing's Valley Red Raspberry Cider is just the right mix of tart and bubbles with the deep red color adding to the mouthful of seasonal deliciousness from the Puyallup brewery. This cider is made from fresh raspberries that were grown with love in the Puyallup Valley and sent directly from the brewery's farm to the brewery, providing a wonderful berry smell, a blast of tart flavor, and light ruby color. Bottles are available at the usual spots, Tacoma Boys, Tacoma Food Coop, Copper Door, Pint Defiance and H&L Produce.
Wingman Brewers — Noel
Just drink it and thank me later.
And while you are strolling the beer aisles, check out Gig Harbor's 7 Seas Winter Ale, Olympia's Three Magnets' Wreathing Havoc and Silverdale's Silver City Old Scrooge to make your holidays cheery and bright.