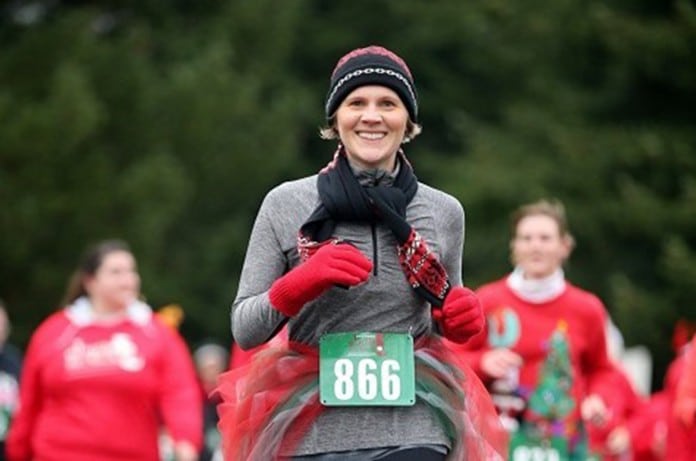 It's easy to lose our holiday joy when Black Friday and Cyber Monday wear us out before it's even December. This year let Saint Martin's Jingle Bell Run combine fun, fundraising and community to relight your passion for friends, family, fitness, education and Christmas cookies.
Saint Martin's University Director of Fundraising Events and Corporate Sponsors, Dana Pethia, said, "The Jingle Bell Run was born from a combined creative interest in raising money to support the student athletes here at Saint Martin's University. With physical endurance being the key ingredient to athletic success, we thought it fitting to build a fitness-based event — and during the holiday season, when many of us feel we might have a few extra holiday calories to burn!"
University President, Dr. Roy Heynderickx Ph.D. agrees. "I know of no better way to begin the holiday season than a spirited run through the trees," Heynderickx said. "Each year, the Jingle Bell Run has grown in the number of participants with many families and many friends. And the Marcus Pavilion makes a great place to start and finish the race with great entertainment, refreshments and food."
This year, Saint Martin's expects 1,000 participants to attend the annual 5K race. All ages and abilities are welcome to run, walk or stroll the university's gorgeous campus grounds in their most festive outfits. Pethia estimates that 25% of runners will be SMU students, 20% student families, 10% active or retired military, and 45% community members.
Registration is required for the Jingle Bell Run and can be completed online. Monies raised support Saint Martin's University student athletes in the form of scholarships or the purchase of equipment, uniforms, and travel expenses. Included with every registration is a swag bag stuffed with commemorative t-shirt and gifts provided by local business sponsors. This year they include Olympia Orthopedic Associates, Capital Medical Center, Columbia River Advisors, Olympia Federal Savings, FLATWORLD, LLC., L&E Bottling, Puget Sound Orthopaedics, Missing Piece Marketing, and Capitol City Press.
The Jingle Bell Run will take place in two stages on the morning of December 5. Competitive runners will start at 9:00 a.m. and must be able to complete the 5K within 30 minutes. The Fun Run/Walk begins at 9:45 a.m. for everyone else. At the finish line, all participants are greeted with celebratory Christmas cookies, fruit, bagels, cider, cocoa, and free photos with Santa.
In the competitive run, medals will be awarded to the top three finishers in both men's and women's categories. For Fun Run participants, prizes will be given to the most festive running team, as well as the oldest and youngest runners.
Saint Martin's Athletics Director, Bob Grisham, is proud that "the Jingle Bell Run is proof of Thurston County's support of Saint Martin's University. One thousand runners show such incredible enthusiasm and support at this event each year. It's astounding!"
Pre-registered runners can pick up their swag bag and information packet either Friday, December 4, from 3:30 p.m. to 7:30 p.m., or on race day from 8:00 a.m. to 8:45 a.m. Finish line celebrations begin at 10:15 a.m. at the race's Marcus Pavilion hub. Same-day entries are welcome, though they may not include t-shirts or goodie bags.
Find event specifics, frequently asked questions, registration details, and directions on the Jingle Bell Run website or by calling Dana Pethia at 360-486-8885. Runners who bring a non-perishable donation for the Thurston County Food Bank will also receive free entry into an upcoming Saint Martin's athletic event.
We spend so much of the holiday season cooped up indoors. Let the Jingle Bell Run become a new family tradition, one where you spend time outdoors, in — and with — your community. You never know what running with the monks will inspire you to do next.
Saint Martin's University is located at 5000 Abbey Way SE in Lacey.