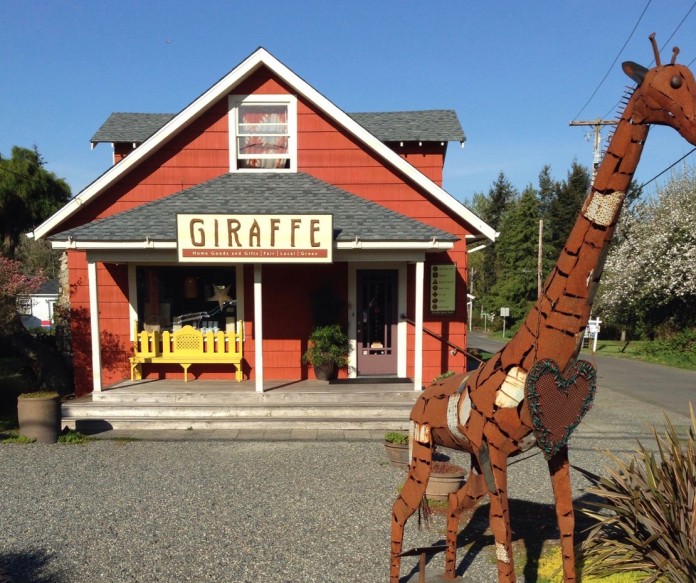 Do you ever get tired of urban life and wish you could step back in time to a simpler, more peaceful pace? A 15-minute ferry ride will bring you to the perfect place to experience just that — no time machine necessary. Simply head down to Point Defiance and hop the ferry to Vashon Island for a change of scenery, some peace and quiet, and a little slice of laidback island life. In the heart of Puget Sound, Vashon offers beautiful beaches, delicious eats and some good old-fashioned, home-grown goodness. 
Fuel up at a local coffee shop
The best way to start your day on the island is to dive into the local coffee scene, where you can get a real sense of the island spirit. On your way into town on the main highway, you'll pass the Burton Coffee Stand, and a few miles further the historic Vashon Island Coffee Roasterie (which doubles as a coffee museum).
In the heart of town, your best bet for some coffee is the local favorite Café Luna. Be sure to soak in the atmosphere and peruse the local art featured on the walls. If tea is more your thing, stop by the quaint Vashon Tea Shop. Don't forget the Vashon Island Baking Company for a freshly baked treat.
Shop through town
Vashon's "downtown," is really only a few blocks, but there are plenty of gems here to peruse. The Vashon Bookshop is a must-see for book lovers, and Giraffe is a colorful stop for fair-trade home goods. Kronos, located at 17610 Vashon Hwy SW, offers an eclectic mix of clothing, gifts, jewelry and unique treasures. For a small taste of the island's rich art culture, visit Heron's Nest gallery or Starving Artists Works (S.A.W).
Grab some lunch
When your stomach starts to rumble, head over to Snapdragon Bakery and Cafe. There you'll find gigantic, beautiful pastries that will make your mouth water, along with an enticing menu full of delicious and unique dishes like pupusas and vegetable latkes (many items are gluten-free and/or vegan). If the weather is nice, enjoy your lunch on the charming back patio.
If the sun is out, you might want to skip dining in and plan for a picnic instead. Visit the local grocery store in town, or Pure Organic Café Juicery, to pick up picnic supplies before you head out on your next adventure: exploring the natural beauty of the island.
Hit the beach
A trip to Vashon isn't complete without exploring the island's beautiful beaches. A jaunt out to Maury Island (connected by a thin strip of land to Vashon) will bring you to Point Robinson, where you'll find an iconic and picturesque lighthouse.
Most of Vashon's beaches are rocky, but if you are looking for sand be sure to hit up KVI. It's great for kids — and if you get there at a low enough tide, there's a large sandbar to explore. Access KVI beach down the hill from the intersection of Chautauqua Beach Road SW and SW 204th Street.
Quite possibly one of the prettiest spots on the island is Lisabuela, a secluded and quiet beach on the West side that is ideal for watching sunsets after a long day.
If you're looking to get out onto the water, kayaks and paddleboards are available for rent from Vashon Watersports at Jensen Point Beach, just outside of Burton.
Other not-to-be-missed island activities
If you like hiking, there are plenty of trails on Vashon; learn more at the Vashon Parks' website. Maury Island Marine Park is a great option, as it boasts sweeping views of the sound and mountains paired with secluded waterfront access.
Everything from wine to lavender to natural beef is made right on this rural island. If you want to visit the farms (and maybe bring back some home-grown goods for yourself), check out the Sustainable Tourism on Vashon's website, or hit up one of the many farm stands on the island. If you are there on a Saturday, be sure not to miss the buzzing Vashon Farmers Market for a real taste of local island life.
One of Vashon's most well-known landmarks, as unique as the island itself, is the bike in the tree. A rusty old children's bike (which was swallowed up by a tree many years ago to become a part of the tree itself) is the subject of many a local legend. No one's quite sure who's bike it was, or how it got there, but it certainly is an infamous Vashon icon. Park at the northeast corner of the Vashon Highway and SW 204 St intersection, then follow the trail into the woods north of the building.   
Island eats for dinner
Vashon may be small and secluded, but there's no shortage of excellent food. The Hardware Store Restaurant (located in what used to be the island's hardware store) is a great place for a nice dinner, where you can sip local wines, beers and ciders alongside things like crab cakes, buttermilk fried chicken or a grilled portabella sandwich.
If you love Thai food, it's worth the ferry ride over to Vashon just to visit May Kitchen + Bar, which serves some of the most authentic and delicious Thai food you can find in the entire Puget Sound region.
Other good options include Zamorana for tacos (17722 Vashon Hwy SW) or the Red Bicycle for sushi and drinks.
Getting there
Vashon is only accessible by ferry boat. From Tacoma, you'll catch the ferry at Point Defiance. Check the ferry schedule in advance to plan accordingly, and be sure to arrive early to get in line. Bringing a car to the island is a bit pricey, but it allows you the most freedom in exploring the island and all it has to offer when you get there.
If you'd like to leave your car behind on the mainland, you might consider exploring the island by bike. It's easy to bring your bike on the ferry, but be warned that after docking on the other side, you are in for some grueling hills that can be physically demanding.
Taking the bus to town is also an option. There are only two routes, and buses don't meet all of the ferries, so be sure to take a good look at the bus schedules and maps for route 118 and route 119 to plan ahead.
Staying overnight
Can't get enough of island life and want to extend your trip? There are plenty of lodging options for overnight stays. Try the new Lodges on Vashon for a one-of-a-kind, modern-meets-rustic experience.