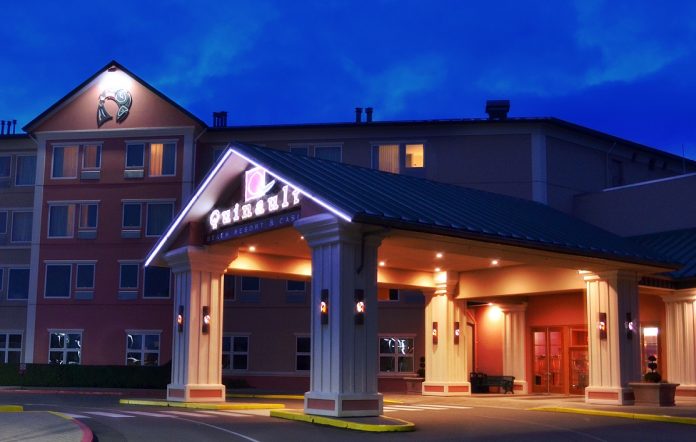 Sixteen summers ago, we were reveling in the music of Savage Garden, Destiny's Child, 'N Sync and Brittney Spears, glad that Y2K didn't send technology into utter collapse. That spirit of revelry spawned Quinault Beach's Cookin' the Blues celebration which — unlike our musical taste — thrives unchanged after all these years.
Come celebrate their anniversary this summer on June 17 – 19 at Quinault Beach Resort and Casino's annual Cookin' the Blues festival. There you will find an immersive weekend of food, storytelling, live music, native art, vendors and traditional cooking methods sure to banish stress before a long, hectic summer season.
Since the beginning, Quinault Beach has hosted this event to showcase and highlight their rich history in our area. The weekend will showcase tribal artists, historians and foods, culminating in fresh, local Blueback salmon roasted over an open flame and served Saturday night, June 18.
Quinault Beach Resort and Casino's Creative Marketing Coordinator, Nicolette Shanklin, is happy to welcome back such fan favorite activities as the storyteller and caricature artists. There will also be T-shirts available as well as free cupcakes and coupon books good for "various freebies and discounts throughout the Resort" for Q-Club members. Joining is free and easy for anyone over the age of 21 and rewards members with special offers, discounts, and cash back that can be spent on gameplay, resort shops, or even gas for the drive home.
This year's live blues artists perform all weekend long, from 9:00 p.m. on Friday until 3:45 p.m. on Sunday. In between sets, enjoy a slice of anniversary cake while exploring the Expo's array of vendors and booths.
The traditional salmon bake takes place Saturday, June 18, from 4:00 p.m. – 8:00 p.m. For $16, diners can feast on salmon, potato salad, macaroni salad, roasted red potatoes, corn on the cob, and brownies.
Then it's time to burn off dinner by dancing the night away with live music in the Ocean Lounge and on the casino floor until 1:00 a.m.
Turn the weekend into a summer-launching vacation with June room specials. This way you can visit the spa, fitness center or indoor pool to rejuvenate before heading back into the excitement.
Not quite two hours from Tacoma, Quinault Beach brings regional history to life through events celebrating tribal culture. Visit Quinault Beach Resort and Casino at 78 WA-115 in Ocean Shores for the perfect combination of past, present, and future.
Call 888-461-2214 with questions or to book your Cookin' the Blues staycation.
Sponsored