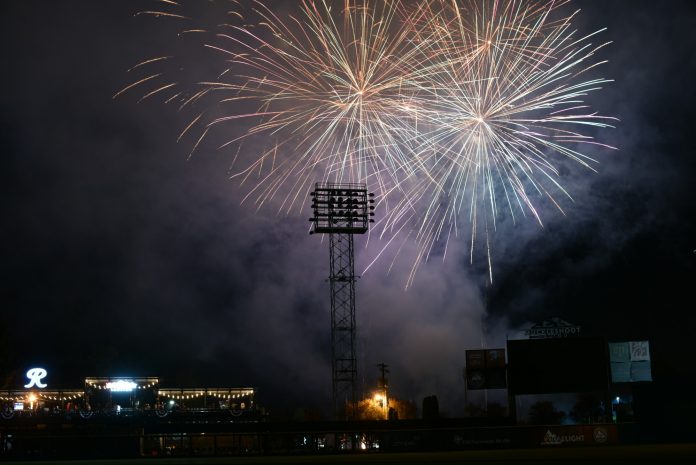 Editor's note: You've reached last year's listing. For this year's July 4 events, click here.
F
rom fireworks to the delicious smells of barbecue wafting through the air, July 4 fills Tacoma and surrounding Pierce County cities with fanfare unmatched by few other holidays. While many people celebrate at home, just as many head out to large-scale happenings to enjoy live entertainment, food galore, car shows and vendors, and — of course — dazzling fireworks displays. From large to cozier neighborhood events, Pierce County has a number of July 4 events that take place on or around Independence Day.
Tacoma Freedom Fair 
Tacoma Freedom Fair is one of the biggest and best celebrations of the year. Taking place along Tacoma's Ruston Way Waterfront on July 4, Freedom Fair brings in a little bit of everything and goes for the better part of the day, all the way until nightfall when one of the South Sound's most spectacular fireworks shows lights up the sky. Starting around 11:00 a.m., roam the waterfront and explore vendor and food booths alike. Also starting at 11:00 a.m., live music takes to various stages up and down Ruston Way continuing until 10:00 p.m. Live entertainment ranges from jazz to rock, Christian to blues, as well as many other genres. Between 1:30 p.m. and 3:30 p.m., the Freedom Fair Airshow will fill the sky above with vintage planes and military jets alike. Like the fireworks show, you'll have a great view from just about anywhere along Ruston Way, but some of the best seating areas include Marine Park and Harrison Park.  
VIP seating is available for both the airshow and fireworks if you join the Freedom Fair Fan Club for $50.
There is some parking at the event for a fee, but you can also park on nearby neighborhood streets and walk down (the main entrance is via McCarver) or take free express buses from either Tacoma Community College or Tacoma Dome Station. There is a suggested donation of $3 per person and $7 per family.
Wings and Wheels
If one day of 4th of July fun isn't enough (or if you have plans on July 4), then Wings and Wheels might be a fine way to add something a little extra into your holiday weekend. On July 3, Wings and Wheels fills the Tacoma Narrows Airport in Gig Harbor with festivities, aircrafts, music and more from 11:00 a.m. until 4:00 p.m. While there's plenty of live music, food, and arts and crafts to go around, Wings and Wheels is designed for car and plane enthusiasts.
There will be plane fly-bys and vintage planes to check out, as well as a special opportunity to tour and fly on a DC-3. DC-3 flights will take place at 10:30 a.m. and 1:00 p.m. and cost $350 for an hour of flight time. Another highlight is the Smoke 'N' Thunder Jet Dragster that will race down the airport's runway at 300 mph! Wings and Wheels has an admission fee of $15 for adults, $10 for military and seniors, $5 for kids ages 5 to 17, and free for kids 5 and younger. Parking is tight. If you purchase your ticket in advance online, you're guaranteed parking at the airport, otherwise you'll be directed to a satellite parking lot. 
Tacoma Rainiers Fireworks Show
Throughout the baseball season, the Tacoma Rainiers feature fireworks after home games on Fridays, but for the weekend of July 4, things get kicked up a notch. On Friday, July 1, the Rainiers will play the Las Vegas 51s starting at 7:05 p.m. After the game, the lights go out and the usual Friday Night Fireworks will light up the sky. On Sunday, July 3, after another game with Las Vegas, there will be a big fireworks spectacular!
Steilacoom Old Fashioned 4

th

of July Celebration 
If you prefer your July 4 on a smaller scale with a more classic feel, the cozy waterfront town of Steilacoom has got you covered. Steilacoom's annual parade and fireworks show will kick off at 9:00 a.m. on July 4. The day includes a fun run, live entertainment, ice cream social, dancing in the streets and a parade. Fireworks take place at dark.
Freedom Fest 
Joint Base Lewis-McChord hosts its annual Freedom Fest each year on July 4, but in 2016 the event is not open to the public, but instead only to those who have a DOD ID, including active duty, National Guard and Reserve service members, military family members, military retirees and DOD civilian employees. Non-DOD guests must be accompanied by a DOD sponsor. This year's festivities are a little more low-key than past years to free up personnel to support the Airshow and Warrior Expo in late August. Starting at 11:00 a.m. at Cowan and Memorial Stadiums, attendees can expect car shows, rides, food, games, kids activities, live entertainment and fireworks at 10:00 p.m.