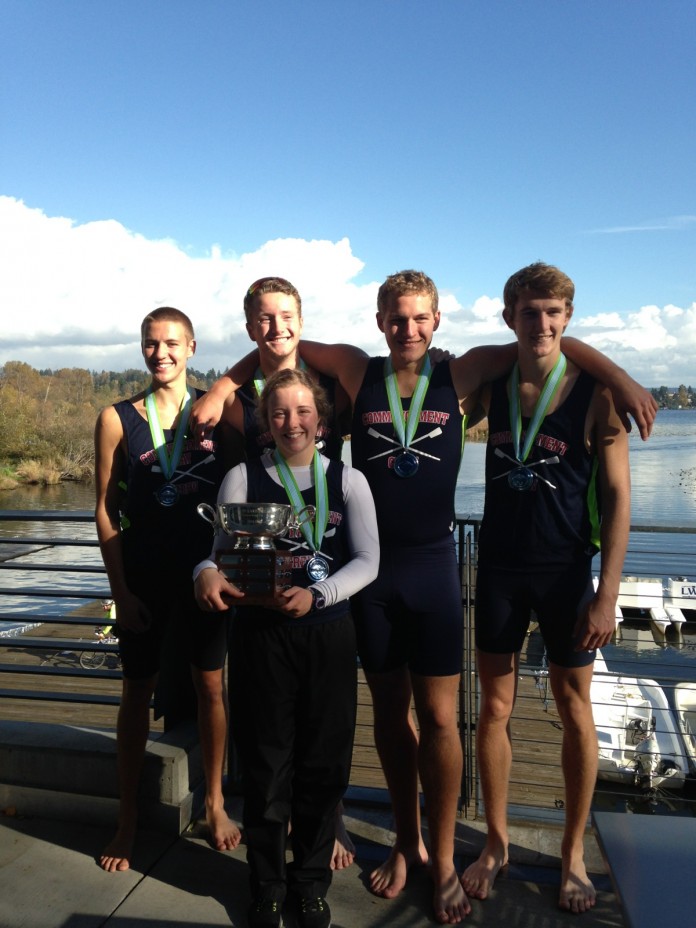 By Tom Rohrer
Five collegiate bound athletes in an athletic program is an impressive number.
Five on the same team?  Remarkable.
Impressive and remarkable could both be used to describe the spring season of the Commencement Bay Rowing Club's top male four to this point.
Comprised of Bellarmine Prep's Chris Szigeti, Peter Morton (both seniors attending Santa Clara University this upcoming fall) and junior Reid Grimm (being recruited by the University of Washington, UC Berkeley, Cornell and Harvard), in addition to Charles Wright Academy senior Kevin Kaminski (George Washington University bound), the group has posted victories in all but one regatta to this point in 2014.  Last weekend's second place finish was by .03 seconds to a Canadian team, making the CBRC time the top amongst all American teams at the event.
Joining the four on the boat is experienced coxswain Aelish Lambert, a senior at Curtis High School bound for the renowned University of Washington rowing program.  Lambert was the Coxswain on the CBRC varsity women's four in 2012.  That group won the Junior National Championship at the event in Oak Ridge, TN., the first such championship in the club's history.
"It was a special thing to be a part of for sure," said Lambert, who was recruited by universities across the country.  "The support we got from the club after we won is something that will stay with me."
Two years after Commencement Bay's first national championship, the varsity boys four appears to be in prime position to contend for the top spot at the 2014 Junior National Championships, which will be held at Lake Natoma in Sacramento, Calif., June 13 – 15.
"I think we're capable (of winning nationals) and I'm looking forward to that challenge," said Szigeti, the group's bow seat. "Obviously we have a long ways to go, but right now, we're in a great position."
To qualify for nationals, the team must win their division at the Northwest District Championships in Lake Vancouver later in May.  Under the supervision of head coach Dan Packard, the team believes they're putting in the necessary work to earn a bid to Sacramento.
"We've worked out together year round, and that's what builds a team," said Morton, who rows in the two seat. "We're working together as a team and we all have confidence in each other because we know that everyone on the boat is driven and wants to win.  We'll all do whatever it takes."
Now in his sixth year coaching at CBRC, Packard has been pleased with the dedication this experience group has shown.
"A lot of it comes down to who is in the boat, and I don't think you could ask for a more dedicated and driven group," said Packard.  "They fire me up and motivate me, to be honest.  When you see that drive, it inspires you to work harder as well.  They've earned every award and scholarship with hard work."
Coming full circle, the team believes the instruction and motivation from Packard has pushed them to a new level.
"He's one of the best coaches in the northwest, and he's a main reason we keep getting faster and faster every day," said Grimm, the group's three seat.  "If we've had a long day and it's raining and we don't want to be out on the water, he makes it fun. He makes us want to go the distance."
Grimm and Morton nearly went the distance in 2013, when they finished 13th in the nation in the varsity pair division at the Junior National Championships.  Their experience, along with Lambert's from 2012, is something the boat believes will help them should they qualify again this year.
"Oh yeah, it's something that I've asked them about in terms of what to expect," said Kaminski, whose older sister, Anna, rowed at George Washington as well.  "There's a lot of experience in this boat and that helps with confidence and just being able to relax."
"Racing at the national level is completely different.  These aren't the crews you see every weekend and the stakes are higher," said Morton. "It's about handling the nerves, relaxing and finding comfort at the beginning.  Hopefully we can take that experience and use it to our advantage."
This coming weekend, the group will compete at the Windermere Cup on Lake Union.  The University of Washington regatta is known for its high level of competition and big crowds, a setting that will only help prepare the group for regionals and possibly nationals.
"In my opinion, it's the best setting in the country for a rowing event," said Grimm, who for the second consecutive year has been selected to participate in the U.S. Rowing Junior Sculling Development Camp in Pittsburgh, PA, held in June.  "Before the race, going through the yachts to the cut, with the big crowd watching, it's just an amazing experience."
"It's the biggest spectacle of rowing around here," said Lambert.  "You just go 'wow, this is so exciting.'"
Armed with an upperclassmen group in the boat, such pressure isn't a frightening prospect for the group.  In fact, they relish in it.
"I've been rowing for three years, some of the guys for longer, so we've all been in big atmospheres and pressure situations," said Szigeti.  "This is what we love to do, and when it's time for a big moment, I feel we're all ready for that challenge."
The boy's drive for faster and faster times will continue to motivate them as regionals and nationals approach.  That drive is what Lambert has grown to appreciate about her team.
"Boys, they just like to go faster and faster and I really enjoy that aspect," she said. "They want to do it the right way with the right technique, but they want to push it as much as they can."
That same drive is commonplace amongst all of the 40 junior rowers of the CRBC.  One of the smaller clubs in the entire nation, CRBC has been a haven for all five members of the team.
"Everyone has that same desire to compete and get better," said Morton.  "We all want to see each other succeed."
"There's a lot of travel and down-time in rowing, so you form all these friendships and become closer," said Szigeti.  "Most of us all go to Bellarmine and you can tell there's just a strong bond amongst us all."
"I've just really enjoyed my time (with CBRC)," said Lambert.  "Being able to travel to all these great regattas and practice and compete with this incredible equipment, it's been an awesome experience."
Seeing success both on the water and in personal relationships continues to be a rewarding experience for Packard.
"This is laying the foundation for the rest of their lives, and you see how important crew can be down the line, even after college," he said. "You can really see that development."
While the future is important, there are more pressing matters in the present day for the CRBC varsity boys four, and time is (literally) of the essence.
"This is what we've worked for all along," said Kaminski, who practices with the team two hours a day in the afternoon plus another two hour session on Wednesday afternoons.  "We're in a good position, but we're not satisfied just yet."
For more information on the Commencement Bay Rowing Club, which has both junior and adult programs year round, visit http://www.combayrow.net or follow the club on Facebook.