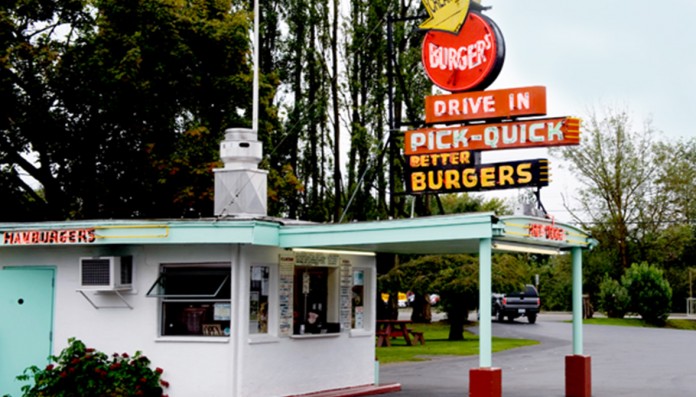 Imagine enjoying a thick, creamy milkshake at the same exact spot where your grandmother indulged decades before?
Generations of families have been eating at Pick-Quick Drive In since it opened in 1949, and customers of the iconic restaurant still enjoy the history that comes with their burgers and fries.
We spoke with manager Becky Olson, who has been working at the restaurant for eight years, about the burger joint's history, the most popular menu items and the generations upon generations that come to Pick-Quick for some old-fashioned comfort food.
Today's menu is the same as it was when Jay and Henrietta Adolph opened the restaurant in 1949. Since then, ownership has changed hands a few times. In 1980, however, Joe and Betty Burgi, in partnership with Joe and Joyce Imhof, became the dedicated owners of the iconic drive-in.
Eight years later, the Burgis took full ownership of the restaurant, and it's been the Burgi family-owned and operated ever since. Today Joe and Betty's children and their families help run Pick-Quick, especially son Greg and son-in-law Dan Nelson, who's married to Joe and Betty's daughter, Cindi.
When you drive by Pick-Quick, you'll most likely see a long line, no matter what time of day it is. That's because the burgers, fries and shakes have been drawing people for over 60 years. Olson says the most ordered items include the bacon double cheeseburger, the chili fries and the milkshakes.
"They're pretty darn good," says Olson smiling, referring to the milkshakes. "Vanilla and chocolate and blackberry are the most popular, then root beer, peanut butter and anything with marshmallow."
Her personal favorite item to order is the banana split — but not regular size. "I eat a mini one. I can't eat the whole thing."
Apart from her love for Pick-Quick's food, she has another reason for being so passionate about her job — one that she shares with her customers. "I'm nostalgic," says Olson. "I get it. People love coming here. It's comfort food. It's relaxing."
She says that although almost everyone is familiar with Pick-Quick, they don't know how hands-on the owners are. "They're here every morning," she explains. "Every lunch. Every night at closing."
All that hard work has paid off. USA Today named Pick-Quick the best burger joint in the entire state. And Olson says locals make it a point to bring out-of-towners to the restaurant. "It's like a tourist attraction," she says. "People bring visitors here to show us off."
Donna Guntoe is one of those loyal customers. Now in her sixties, the local resident has been munching on Pick-Quick fries since she was 10-years-old. "It was a treat for us," she recalls, referring to herself and her four siblings. "It was a treat for being patient while mom did the shopping at the commissary."
Guntoe is a perfect example of the families who have been eating at Pick-Quick, generation after generation. "I used to bring my kids here," she says. "My grandchildren still come here."
In 2010, Gerard Centioli partnered with the Burgis to expand the Pick-Quick dynasty, opening up a second location in nearby Auburn. Since 2011, the Auburn location has been slinging burgers, shakes and more to its hungry patrons.
Even if you don't have nostalgic memories of the well-loved burger shack, one taste of a Pick-Quick deluxe burger or malted milkshake is all you need to become a new regular at this iconic South Sound eatery. Load the family in the car and head to the original Pick-Quick Drive In in Fife, or make a detour to its new, second location in Auburn.
Pick-Quick Drive In
4306 Pacific Highway East
Fife, WA 98424
253-922-5599
pick-quick.com
Pick-Quick Drive In
1132 Auburn Way N
Auburn, WA 98002
253-248-1949
pick-quick.com