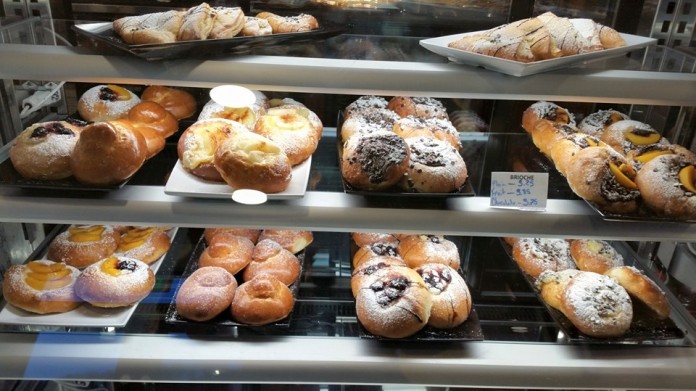 You don't have to travel to Italy to enjoy Sicilian-style cannoli, tarts and éclairs made in the traditional style. Offering the largest selection of Sicilian pastries — both savory and sweet — in the region, Point Ruston's new Dolce Sí Sicilian Bakery and Café brings a slice of Italy straight to the South Sound, and your stomach.
One look in Dolci Si's display case reveals everything from panzerotti and cannoncini, to torciglioni, castagnole, bigne and involtini, just to name a few. And if you don't know what half (or any) of those pastries are, then you are in for a treat — literally.
Old World Traditions 
The authenticity of Dolce Sí's selection is due to the authenticity of the woman in charge: Elisabetta O'Shea. Born and raised in Sicily, Elisabetta met her husband, Steve, while he was stationed at a Navy base there. After their wedding in 2003, the couple moved to the United States, settling in the Pacific Northwest. Along with her suitcase, Elisabetta also brought a wealth of knowledge with her to America.
That's because Elisabetta learned to bake in the Old World fashion: At the feet of her mother in her family's Sicilian kitchen. Today, she shares those traditions — and flavors — with her Dolce Sí customers.
According to Elisabetta, there are two major distinctions that make Sicilian pastry different than what most Americans are used to: convention and confection. In Italy, pastries are generally consumed during breakfast with a coffee or cappuccino, or in the afternoon between lunch and dinner — although Dolce Sí's wide selection of cookies and cakes can be enjoyed at any time of day.
As for the different ingredients, the more traditional Italian pastries — the lyrical litany listed above — are not as sweet as the confections Americans are used to. They are lighter, have less sugar (typically filled with sweetened ricotta or mascarpone rather than frosting or custard), and rely heavily on almonds that are ground into flavorful flour or paste. All of these ingredients come together to provide a perfect balance of simplicity and sweetness.
More Than Pastry
Although it's the pastry that sets Dolce Sí apart from other bakeries, what will doubtlessly be the café's biggest draw during the summer months is its homemade gelato. Located at scenic Point Ruston, Dolce Sí's gelato is the perfect treat to enjoy while strolling along the waterfront on a hot summer day. But one thing should be made clear: this is not ice cream.
Creamier and more flavorful than its popular counterpart, gelato is made with milk instead of cream, making it a nice option for those who are counting calories or just want something lighter than ice cream.
The gelato display at Dolce Sí is a work of art. The display is an edible palette of bright colors adorned with fruit, berries or drizzles of chocolate. And, once again, the names do not disappoint. Dip into some gianduiotto (hazelnut-chocolate, like Nutella), stracciatella (think cookies 'n' cream), or panna cotta (a creamy vanilla). Elisabetta admits that Italians have been known to skip a meal for a bowl of thick gelato instead — so don't worry, there is an historical precedent for eating ice cream for breakfast.
Other edible attractions at this cultural café include a wide assortment of beautiful cakes, which can be custom­-ordered and would look as good in an art museum as they would displayed at a birthday or tea party. To wash it all down, the coffee and drink selection (which includes a small assortment of cocktails) don't disappoint. For the traditional experience, Elisabetta recommends a cappuccino.
Café Culture
Since Dolce Sí opened in November, it has attracted the attention of those in the region looking for an authentic Italian experience. Elisabetta has met customers coming from Olympia, Bellevue, Portland, and everywhere in between — Italian natives, second- and third-generation immigrants, and even those who have been looking for a good cannoli since they traveled abroad in college. The first Saturday of every month, Dolce Sí invites those of Italian heritage in the region to come together for pastry, coffee, and authentically enthusiastic conversation in the mother tongue. Elisabetta is proud of her heritage and overjoyed to be able to share it with others, fellow countrymen and newcomers alike.
So whether you were raised eating plates of your mother's pignolo on Sunday mornings or you have never even tried gelato, come on down to Point Ruston —  for a taste of Sicily.
For a peek at Dolce Sí's menu offerings, visit Dolce Sí online.
Dolce Sí Bakery & Café
5005 Main St, Ste 105
Tacoma, WA 98407
253-292-0172
www.dolcesi.com