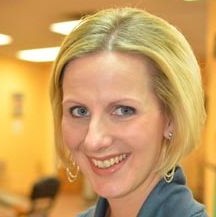 Did you know you can find relief to pelvic pain and other common women's health issues through physical therapy?
In fact, women in the South Sound area can get treatment at any one of the three AIM Physical Therapy clinics in DuPont, Puyallup and Tacoma. In addition to women's health, the clinics provide therapy and home health services in the orthopedic, pediatric, geriatric, sports injuries, and neurological arenas.
Two AIM physical therapists specialize in women's health and have advanced training in pelvic floor physical therapy. Elizabeth Lyter (in the Puyallup clinic) and Maria Bokor (in the Dupont and Tacoma clinics) discuss women's health issues.  Between 5 – 40 percent of their practices are focused on women's health at any given time.
How long has women's health physical therapy been around?
Arnold Kegel published his first article in 1948 about the now-famous "Kegel" exercise, used to help strengthen the pelvic floor muscles and address incontinence or prolapse. This might be considered the start of treatment for this issue amongst US physical therapists.
However, many centuries ago, the Taoist exercises in China (we are more familiar with Tai Chi) included a practice called "jade egg" which uses the same set of muscles as the "Kegel."  Women's health physical therapy also includes treatment for pain in the pelvic area.  Many techniques used for this are derived from the muscle energy-myofascial-craniosacral-visceral manipulation approach, originally developed by osteopathic physicians in the late 1800s in Missouri, and refined and expanded over the years.
The American Physical Therapy Association has a section on Women's Health / Pelvic Floor Therapy and has offered training and certifications for about the last 20 years.
What do you want people to know about physical therapy for women's health issues?
Opting for physical therapy can often help women heal more quickly after surgeries in the pelvic area, improve bladder control, and address chronic pain problems.   For example, one common issue is diastasis recti, where the abdominal muscles separate during pregnancy or surgery, and don't quite knit back together.  Certain exercises and use of some abdominal wrapping techniques can often start to change the appearance and shape of the belly and help with back pain.
Problems with the bladder are usually either an urgency issue–feeling like "I gotta go right now" or having small to large amounts of leakage when coughing or sneezing or laughing, or a combination of these two problems.
Physical therapy can help by looking at dietary or fluid intake issues that might be contributing to the leakage, along with helping a woman learn a variety of exercises to improve pelvic floor strength.  These exercises can vary from specific toning of the pelvic floor through neuromuscular electrical stimulation (NMES) to yoga poses or pilates-type exercises that address the entire pelvis and trunk areas.
The goal is to train the client to really understand what a Kegel contraction involves and to improve the strength and endurance of those muscles.  Treatment is usually done once or twice weekly with homework assigned, and most clients have good results within three to ten sessions, depending on the severity of the problem and their overall level of health.  Obviously, for an 85-year-old with a heart condition and limited exercise tolerance, results might be slower than for a 35-year-old who runs marathons.
What are the common ailments you treat in the women's health arena?
The most common ailments are pregnancy-related pubic symphysis pain, lowback or midback pain, incontinence, and pelvic pain.
It seems like it's an area that would require a lot of discretion, how do you address that?
Often, it is helpful to include an internal vaginal exam, obviously conducted privately.  All of the AIM offices have private rooms where the client and therapist are undisturbed.  Draping the patient with sheets provides a fair amount of privacy.
As therapists, we try to develop a good rapport with a patient so that treatment can be done as a team.  The internal exam may wait until the second or third appointment to ensure a level of comfort for the patient.  Sometimes, just the exercises and some small dietary changes are enough, and the patient has enough improvement that this is not even necessary.  Often, the issue is related to the alignment of the sacrum bone and the balance of muscles in the pelvic area, and this can all be addressed without an internal exam.
Any woman with pelvic pain or bladder incontinence should consider physical therapy.   For incontinence, most women require only four to six training sessions.  For pelvic pain associated with sacroiliac alignment, results are often achieved within a few weeks to a few months.
For more information about AIM Physical Therapy, or to schedule an appointment, please click here.