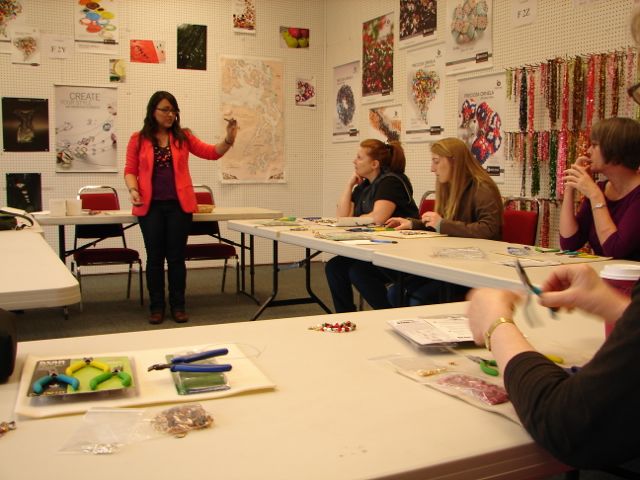 By Kathryn Millhorn
I'm the first to admit that I'm not crafty.  I fully appreciate those who are (and the wonderful markets, shows, and booths at which they sell) but making things just isn't my approach.  For the New Year, however, I figured it was time to give the budget a post-holiday break and try my hand at being creative.  When the opportunity arose to take a Beading 101 class at Lacey's Shipwreck Beads, I was eager to learn.
For me, the key tidbit this class confirmed is that beading is a hobby for everyone because it doesn't require a large budget, skill-set, storage space, or time commitment.  Anyone can pop into Shipwreck and come out with the materials and advice needed to create amazing gifts, wearable art, or sellable masterpieces.
Shipwreck Beads has been a Thurston County institution for over 30 years.  From its humble beginnings as a family garage business, it has grown into a huge showroom and internet presence across our region.  They now host classes, an Artisan Market, and participate in Small Business Saturday events.
The Beading 101 class is taught in-house by Kelsy Vincent, an employee who began with Shipwreck while still in high school.  She's been with Shipwreck off and on for over eight years, now teaching and helping develop their online presence.  She is joined by a second instructor, Beth Simmons.  In between writing blogs and maintaining their social media side, Vincent is an amazing teacher of novice crafters.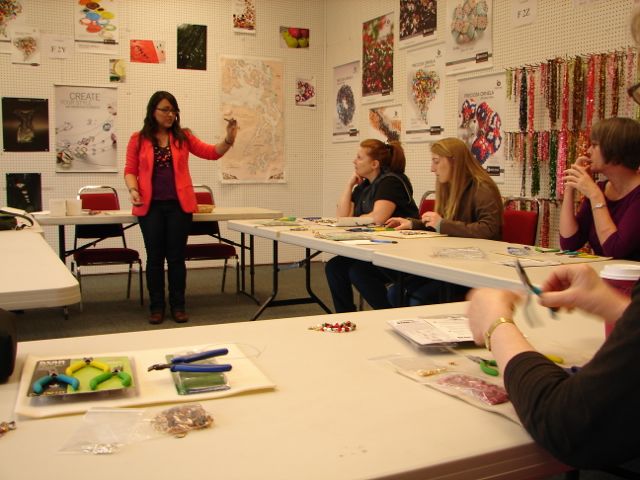 Classes are often limited to ten students since hands-on time with equipment and one-on-one instruction is vital.  In our session there were six students, mostly beginners and home beaders; one was a return student to Shipwreck.  She'd enjoyed introductory classes previously and we were all eager to tackle the day's material.  Our registration fee covered an assortment of jewelry making hardware, a bag of multi-colored beads, a supply list for later projects, and a shop coupon.  Through skilled, patient teaching, Kelsy lead us through techniques for crimping, designing, measuring, and manufacturing a complete (and gorgeous, if I do say so myself) bracelet and pair of earrings.  The materials left over were more than enough for additional pieces or further embellishment of our jewelry.
I'll admit I was—and still am—a bit overwhelmed by the size of the store.  Going through their rows of product is akin to wandering a grocery store when you're hungry.  There is so much to see, experience, and daydream about it can be hard not to get carried away.  But their amazing staff is tremendously helpful and always willing to guide you both creatively and physically.
Fellow attendee and noted crafty lady, Rebecca Anderson, is a master quilter and designer who also thoroughly enjoyed the class. "I had strung beads before but didn't know what the proper tools were or how to use them.  The teacher was clear and helpful.  We learned some basic techniques and she showed us examples of jewelry pieces that used those techniques in more advanced ways.  Inspiring!   I appreciated that we got to choose from many styles of beads and that in class we finished a bracelet and pair of earrings.  It was friendly, fun, and creative—my favorite environment," reports Anderson.
Shipwreck offers other classes throughout the year with in-house teachers as well as specialists brought in for their unique expertise.  Their staff will gladly offer advice and items can be ordered online and mailed directly to you.  With new materials arriving daily and a wonderful café full of snacks, it's hard to pull yourself away once you arrive.
Just don't be like me and wait so long to discover all they have to offer.  I've worn my bracelet every day since class and if I can do it, anyone can!