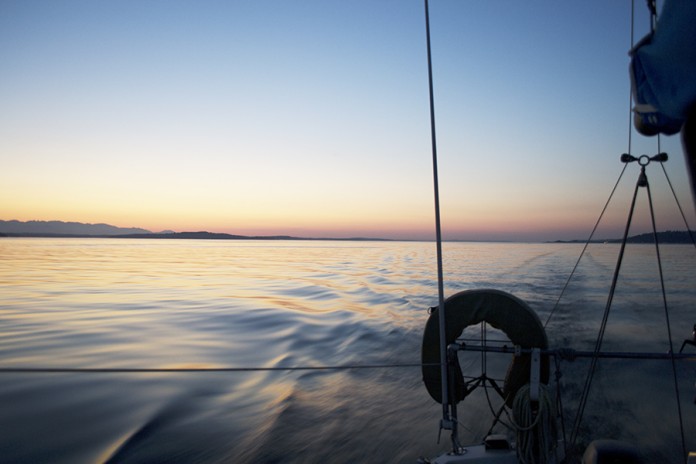 By Margo Greenman
Living in the South Puget Sound, chances are you've spent some time on the water. Maybe you've been sailing with friends and family, or perhaps you've taken a leisurely kayaking tour around Owen Beach. At the very least you've traveled by ferry to one of the Sound's many water friendly destinations.
But how much of your watery locale have you really explored? If you haven't found your favorite boating destination yet, or have but would like to discover some other hidden gems, load up the cooler, throw on your life jacket and get ready to experience the South Puget Sound with a few of my favorite boatable destinations.
Day Island and Narrows Marina
Day Island is a beguiling island located just west of Tacoma. Visitors of this island won't find much in the way of recreation, dining or shopping, but rather a tiny island boasting sweeping views of the Puget Sound, Mount Rainier and the Narrows Bridges. While touring this small island, don't be surprised if you find your favorite new view or future dream home – the island is lined with charming houses.
If you get hungry or want to stretch your legs, day moorage is available at nearby Narrows Marina where you can tie up for a few hours and grab a bite at Boathouse 19 or a brew at Narrows Brewing Company located next door.
Blake Island
Blake Island is a 475-acre State Park that offers some of the best marine camping around. Five miles of beach shoreline and breathtaking views of the Olympics and Seattle skyline make this island one of the most scenic lookouts in the Sound. But it is the vibrant wilderness, excellent hiking trails and top-notch camping that make Blake Island a must.
Because Blake Island is only reachable by boat, and because it has been preserved as a Washington State Park, it is a quiet retreat for kicking back and enjoying the great outdoors with friends and family. If the wind is good you can sail from Tacoma to Blake Island and back again in a day. A motor boat will make the trip in no time at all.
Once you arrive at the island you can either anchor offshore or dock at the marina. Island visitors love to spend their time enjoying outdoor recreation, exploring the interpretive center at Tillicum Village, dropping their crab pots, and much, much more. To learn more about all that Blake Island offers its visitors, or to reserve a campsite, visit Washington State Parks' website here.
Anderson Island
Small, rural and surrounded by the Key Peninsula, Tacoma and Olympia, Anderson Island is the South Puget Sound's southernmost island and one of the area's best kept secrets. With a population of just more than 1,000 people, Anderson Island is a sleepy, hidden gem that offers visitors everything from stunning beaches and lake swimming, to a rich local history and more. If you don't have your own boat, head to the Steilacoom Ferry Terminal where you can catch the ferry and enjoy a day of exploration. For a truly scenic experience, bring your bike and explore the island on two wheels.
Vashon Island
There is lots to see and do in the "Heart of the Sound," or what is more commonly known as Vashon Island. An artsy island boasting tasty fare, eclectic shopping and an abundance of outdoor recreation, Vashon Island is reachable to visitors only by boat. You can sail or motor your way to the island (day moorage is available at Quartermaster Marina), or catch the ferry from the Point Defiance Ferry Terminal in Tacoma. Once you step foot on the island, the activities are endless.
Grab goodies for a picnic at Vashon Thriftway, or opt for sit down dining at one of the Island's many renowned restaurants including the popular Hardware Store Restaurant, Red Bicycle Bistro and Sushi, Pure Vegan Cafe, and many more.
Because many artists live on the island, Vashon is a very arts-centered community. Visitors of the island love catching a show at the Drama Dock Community Theater and perusing the various galleries and print shops located across the island.
Dead Man's Island
If you've ever been to Kopachuck State Park in Gig Harbor, Wash., chances are you've peered out upon the small, wooded and sandy land mass known as Dead Man's Island. A favorite summer spot for locals, Dead Man's Island boasts epic views of the Puget Sound and is surrounded by sandy shores perfect for summer sun bathing.
Because the island's shoreline is so sandy, boaters can anchor right on the beach. Or, if you'd prefer to travel by kayak, Dead Man's island is just a short paddle away from the mainland. In the summer, this small, sandy island is a favorite for summer picnics and splashing in the water. Kids of all ages love exploring the small cluster of trees located in the middle of the island, and running out to the tip of the island's long, sandy spit. Be sure to pack plenty of food because you may not want to leave.