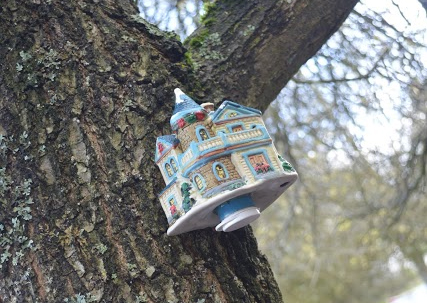 By Mariah Beckman
Think your family has seen and done it all? Think again.
There's been a lot of buzz about geocaching in the last year or so. You may have heard the term, and someone may even have explained it to you, but you still don't get it. That's okay—we're here to help.
Here's a breakdown of some of the keywords and core concepts behind this quirky hobby.
Geocaching: A hobby, a game, and a way of life for many obsessed fans. Geocaching involves hiding small, airtight containers (with a guest book called a log, as well as a pen) in undisclosed locations. Once a stash is hidden, the owner of this hide writes down the item's GPS coordinates and posts them to a website that organizes hides like this one on a big, user-friendly map. Geocaching is credited with using smartphone technology to locate the kid in all of us, and is a curiously addictive way to idle away the hours by yourself or with a group.
Geocacher: A person or persons who tries their best to look inconspicuous while he or she hovers around a lamp post for 10 minutes. This person (or group) can tell a fake pinecone from a real one at a glance, and is always on the lookout for magnetized Altoid tins, hollow logs or camouflaged duct tape. Many cachers come to the hobby out of curiosity, or boredom, or even stumble across a find by accident. Geocachers essentially play hide-and-go-seek-seek with Tupperware, but thanks to the activity, they find in themselves a delight for seeking out something that not everyone takes the time to try and see.
Groundspeak: In 2000, Groundspeak began with a dream. Jeremy Irish and his friends were looking for a way to catalog not just their finds, but everybody's, ever. So they started a website, and they called it Geocaching, and it was good. At first, there were only a few hides. Now, there are more than 2.5 million hidden on Earth (and in the oceans, and even in space). And you can find them, thanks to Groundspeak.
FTF: This term stands for "first to find," and translates roughly to, "I win," or "Na-na-na-na-boo-boo," for the serious cachers.
DNF: This means "did not find." In keeping with the notion that caching is about the seeking as much as the hiding, Groundspeak encourages cachers to log "did not finds" to help communicate with others who are also looking. There is no shame in not finding a container on the first try. After all, they are called "hides."
TFTC or TFTF or TFTH: These all stand for "Thanks." Cachers pride themselves on being a courteous breed, and they always try to let the person who hid the cache know that their contributions are appreciated. Saying "Thanks for the cache," (or "the find," or "the hide") is an essential part of the lingo for many regular cachers.
CITO: "Cache In Trash Out" is an initiative and a philosophy espoused by Groundspeak. The concept illustrates the company's doctrine to make the world a better place by exploring it, and by leaving it a little better than we found it when we got there. The message is infectious, and cachers often organize CITO events to clean up city parks, beaches, schools and city streets.
It all sounds kind of fun, doesn't it? The next time you find yourself with a spare minute, you can check out Geocaching. Sign up for a free account—it really is 100% free. Then, click on Hide-and-Seek a Cache; type in your address, or your friend's address, or the address of the beach you plan on going to this weekend, or wherever. Odds are, you will be shocked at how close you are to an adventure. You can also click here for a list of more than 500 Tacoma-area caches. Beginner caches are highlighted in green and are recommended for first timers.
If you like what you see (or if you're already chomping at the bit to download the app) you can get the party started right on your phone by downloading an app for iOS, Android or Windows phones here. You can join the more than 6 million active users worldwide and see firsthand what all the furtive fuss is about.
Geocaching is a great way to explore solo or with a group. This is a free activity that focuses on community betterment, as well as exploring any area's local attractions. One Pierce County geocacher (who goes by the Groundspeak username "minstrale") tells us that he started caching on a whim in April of 2013, and hasn't really stopped since. In a little over a year, this cacher and his son have found just shy of 2000 hidden caches in Washington.
"Minstrale" says that geocaching can take players great distances, or right into their own backyards. "We often give favorite points to good caches based on the overall experience, special memories, and people with whom we've shared them. Just the other day I got FTF for a woodland cache that had me running out the door at 6 a.m. to scramble up a mossy log precariously suspended high above a trail (GC55884). Some caches make you feel like Huck Finn."
And who doesn't like Huck Finn? Cater to your own curiosity and investigate a hobby that has its origins in the Pacific Northwest. There are around 60,000 hides waiting to be discovered between here and Oregon, and we can't wait to hear what memories this hobby helps you and your family to make.