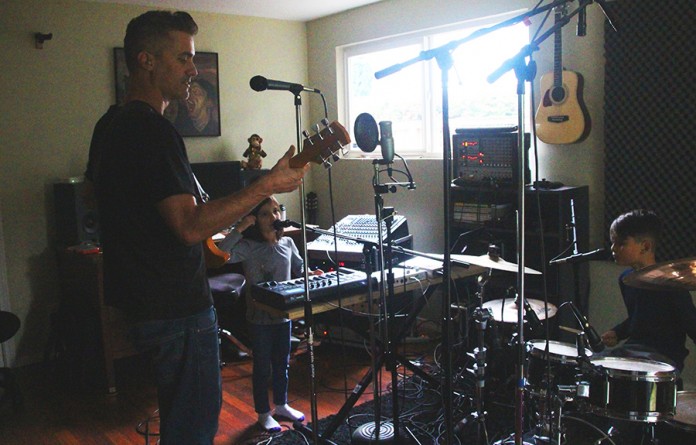 By Margo Greenman
You know the feeling you get when you hear a really great song for the first time? The feeling that sends chills down your spine and compels you to listen to said song on repeat for hours?
That's the feeling you get after listening to the song "The Tar Trap" – a catchy and dynamic arrangement of guitar, drums, synthy keys, and vocals crescendoing with a sentimental chorus reminding the listener that it's sometimes okay to "run away" – by Tacoma band Pig Snout.
But more than just great music, what makes it difficult for listeners to pull themselves away from Pig Snout's sound is the band itself. A trio of skillful musicians playing evocative songs with a Tacoma-esque vibe, two-thirds of Pig Snout's big sound emanates from two tiny and talented kids: 9-year-old Lucien Tamminga and 6-year-old Dahlia Tamminga, son and daughter of Pig Snout dad and guitar player, Justin Tamminga.
Justin, who teaches music lessons out of his home in Tacoma and works producing, engineering and recording musicians and bands, was excited when his kids expressed a shared interest in learning how to play the drums and keyboard earlier this spring. Both Dahlia and Lucien quickly learned the fundamentals of their instruments and in no time at all the two became skilled in both percussion and keys.
Around the same time the kids were getting started on their music lessons, Justin was approached by his friend Jim Redman who asked Justin if he would perform during Brifest, an annual concert that raises funds for the Brian Redman Memorial Music Scholarship. Justin, who wasn't in a band at the time, was considering who to play music with during the benefit concert when Jim suggested the idea of playing with the kids. Dahlia and Lucien were both excited about the idea, and so began Pig Snout's journey.
With the concert happening in June, Pig Snout had little time to prepare. They wrote six songs and practiced furiously. Wanting to give the kids a "practice run," Justin scheduled a small performance prior to Brifest, which would allow the kids an opportunity to shake their stage fright before the big show. But stage fright wasn't an issue for young Lucien and Dahlia. When their first performance came, it was just like they were at home practicing, having fun and rocking out with their dad. The only difference was this time practice ended with a mob of excited fans cheering them on.
Since their first performance earlier this summer, Pig Snout has played at various venues and events across Tacoma, has been featured on the cover of Seattle's Child Magazine, recorded a music video with Kris Crews (local filmmaker and film instructor at Annie Wright Schools), and even has an upcoming segment on Evening Magazine.
"It's surreal," says Justin, who never expected family music lessons to transcend into shows, a music video and a following of excited fans. As for the kids? They say they're favorite part of being in Pig Snout is getting to rock n' roll, hit the drums hard, and show people their songs.
Justin is loving playing music with his kids and is excited to see Dahlia and Lucien learning so much while having a great time.
But in addition to being a fun and educational experience for Dahlia, Lucien and Justin, Pig Snout has also become an inspiration to the community.
While Dahlia and Lucien have been inspiring their friends and classmates to pick up instruments and learn to play, Justin says parents are equally as influenced. "I've had people come up to me and say they want to start playing music with their kids," he says. Inspiring kids and their parents while offering a style of music that appeals across generations, Pig Snout is bringing kids and their parents together through music.
At the end of the day, what Justin most appreciates about all of this is that his kids have found a positive, creative outlet through music. "Music has been my therapy since I was young," says Justin. "Knowing that it helps them when they're going through a tough time is the best."
And for Lucien, playing music has been huge. Lucien deals with a very high functioning level of autism, but since picking up his first instrument earlier this spring, he has become able to better handle some of the challenges associated with his condition, including maintaining eye contact, responding to facial cues and body language, and problem solving in general. "This has opened up communication for him in everyday interactions and has helped a lot at school," says Justin, who also notes that since playing music, Lucien's self confidence has also skyrocketed. "I would like for other kids on the [autism] spectrum to see this and to not hold back from what they are good at or dream of doing," says Justin.
As for what's next? Pig Snout plans to continue their journey, entertaining boisterous crowds of multi-generational fans at venues across the South Sound. They even have an album in the works.
You can learn more about Pig Snout and find out when and where they're playing next by visiting their website and following them on Facebook, Instagram and Twitter. Have a question for Pig Snout or want to sign your kid up for music lessons with Pig Snout dad, Justin? Contact Pig Snout by emailing them at pigsnoutband@gmail.com.