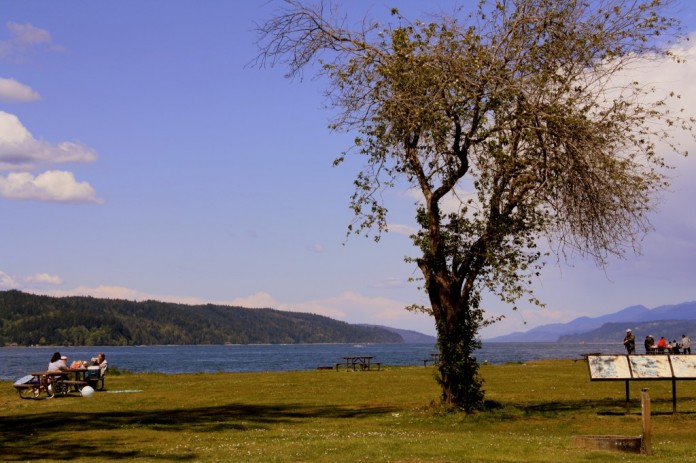 By Douglas Scott
The State of Washington is home to some of the most beautiful places in the world, and the majority of them are just a few shorts hours form most of our homes. Our extended backyards lead to majestic mountains, tranquil beaches and old growth forests, many of which are located in state parks or other protected lands. While typically the purchase of a Discover Pass or a $10 per day fee is required to visit Washington's State Parks, the agency has designated 11 days in 2015 as "Fee Free" entry days.
During the "Fee Free" days at Washington State Parks, a Discover Pass is not required to visit a park, providing free access for all who choose to visit. The waived fees do not cover camping or rented facilities in the park, but do cover entry and the chance to explore some of Washington State's most celebrated lands free of charge. The dates for 2015 are as follows.
Jan. 18–19: Martin Luther King, Jr. Day
March 19: State Parks' 102nd birthday
April 4: Saturday Spring Day
April 22: Earth Day
May 10: Sunday Spring Day
June 6: National Trails Day
June 13: National Get Outdoors Day
Aug. 25: National Park Service Birthday
Sept. 26: National Public Lands Day
Nov. 11: Veterans Day
In the South Sound, counting the Hood Canal and the Kitsap Peninsula, we have 21 nearby state parks just waiting to be explored. From Dosewallips on Hood Canal to Dash Point just north of Tacoma, the South Sound region has numerous opportunities to get to know our local state parks. Without having to drive far, we are lucky enough to be able to experience a wide variety of wilderness for free in our state parks.
5 Great South Sound Area State Parks
Dash Point State Park
Dash Point may only be 398 acres, but what it lacks for in size it makes up for in opportunity. With more than half a mile of saltwater shoreline access and incredible views of the Puget Sound, enjoying the sun at Dash Point is the perfect way to spend a day. Even in not ideal weather, Dash Point gives ample opportunity for those looking to explore tide pools and escape the hustle and bustle of the nearby cities. Dash Point can get crowded on nice weather days, but if you arrive early, you will be able to find parking and get a spot to sit and enjoy the day.
Flaming Geyser
Located on the Green River, Flaming Geyser State Park was once actually home to a flaming geyser. Sadly, the geyser is no longer lit due to a depleted methane source, but the region is still a fantastic place to visit. With 4.3 miles of hiking trails, access to fishing, swimming and white-water kayaking, those who do visit Flaming Geyser State Park will be glad they did. Extremely popular on the sunny summer days, Flaming Geyser State Park is always worth the stop. An interpretive salmon trail greets visitors during salmon season, perfect for those hoping to catch a glimpse of the returning, spawning salmon. The park has 200 unsheltered picnic tables, and five picnic shelters with electricity. Each are first come first serve.
Penrose Point State Park
Located at the southern end of the Kitsap Peninsula, Penrose Point State Park is an excellent location to explore the forests and beaches of Western Washington. With 2.5 miles of trails open to hiking and biking, as well as over two miles of coastal regions to explore, the sights, sounds and smells of Penrose Point will make you want to return again and again. With huge fir and cedar trees looming large, ferns and rhododendrons provide a home for the numerous species of animals in the region. The park is perfect for looking at tide pools, exploring the beaches, swimming, clamming, crabbing and fishing, Penrose Point needs to be added to your list of places to explore in 2015.
Saltwater State Park
Located directly halfway between Tacoma and Seattle, Saltwater State Park's creation helped to form peace between the two cities in 1926. While the area surrounding Saltwater State Park may be an urban metropolis, the business of the city can be escaped in the near tranquility of the park. With miles of trails and some of the best tide pools on the Puget Sound, kids and kids at heart will enjoy exploring the beaches and forests of Saltwater State Park. During the sunny days, it may be crowded, but the park is always worth the visit.
Potlatch State Park
Out on the Hood Canal, near the shadow of the southern peaks of the Olympic Mountains, Potlatch State Park sits quietly, giving visitors access to more than a mile of saltwater shoreline. According to Washington State Parks, "The area where Potlatch State Park is now located was known as Enetai, meaning 'beyond' to the Skokomish Indian Tribe. The Indians set their winter villages here and held potlatches in the area. The park is named in honor of the potlatch, a gift-giving ceremony." Today, the park gives the gift of beauty and some of the best places to scuba dive in Washington State. With chances to harvest oysters, dig for clams, or catch fish and crabs, the area keeps on giving. While the hiking trails are minimal, the location is close to Hoodsport, Lake Cushman and Staircase in olympic National Park to make Potlatch a great place to catch the sunrise and sunset.