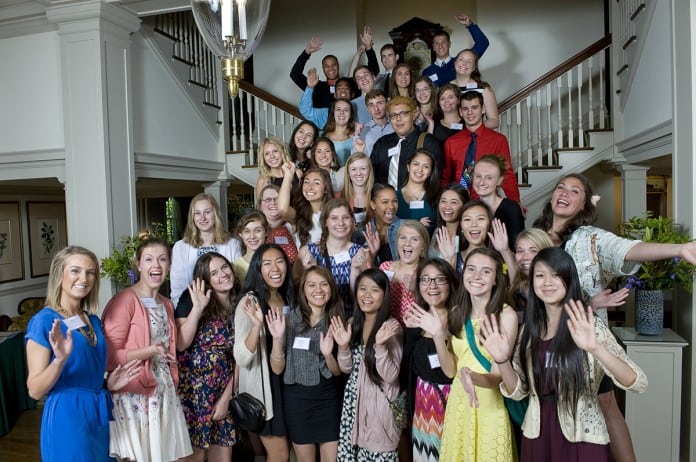 As another school year comes to a close, countless high school graduates across the country are busily preparing for the next chapter of their lives. However, for many, this preparation began many years ago. Whether excelling academically, volunteering in the community or taking on a leadership position at school, many students take extra steps to prepare for their futures long before graduation day is even in sight.
For the past 15 years, Comcast has made a point of recognizing and rewarding hardworking students who go above and beyond at school and in their communities through the Comcast Leaders and Achievers Scholarship program. Since the program's inception in 2000, Comcast has awarded more than $21.6 million to approximately 21,000 graduating high school seniors nationwide. This year, 90 graduating seniors from schools across Western Washington and Spokane were recognized and celebrated during the Leaders and Achievers Recognition Reception on Thursday, June 11, at the Governor's Mansion in our state's capital city, Olympia.
Flocking from cities across the state, scholarship recipients and their parents headed to Olympia where they were given a tour of the Capitol Campus prior to dinner and the awards ceremony inside the Governor's Mansion.
Representing cities and schools across Western Washington and Spokane, the majority of the scholarship recipients recognized at the event hailed from schools in Pierce County. Graduating seniors from schools in Tacoma, Federal Way and Lakewood — just to name a few — were all present at the prestigious event.
Comcast Leaders and Achievers Scholarship recipients were selected based on a few different challenging criteria. To be considered and selected for the scholarship, students had to demonstrate academic excellence through a minimum GPA of 2.8, provide examples of ways they've been leaders in their schools and communities, and share examples of how they've made a positive impact through volunteering and giving back.
Rian Brooks, a graduating senior from White River High School, is a scholarship recipient and soon to be Central Washington University freshman. Brooks said she wasn't always a leader. Leadership skills were something she developed during her junior and senior years after signing up her school's leadership class. Through this class, Brooks had to push herself outside of her comfort zone and take on responsibilities like mentoring underclassmen. Looking back on the past few years, the aspiring engineer said, "It feels good to have all your hard work pay off."
But when Brooks said it feels good to have all of her hard work "pay off," she didn't just mean financially. Scholarships help students pay for college, but they can represent so much more.
Keynote speaker and former NFL cornerback Reggie Jones said awards like the Comcast Leaders and Achievers Scholarship give students more than financial assistance, it gives them an opportunity. "It gives them confidence going into life," said Jones. "This right here is a helpful hand."
Sabrina Register, the evening's emcee and host of Comcast Newsmakers, echoed Jones' message, noting that the scholarship is a way for Comcast to recognize students who go above and beyond. "I think what Comcast is doing by supporting amazing leaders and achievers here in Washington State is a great thing," said Register. "I think it's a great way for today's youth to be recognized, and Comcast is really proud to take part and sponsor these kids."
In addition to being recognized for their hard work with a generous scholarship from Comcast, students at the June event also enjoyed an inspirational evening listening to local leaders like Jones and Washington State Representative Sharon Tomiko Santos, who both spoke during the reception.
"This is my first time coming [to the Governor's Mansion]," said Todd Beamer High School graduating senior and Comcast Leaders and Achievers Scholarship recipient Victoria Andro. "Winning the scholarship and getting a chance to be here is really awesome," said Andro, who graduated with nearly a 4.0 GPA and has spent the past three summers serving as a Youth Volunteer Zoo Guide at the Point Defiance Zoo and Aquarium. It's not a surprise that the San Diego State University-bound teen will be studying Marine Biology when she starts school later this fall.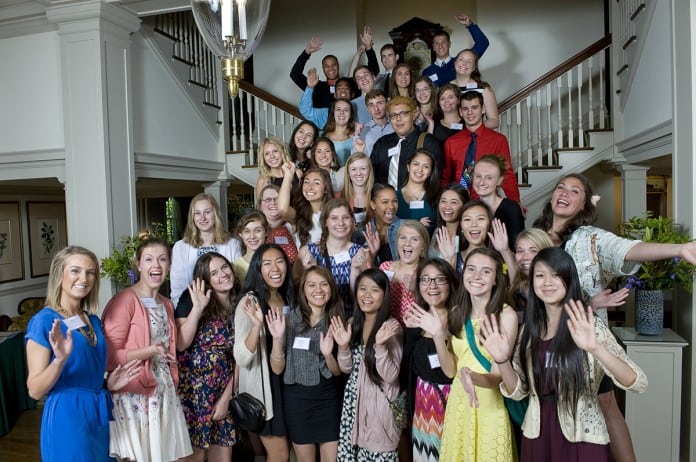 For Decatur High School graduating senior and scholarship recipient Nicolas Alvarez, the scholarship means he's one step closer to college and fulfilling his dream of becoming a high school English teacher. After spending last summer with his peers working with indigenous tribes in the Amazon, Alvarez won't have to travel quite as far this fall when he heads to college at nearby Saint Martin's University.
Of the students recognized locally and nationwide with Comcast's Leaders and Achievers Scholarships, a large percentage were students from diverse backgrounds. Last year, more than 52 percent of the scholarship recipients came from diverse ethnic and economic backgrounds.
The June 11 Comcast Leaders and Achievers Scholarship Recognition Reception was an event marked by excited students, proud parents and inspirational speakers, all there to recognize the hard work of our country's future leaders. Emcee Sabrina Register said, "These kids are doing really amazing things. They're not only academically successful in the classroom, but they're really contributing to their community."
To learn more about this year's Comcast Leaders and Achievers Scholarship winners, visit Comcast online.