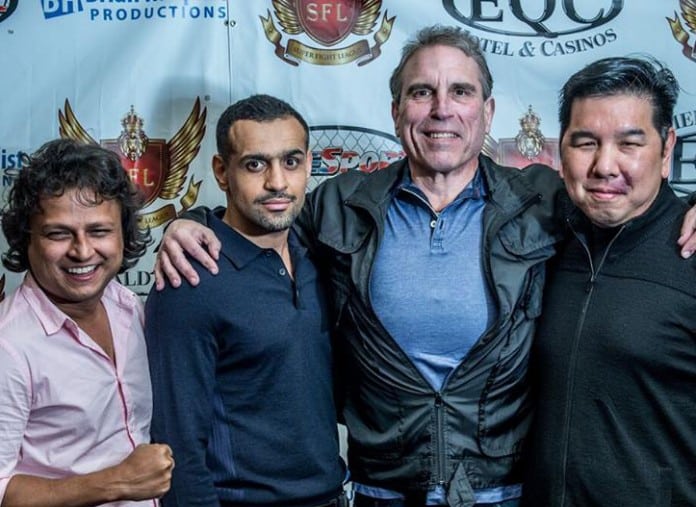 By Grant Clark
To Brian Halquist's left stands Bob Sapp — a 6-foot-7 monster of a man who tips the scales at 350 pounds and has appropriately been saddled with the in-ring nickname of "The Beast."
Many remember Sapp during his football days at the University of Washington where he was the 1996 recipient of the Morris Award, which is given annually to the Pac-12's best linemen.
Sapp, however, has long since left the gridiron, trading in his cleats for the cage.
Despite looking like a super villain straight from the pages of a comic book, Sapp, strangely enough, isn't even the largest man in the room. To Halquist's right towers Jan Nortje, a South African professional kickboxer who, remarkably, has three inches in height and two pounds on Sapp.
It's late February, 2008, and the two titans are to square off at the Tacoma Dome in the main event of a mixed martial arts spectacular.
Sapp scowls and Nortje smirks while photographers snap away during a pre-fight press conference. Wedged in between the behemoths is Halquist, a co-promoter of the card.
One thought repeatedly swirled around the Tacoma native's head.
"I remember thinking, 'What am I doing here?'" said Halquist. "But that was the start of it all."
It was a big risk for Halquist to go out of his comfort zone of promoting boxing events and concerts — something he had been successful at for more than two decades. But the gamble has paid off big time as the Tacoma Dome show laid the foundation for what would become CageSport, currently the largest professional MMA series on the west coast.
The mixed martial arts organization has ran more than 40 shows and is now partnered with Asia's largest MMA company, Super Fight League.
Under the Brian Halquist Productions banner, CageSport presents Super Fight League America 41 on July 11 at the Emerald Queen Casino.
"It's really taken off," Halquist said about his MMA product in the Pacific Northwest. "The Tacoma Dome show [in 2008] really surprised a lot of people. At the time, we set the state attendance record for combat sports. It showed that this area was demanding more MMA."
A 1976 graduate of Foss High School, Halquist played on the Falcons' state championship football team in 1975 and was an All-American wrestler, finishing 8th at the United State Wrestling Federation Freestyle Nationals during his senior year.
After graduating from Montana State University Northern with a degree in physical education, Halquist tried his hand at several jobs, including teaching and serving as a bodyguard for country-western legend Johnny Paycheck, before he got into radio sales which he parlayed into producing television documentaries and promoting live concerts.
In 1989, he started Brian Halquist Productions and made the transition into boxing while promoting rising heavyweight contender Joe Hipp.
Additional boxing events would follow over the next seven years, including promoting local fighter Greg Haugen to his fourth world title in 1995, before Halquist began working with the Puyallup Tribe of Indians and the Emerald Queen Casino to put on put on boxing events.
This relationship led to the "Battle at the Boat" boxing series, which held its 100th show earlier this year.
The next step proved to be the Tacoma Dome show, followed by the birth of CageSport.
"It was the right time," said Halquist about promoting MMA shows. "It's the fastest growing sport in the world. Washington has been a hotbed for MMA for quite some time. The talent pool was here."
With CageSport's creation it allowed fighters a venue that was safe and presented them the opportunity to fight for the state's only all-professional organization. That was more than enough to draw strong interest from the Pacific Northwest's top young talents, all championing to get on the card.
"It was successful. So successful that fighters were jumping to other organizations after being on our shows," Halquist said. "They were going on to fight for the UFC, StrikeForce, Bellator, which we were excited to see, but now we are in a position to retain fighters as we continue to move forward."
Halquist began his new venture with Super Fight League last October, helping to enhance the CageSport brand through marketing, sales and television production.
Super Fight League, headquartered out of India, was founded in 2012 by Raj Kundra and Bollywood actor and producer Sanjay Dutt. An immediate success in its home country, Super Fight League quickly looked to expand to the United States where they partnered with Halquist.
On Oct. 4, 2014, CageSport presents Super Fight League America made its debut at the Emerald Queen Casino. As with every other CageSport program, the event sold out. What was new was the card, for the first time ever, would be broadcast to an online audience.
"If we got 2,500 to 3,000 views during our first broadcast," Halquist said, "we would have been happy,"
Instead, the initial event received more than 80,000 viewers.
"It just blew all of our expectations out of the water," Halquist said. "And it's steadily grown since then."
During Halquist's inaugural MMA-promoted event, Nortje defeated Sapp in a lightning-quick 55 seconds. What has spawned from that main event, however, has proven to have a little longer staying power.