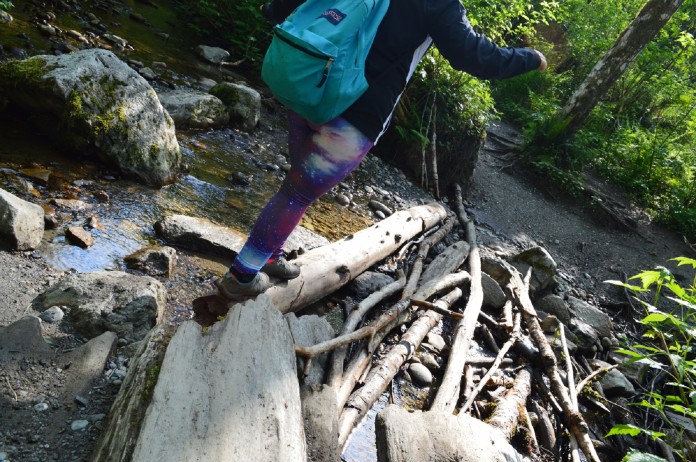 Between the first mountain snowfall and the late winter thaw, there are an awful lot of hiking boots drying out in Pacific Northwest closets. Many hikers, even ones equipped with snowshoes and insulated outerwear that they've been itching to try out, don't want to take the risk of venturing out this time of year. But take a peek at the Washington Trail Association's or AllTrails' trip logs, or even check out Instagram, and you'll see that if you're not getting out even once this winter, you're missing out.
For those who are worried about the dangers of winter weather adventures, here are some important reminders about winter hiking before you go.
If there's a chance of snowfall or freezing in the area, pack snowshoes and spikes along with plenty of water and snacks for your hike.
In addition to your regular supplies, outdoor recreation co-op REI recommends a couple of additional tips before heading out on your winter hike, such as: bring extra layers, a warm beanie or hat, a pal to keep you company, and leave a note with friends or family detailing where you will be.
Avalanches, ice and snowstorms are real dangers hiking in the Pacific Northwest. If trip reports suggest or you suspect that weather conditions will be more adverse than you're comfortable dealing with, reconsider your trip.
For seasoned hikers and newbies alike, the map attached below includes dozens of trails, some near and some far, that offer something scenic for everyone. Here are a few winter favorites that are almost always a safe–and fun!–pick for winter weather.
Rattlesnake Ledge
Scenic views  and a brisk trip are the selling point of this four-mile out-and-back trail. Hikers explore this popular hike year-round, which means that there will likely always be safety in numbers along Rattlesnake Ledge. During the winter, be sure to check for ice or snow at higher elevations. The weekends can get a little crowded, so most seasoned adventurers recommend getting there early enough to beat the midday rush.
You arrive in the parking lot, where you will look past Rattlesnake Lake and immediately see the sheer face of the Ledge looming above. A series of carefully engineered switchbacks — courtesy of your friends at the Washington Trails Association — will take you straight to the top of this cliff. From here, you will take in stunning views of surrounding scenery, such as Mount Si, Mount Washington, the Cedar River Watershed, Rattlesnake Lake and Chester Morse Lake. There are plenty of spots to stop and take in the sights, and the elevation gain on this hike will leave you feeling invigorated once you reach the summit at 2,078 feet. And the best part? This hike is short enough that you can tackle the nearby East Peak, Snoqualmie Park, Upper and Lower Ledge (check the signage on the trailhead for directions to find each along the junction).
Ozette Triangle
Eight miles around and three miles wide, Lake Ozette is the largest natural lake in Washington State. It is also the starting point for a hiker's favorite wintertime stroll, the Ozette Triangle. So named for the shape of the track, this trek combines the best of a beach-side stroll and a forest amble that is an ideal leg-stretcher for a hiker looking to make an afternoon of their adventures.
The first leg of the journey takes hikers through a dense forest and along a boardwalk that gives way to a shoreline at 3.3 miles. You can turn back at this point for a six-mile round-trip jaunt or push on past the beach at Sand Point to explore the coastline and make your way back to the forest trail.
Visitors have spotted otters, sea lions, eagles and even the stray fawn basking on the rocks or moving through the fog along Cape Avala, the second leg of a nine-mile loop — or triangle, as it were. In the fading light of a crisp winter day, the island of Tskawahyah — a stout little formation peopled with lonely pines — guards the beach from afar. Come early enough to examine the petroglyphs carved onto the Wedding Rocks that line the beach. Carved with rock and bone by the Makah tribe, these ancient markings depict nautical visitors, ships, warriors and mighty whales.
Because the site is located along the Olympic Peninsula, the trip up to the Triangle can be lengthy. Consider a backpacking pass and making this journey a two-day adventure.
Spruce Railroad Trail
This four-mile point-to-point hike offers a little bit of something for everyone, and at eight miles roundtrip, this one is a great leg-stretcher to while away the day. Begin your journey in an old maple orchard. Explorers will follow the historic Spruce Railroad Trail, which was built to haul lumber during WWI but serviced commercial interests instead for nearly 40 years.
The railroad trail winds its way around the ice-blue glacier water that fills Lake Crescent for some beautiful views of snow-capped trees in the winter. Roughly a mile in, hikers can venture out on a large bridge that spans a large section of the lake that overlooks the Devil's Punchbowl. Stop here to snap a few photos before continuing on for views of Mount Storm King and Barnes Point.
Kids and dogs are welcome on this trail, as are mountain bikes. There are also two railroad tunnels, which have been closed up to discourage hikers from exploring but are approachable. Fog in the winter months offers beautiful views, rain or shine, on what is almost always a snow-free trail, and most hikers agree that this trail is one of the most beautiful that the Olympic National Forest has to offer.
Little Si
A popular hike with year-round appeal is the moderately strenuous Little Si. This out-and-back also offers amazing views and a great workout for beginning hikers looking to get in shape. Steep inclines at the beginning and the end will leave hikers (and pups, since this trail is dog-friendly!) feeling invigorated and refreshed. Close proximity to the city makes this an attractive hike for many, so expect to see other visitors, especially after the first of the year. In fact, this hike has been affectionately dubbed a "Resolution Hike" by many since it is often very popular after the first of the year.
If you're looking for something a little more strenuous, you can opt to head for the Boulder Garden Loop located about .3 or .5 miles in. This trek, if you choose, can lead to Little Si's big brother, the slightly steeper and more rigorous Mount Si Trail. Or you can continue on to take in the amazing view of Mounts Washington and Si at the summit of Little Si. During winter months, watch for ice on the trail. Be on the lookout for rock climbers along the way — you can often see them mounting the nearby peaks.
Wallace Falls
This moderate hike packs a lot of beautiful sights into a relatively short hike. Trekkers won't walk far before they come to the first of three prominent waterfalls. A series of switchbacks between the impressive Middle and Upper Falls accounts for most of the 1,300-foot elevation, and the reward at the end is a 256-foot waterfall that bookends eight other beautiful falls (some not visible but that flow into one another) and some fantastic views of the Skykomish River valley and the Olympics.
Clear signage and guardrails make this a hike that's safe for little adventurers, and a steady grade makes this trip just challenging enough to be rigorous and get the blood pumping on chilly days. A modest seating area at the majestic Upper Falls offers a great spot to take a little lunch and hot cocoa with an amazing vantage of a 256-foot waterfall (Upper Falls) before heading back to complete this 5.6-mile round trip excursion.
Wallace Falls State Park is full of dog-friendly trails for Fido, as well as lots of fishing, kayaking, mountain biking (including an Old Railroad Grade path perfect for cyclists that you'll see early on in the hike) and rock climbing opportunities.
So take a risk! You're lazy limbs and lonely hiking gear will thank you. Check out the map below, as well as the handy resources below for more inspiration on getting out and about during the off-season.