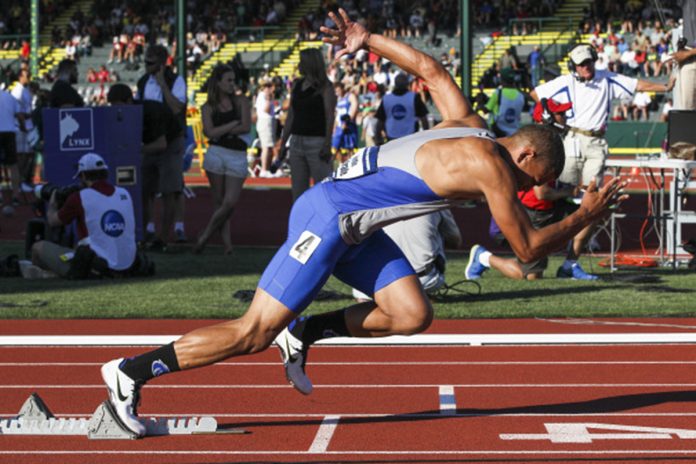 Just days before leaving for Rio, one Olympic-bound athlete reflects on the fact that failure, rather than success, helped him qualify for his dream. Bonney Lake High School graduate Jordin Andrade did not take the typical route to the 2016 Olympics. He did not start training from the day he could walk. He did not realize his aspirations from that first moment he stepped foot onto an elementary school track. Andrade's first race did not even come until after his 16th birthday, during his junior year in high school. This Olympic-bound 400m hurdler is anything but an overnight success.
Andrade says failure and being cut from his 8th-grade basketball team changed his life and may have been the detour that set his path straight to Rio. "I lost a lot of confidence," Andrade recalls. "Going to high school, I didn't want to get cut again."
Three years later, a friend convinced the now All-American that he was fast and should turn out for track and field. Once Andrade stepped foot on the Bonney Lake High School track, he remembered why he wanted to pursue sports in the first place.
"I wanted to be the best for myself. I wanted to see how far I could push my own self and my body," Andrade says. "Even though I lost all that confidence, and I wasn't the best, it built me up to be who I am now. I got my confidence back, and I just didn't let it drag me down."
That confidence comes as no surprise to Andrade's Seattle Speed Track Club Coach, Mike Cunliffe. "He understands mental toughness. He understands physical toughness. He understands how to attack, and he embraces the process," Cunliffe says of the Olympic-bound athlete.
Before realizing he could set records at the NCAA-Division I level, the hurdler, once again, took a challenging route. Andrade says the best decision he made was to leave Washington to pursue running at Mt. San Antonio College. After two successful years, he transferred to Boise State University. As a Bronco, Andrade set the school record and Mountain West Conference Record in the 400m hurdles, while becoming an All-American.
That time of 49.24 in the 400m hurdles qualified Andrade for the 2016 Olympics. Once again, his route to Rio would be anything but typical. Andrade now faced a choice. He could either go to trials and hope to represent the United States or represent his father's home country of Cape Verde.
"I want to do something for my family, for a country that could use some life, and that's my family's country, Cape Verde, so I went down that route, and I wanted to do something that was bigger than myself," Andrade says.
This year, Jordin becomes the second Andrade to represent Cape Verde at the Olympics. His uncle Henry Andrade became Cape Verde's first Olympian in the 1996 Games when he competed in the 110m hurdles. Now, the younger Andrade will proudly represent the country of fewer than 500,000 residents that sits about 350 miles off the northwestern coast of Africa.
Andrade sees the big goal ahead, the one all Olympians strive to achieve. Yet, he plans to stick with the philosophy that has worked since that first day of high school track practice, just eight years ago. "To me, I want to take small goals, to reach a bigger goal. For right now, my goal in Rio is just to make it to semis. When I make it to semis, I want to make it to finals. When I make it to finals, I want to be on the podium. If I'm getting on the podium, I want to be number one. But, you've got to take it in steps," Andrade explains.
Andrade's coach says that maturity and drive make up for what some might think Andrade lost by not starting his quest for gold at a younger age. "He's got that combination where you can have the intelligent communication and you get higher buy-in and at the same time, when it's time to race, you're a pit-bull without a brain. You just go get it,"Cunliffe says.
After coaching athletes from a young age up into adulthood, Cunliffe sees something special in Andrade. "Jordin's very good at understanding those things, but the flip side of that coin is he's very good at letting them lay. So when it's time to race, we're not thinking, we're attacking," the elite coach adds.
Jordin Andrade speaks to many who know what it is to fail before experiencing success. Now, he embraces this chance of a lifetime, because he realizes it is about more than just himself. "I really want to put Cape Verde above me. I want to flourish and that to reflect Cape Verde, and that's really the biggest goal of mine," Andrade adds.
A gun will signal the start of the 400m hurdles in Rio on Monday, August 15. The world will be watching, and the residents Cape Verde — and Andrade's peers from Bonney Lake — will all be cheering for one of their own.
For more information about the 2016 Olympic Games in Rio, including a full schedule of events, visit the Olympic Games online here.
Scroll through the slideshow below to see how Jordin Andrade has been preparing for his trip to Rio.
This slideshow requires JavaScript.