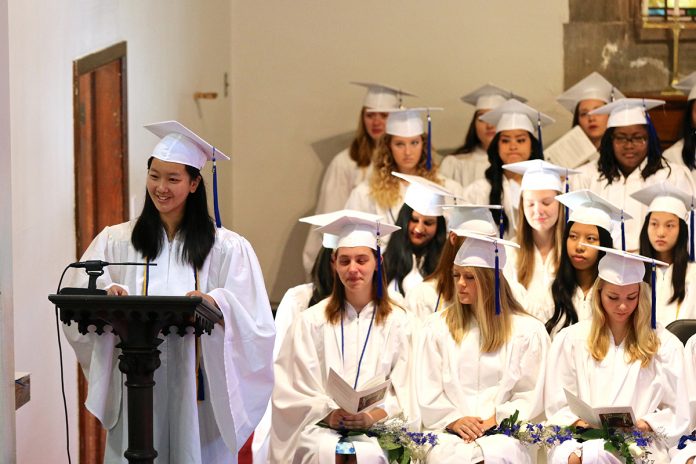 Submitted by Annie Wright Schools
Annie Wright Schools announced today that 26 out of 27 International Baccalaureate (IB) Diploma candidates have been awarded the prestigious IB Diploma. Six students earned bilingual diplomas.
Every Annie Wright Upper School student follows the IB curriculum. Typically, half choose to fulfill all IB requirements, including taking six comprehensive and rigorous exams in a range of subjects, to earn the full IB diploma. Recognized worldwide as the gold standard of education, the IB aims to develop inquiring, knowledgeable and caring young people who help to create a better and more peaceful world through intercultural understanding and respect.
Class president Maggie Wang received the highest score on the exam, earning 41 out of 45 points possible. Maggie, who reigns from Dalian, China, and attended Annie Wright Schools as a seven-day boarding student, will attend Boston University in the fall as one of only 20 Trustee Scholars, recipients of the university's most prestigious merit-based award.
"Our 2016 graduates did a tremendous job," said Head of Schools Christian G. Sullivan. "We are confident these young women will have great success in college and beyond."
Annie Wright is an authorized IB Primary Years Programme school for Preschool to Grade 5, and is in the process of adopting the Middle Years Programme in Grades 6-8. When this process is complete, Annie Wright Schools will become one of only a handful of IB continuum schools, delivering IB curricula in Lower, Middle and Upper Schools, in the United States.