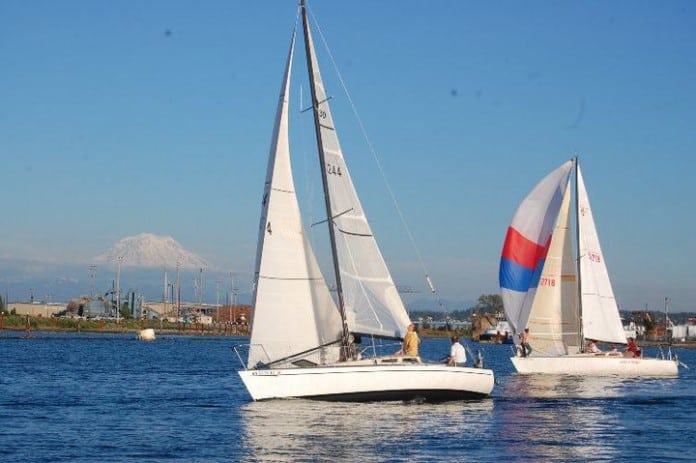 Michael Rice was just two weeks old when he took his maiden voyage on a sailboat. Still months away from his first steps, he grew his sea legs and set adrift on a journey that would shape the rest of his life.
That life includes riding alone on his first dinghy when he was 6, taking part in his first ocean race at 12, racing from Los Angeles to Tahiti at 17, and countless other adventures most people have only read about.
It's also a life that's led him here, to Tacoma, where he runs and operates the Puget Sound Sailing Institute, a school that — based on its success and recognition — reaps the rewards of a man whose quite literally spent his entire life sailing.
For instance, each year the American Sailing Association (ASA) (made up of more than 2,000 instructors across the country) uses the results of student surveys to award the top instructors with an Outstanding Instructors award.
As the ASA states, being recognized "places the Outstanding Instructors in the top 1-1/2% of their peers for quality education."
Puget Sound Sailing has three ASA Outstanding Instructors, including Rice, who has been honored with a reward a remarkable seven times.
"It's always been my biggest concern that we're being good ambassadors of sailing, and introducing people to it the right way," Rice said. "I've worked hard on the curriculum and determining how best to prepare our students."
Set Sail with the Best — Sailing School's in Session
People of all ages and backgrounds are welcome to sign up for sailing and certification classes. In fact, Rice just had a family from Eureka, California (that was on summer vacation) come to Tacoma to learn how to sail together.
While there are no age limits to who can take his classes, Rice stresses that Puget Sound Sailing is for folks who are serious about sailing.
"Maybe they want to buy their own boat, or their dream is to sail into the South Pacific," Rice said.
Anyone interested in taking a course will have to contact the school directly.
"They'll tell us their background so we can tell them what classes we'd recommend," Rice said. "It's a very personal and customizable approach."
Regardless of one's background, Rice promises one of the most varied sailing programs in the country, teaching students overlooked skills such as celestial navigation. Puget Sound is also one of the few schools in the country that offers offshore passage making (which includes planning a passage across the North Atlantic or Pacific).
Interested in sailing but don't want to commit to a class?
Many folks who've never sailed before — but dream to — aren't quite ready to take a class. That's why Puget Sound Sailing offers Tacoma and Gig Harbor excursions.
On these excursions, a certified instructor will take you and your group on a private getaway, where you can sit back and soak in the experience or, if you prefer, take the helm to get started on your first sailing lesson.
Interested in a class but not in the market for a boat?
Not everyone who wants to learn to sail has a sailboat or is in the market for one soon. That was the motivation for Rice developing the Sailing Club, which serves as an extension to the sailing school.
Without hands-on practice, the skills you develop in school will be lost. The Sailing Club fills this void by offering sailing school graduates (and others) access to yachts at a fraction of ownership costs.
The Sailing Club also offers socials, clinics and cruises to help sailors meet like-minded lovers of the sea (Sailing Club member must have ASA 101 certification or an equivalent to join).
Learn more about Puget Sail Sailing:
For more information about classes, excursions or more, visit Puget Sound Sailing's website here, call Puget Sound Sailing at 253-383-1774, or email them at info@pugetsoundsailing.com.
The school is located at 5632 Marine View Drive, Tacoma, WA 98422.