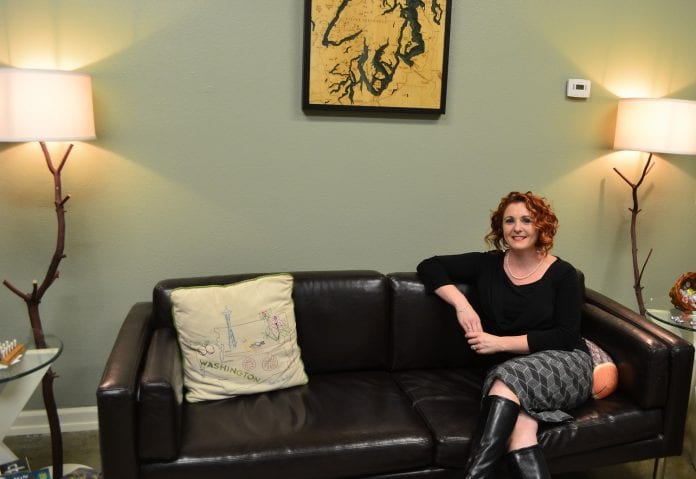 On the surface, massages, facials and nail treatments might seem like an indulgence. In reality, getting such treatments done is the perfect way to practice self-care and can also help in promoting confidence. Of course, the health benefits of massage, from a way to heal or to help unwind, are more widely known and recognized.
One Woman Spa in South Tacoma offers its clients a way to relax and take a break from the stresses of everyday life.
It's because massage is such a powerful tool for healing, that Rose Nunn, owner of One Woman Spa, says she knew she wanted to be a massage therapist when she was still a teen. It was something she was so sure of that even while she was in high school, her mom enrolled her in a local program to become a massage therapist.
Once she got her license, Rose's career path took a bit of a winding route. She became a mother and also got into skin care and from there, at the encouragement of a hairstylist friend, she began to do waxing.
Not long after she finished up the skin care program, she decided to do nails and enrolled in Clover Park Technical College's manicure program, which she also attended for its esthetics program. While she attended school, she worked at a couple places, including renting space inside a hair salon.
Soon after completing the manicure program at the technical college, she started One Woman Spa as a single mom at age 24.
Even though she is now in a spacious, multiroom facility, Rose started out doing all her treatments in a single room. After six years in a smaller space, she decided to take a leap of faith and moved into her current location. But at that time, she didn't have the clientele to warrant the move – it was just something she knew she had to do. She believed if she went for the larger space, the clientele and other practitioners to rent the space would follow.
"I kinda did the Field of Dreams thing with it," she recalls.
Once she decided to make the move to a bigger location, she had to come up with a concept and a design. "I knew I didn't want it to look like a traditional spa. I wanted it to look very Pacific Northwest," she says of her current location's decor.
There are nods to the Northwest throughout her spa, from tables made out of driftwood, to copper fish hanging on the walls that were custom made by an artist in Port Angeles. Besides local artwork, there are also other touches that bring a bit of nature to her spa. You can see it in the window partially enclosed with madrona wood, as well as in the lamps made from madrona branches. Likewise in the front counter that features lichen pressed beneath glass.
Her carpenter husband, Corey, came up with most of the concepts and did the majority of the work to bring the Pacific Northwest's outdoorsy appeal to the interior.
"I didn't have a really clear vision on what I wanted it to look like. I just knew I wanted it to embody what the Pacific Northwest means to me," says the born-and-raised Tacoman.
As far as the name of the business, she wanted to give her clients the best possible experience and the choice to have one person to attend to them throughout that experience.
"It never made sense to me that a client had to go to numerous people to have services done. I wanted to be able to give my client more attention, so the idea was to have one woman for all your spa needs."
While Rose admits that, thus far, that idea hasn't worked out the way she'd hoped as she does employ others at her spa. Between Rose with her multiple licenses and the women she employs, who are not multi-licensed, the spa offers a range of services, including manicures, pedicures, massage – both for relaxation and pain relief – as well as facials, spray tanning, brow and lash services, and more.
Without a doubt, people are busier than ever, and because of that, Rose believes the decision to invest time and money in themselves is important. "Whether a massage, facial or manicure and pedicure, these treatments give the client a chance to escape from their lives," says Rose. "When someone's here, there are no kids or spouses to care for. They can relax here."
One Woman Spa is located at 6240 Tacoma Mall Boulevard. Reach the spa by calling, 253-474-3569, visiting the website or on Instagram and Facebook.
Sponsored