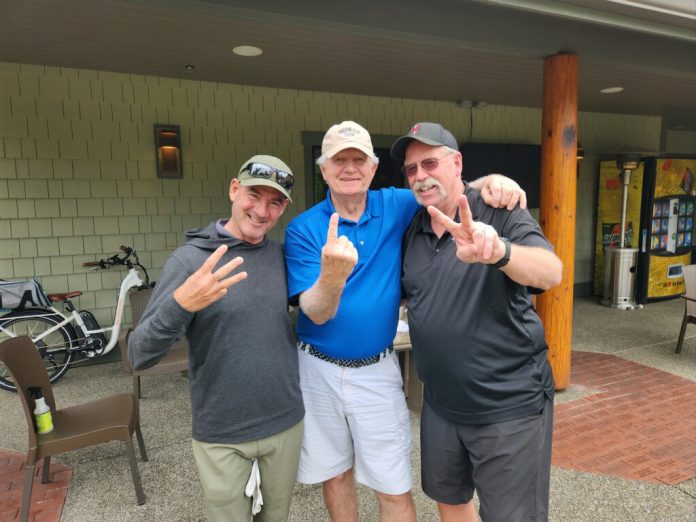 Sports are famous for having unbelievable shots and achievements, and golf definitely sees its fair share of memorable moments. Right here in the Pacific Northwest at Alderbrook Golf & Yacht Club, luck struck on three distinct occasions in one day as three separate golfers each managed to hit a hole-in-one on the same hole. Just getting a hole-in-one is quite the feat, but the celebrations raged on even more than usual as each of these golfers managed this amazing achievement. If you're looking to try your luck in golf or get away to a beautiful destination, your best bet is at Alderbrook Golf & Yacht Club, so come strike while the iron is hot!
Try Your Luck on the Green at Alderbrook Golf Near Shelton
Alderbrook Golf & Yacht Club has been established in Union since 1965, serving the local residential community and the general public alike. Over the years, this beautifully-located, semi-private golf club has been no stranger to hole-in-ones and even has its own tradition for celebrating this accomplishment. "It used to be that when you got a hole-in-one, you buy drinks for everyone else," shares Alderbrook Head Golf Pro Grant Cation. "Now, our men's club covers $150 of your tab for bar drinks, and we even have a bell inside the restaurant that we ring to start up a tab." That bell ringing three times in one afternoon was quite an incredible phenomenon that had never been seen there before.
The first bell rang for Richard Ives, who was playing as part of Alderbrook's Men's Club in the morning. Randy Shelton was the second player who came to hit the course after Men's Club had wrapped up. The final golfer to achieve the hole-in-one was Kieran Collins, a fellow golf professional from Salish Cliffs Golf Club who was playing the course for the first time since relocating to the area. When each of them got to Hole #6 that day to tackle the par 3, each of them walked away with a hole-in-one to celebrate. As each of the golfers returned to the clubhouse for celebratory beers, the party grew bigger and bigger.
"Everyone was ecstatic," recalls Grant. "I had an event going on at the driving range from 12 to 4 p.m. that day, and I kept hearing all the hooting and hollering."
After hearing about this incredible achievement, Grant discovered that the odds of this happening in one afternoon on the same hole was 27 trillion to 1. Although hole-in-ones are more common than people think, this triple hole-in-one proved to be an extremely rare occurrence and is likely a once-in-a-lifetime experience that these golfers will never forget.
Experience Thurston County Golf with Breathtaking Views
Alderbook Golf & Yacht Club is unique for more than just the awe-inspiring luck that its golfers experienced recently. Tucked away in an HOA community in Union, this 18-hole golf course has some of the best views you can find of the Pacific Northwest. Residents and community members from surrounding areas can find themselves out in nature, taking in the beautiful sights on various holes, such as Hood Canal, the Olympic Mountains, and of course, the magnificent waterfront. "We are truly a hidden gem here in the South Puget Sound that people are still discovering," shares Grant. "We have some very unique holes and one of the hardest holes in the entire state, a par 5 double dog leg. Most people remember that hole!"
The Club has opened its weekend mornings up for the public to take advantage of some preferred tee times. On Saturdays, you can hit the course from 8 a.m. to 10 a.m. and on Sundays from 9 a.m. to 11 a.m., so you can easily plan for a great time out in this gorgeous local spot.
Alderbrook Golf & Yacht Club has also invested a great deal in its clubhouse experience. They remodeled their patio and have a brand-new restaurant menu, giving you a wonderful way to unwind after your time on the course. "We are really a destination course for somewhere to drive out on the weekends, so you can come to make a whole day of it here with us," shares General Manager Jason Reehm. With so much to see and experience, Alderbrook Golf & Yacht Club is the perfect place to plan a getaway golf trip.
Plan Your Golf Trip to Alderbrook Golf & Yacht Club
Alderbrook Golf & Yacht Club is astounded at the amazing feats accomplished on their course every day and loves to see golfers achieving the elusive hole-in-one. If you're looking for a new challenge, a social outing, or just some time out in nature with your clubs, you can find it all right here. Check out their schedules and book tee times so you can plan your trip out to this lovely hidden gem. You may find that a stroke of luck has been waiting for you out on the course!
Alderbrook Golf & Yacht Club
330 E Country Club Drive East, Union
360.898.2560
Sponsored