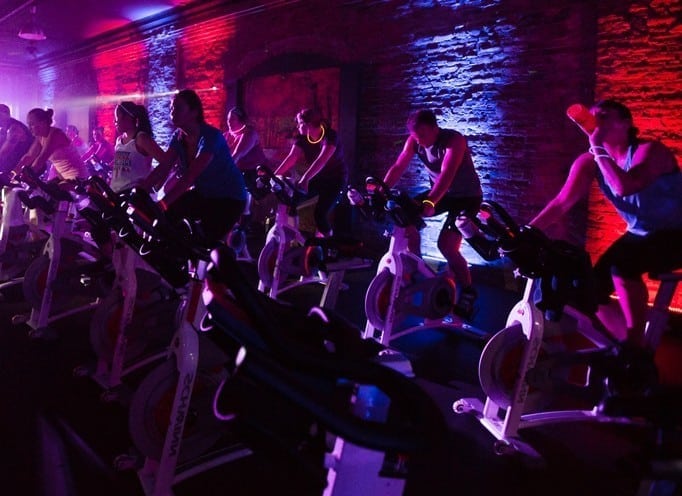 By RC Victorino
Outside, felled tree branches and power outages are the remnants of a late August storm. But inside the Handlebar Cycling Studio on Tacoma's Commerce Street, the atmosphere couldn't be more electric.
Above the sounds of Fall Out Boy's "Uma Thurman" pumping out of the speakers is the voice of instructor Becky LeProwse, commending me on how hard I've worked while urging me to push harder.
With equal amounts of fear and excitement, I increase the intensity, wipe my brow, and pedal faster. I may not be a cyclist, but today, for at least this hour, I feel like a Tour de France champion.
And it's all because of Tacoma's first indoor cycling studio, which LeProwse opened in February, 2014.  Nestled among the many bars and nightspots in the area, you might be surprised to discover that such a studio exists. But LeProwse loves her new digs and wouldn't change it for the world. In fact, the name "Handlebar" is a direct nod to the bars that line the streets around her.
And if this past year has been any indication, the Handlebar has surely found a home here in Tacoma.
Shifting gears
LeProwse — a fitness instructor with more than 15 years experience — had always dreamed of opening her very own cycling studio.
"I'm a cyclist. My husband's a cyclist," she said. "We just wanted to share a little of our passion with other people."
She had taught at other studios before, but struggled to introduce her brand of cycling to the masses — a cycling experience where people could come in and enjoy a distraction-free hour where they push their physical and mental limits.
But now that she sits squarely in the saddle, she can finally offer the type of full-immersion experience she had always dreamed of.
The unique approach of Handlebar
It takes more than loud music and bikes to create a true cycling studio. LeProwse knows this better than anyone, which is why she admits being overly picky on the quality of her instructors.
"They always have to bring the best of the best," she said.
These instructors must motivate, inspire, encourage and guide the class, all while toeing the line between intensity and delicacy.
With LeProwse at the helm of my class, I see what she means. She sings along to the music, tells us we're doing fantastic, and then lightheartedly reminds us that the hard work has yet to come.
But it's not just the instructors that LeProwse is meticulous about. She spent six months testing out bikes before settling on the ones that now fill her space.  She wanted to replicate the real-world experience of cycling as much as possible.
She even makes it possible for people to go online and reserve their favorite bike before class.
"People are creatures of habit," she said. "If they use a bike once, they want to use it again and again. So they can reserve their bike up to a week before class."
Her efforts haven't just led to a new interest in indoor cycling. Some of her regulars have caught the cycling bug, invested in road bikes, and have taken to the city streets to proclaim their newfound love.
Beyond the bike
While Handlebar is a cycling studio, don't be surprised to find people inside working on their yoga poses or hanging off TRX bands. Handlebar's weekly schedule features mixed classes, such as Cycle and Circuit, Mixxed Fit and yoga (focused on cycling).
And being part of the Handlebar community isn't just about blood, sweat and tears, community is truly at the heart of the Handlebar. As such, LeProwse hosts periodic happy hours where the evening kicks off with a workout and is followed by a social gathering at a nearby pub or restaurant.
"We don't want a place that's just work out and leave. We hang out with people. We were big on forming a community."
The benefits of cycling
In the close to two years since they opened their doors, LeProwse has been happy to find a huge mix of people joining each class. Men, women, children and seniors can all benefit from cycling.
That's because virtually anyone can do it. Cycling is a non-impact form of exercise, making it a viable solution for people of all abilities, including anyone coming off injuries as severe as a hip replacement.
"I love it because I can have 21 different people of all fitness levels working together for a common goal," LeProwse said. "Not one person is more intimidated than another. It's dark in there. You have an hour to yourself to sweat it out and clear you mind. A lot of people don't get that in the day."
Want to try out indoor cycling?
The first visit is free for local residents. Membership options include:
Punch card passes
Drop-ins (but classes to fill up!)
6- or 12-month memberships, which include unlimited riding as well as a pair of cycling shoes or jersey (up to a $100 value)
Learn more about The Handlebar Cycling Studio by visiting its website or stepping through its doors, located at 715 Commerce Street, Tacoma. Have  question? Call The Handlebar at 971-237-3470.