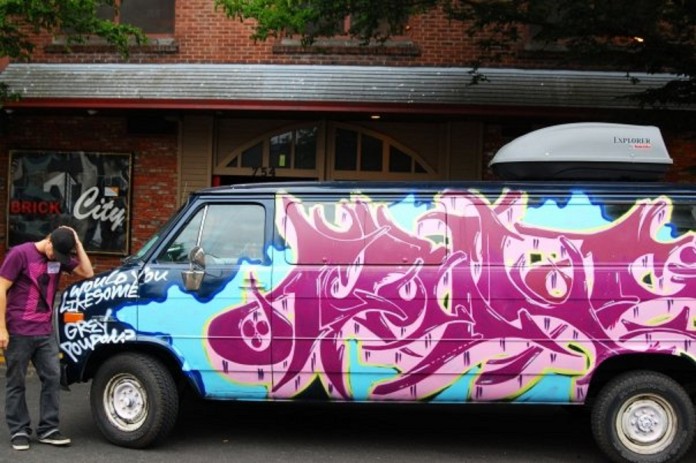 Conventional after-school adventures for most kids growing up included peeling dried glue off of fingers, running intervals at the football field or touting a bulky wind instrument to and from school. Boy Scouts and Brownies, community car washes and clean-ups, summer camp and skating rinks. Lite Brite. Pogs. Hacky sack. These are all standard activities that have been around for decades designed to give kids an outlet for their energy and a constructive means to express themselves.
That's all well and good, but in Tacoma, you'll find there are a few cooler ways for young people to while away the hours after last bell. Founded in 2000, Fab-5 is a non-profit organization in Hilltop that has made it their mission to offer youth a totally different kind of creative outlet. You might find a little glitter and glue on the shelves here, but you'll have to dig between rows of aerosol paint to find it. There are no sing-alongs, but you might hear a little bit of freestyle rap. And conventional dance instruction has been remixed at the organization's drop-in studio, the Fabitat, to look a lot more like break dancing classes than kid-friendly choreography.
Back to the future
Rewind time to the year 2000. Back then, there was a robust community of young people interested in alternative art forms like break dancing. There wasn't, however, a dedicated space for enthusiasts to gather or to build any sort of real fellowship. Not, that is, until a group of five college students from Pacific Lutheran University (PLU) began to organize competitions and meet-ups near their school's campus in Parkland. Break dancing battle-type get-togethers, to be a little more succinct.
This band of break dancers — who we will refer to heretofore as the Fab-5 — used their network of fellow artists to orchestrate several friendly competitions. Between 2000 and 2005, the competitions and assemblies that this troupe held at PLU weren't widely publicized or promoted. The Fab-5 attracted most of their supporters via word of mouth. Despite their low-key beginnings, these friendly competitions grew exponentially in popularity and in attendance.
To say that the bouts were a success would be putting it mildly. "These events drew some really impressive crowds," says local artist and present-day Fab-5 instructor, Kenji Stoll. "These breakdance battles were attracting people not just from all over the country but also competitors traveling across the Pacific Ocean from places like Japan and Korea all the way to Parkland, Washington. Some of these events attracted as many as 2,000 people. It was really a pretty remarkable thing."
The founders of these gatherings had set out to create a space in the community to get together with their peers, and by 2005 they had watched their underground movement reach an impressive pitch. As they each graduated college and began to start families of their own, the core group of artists behind Fab-5 felt compelled to take a step back and have a good look at what they had created.
Check yourself
What is the purpose of this thing we're doing, they asked one another, and what is the long-term impact? One thing that the creators of Fab-5 all unanimously believed was that bringing young people together to celebrate the art of creation had the power to cultivate positive change in the community. They had seen it for themselves at the gatherings they had orchestrated: with a positive atmosphere and the right attitude, these events were subtly uplifting the community and its perception of urban art.
At the dance battles and events, feedback kept coming in about developing classes, about offering something a little more formal to people interested in learning from accomplished dancers. Among Fab-5's fold were artists from all walks of life: dozens of gifted performers, lyricists and painters. The resources were in place, the band realized, to develop something meaningful with a sustainable system of leadership.
Beginning in 2005, Fab-5 realized that sustainable and slightly structured system when they formally organized a non-profit of the same name. They also created the LIFE program, which stands for Living In Free Expression. The curriculum consisted of an intensive 10-week series of urban art workshops led by local South Sound artists. These classes were designed to allow youth to develop and explore their unique voices through a variety of different contemporary mediums: break dancing, legal graffiti and music production (DJing, MCing and beat making).
Schooling 'em
By cultivating partnerships with community centers, local businesses and other non-profit organizations, it wasn't long before Fab-5 found a year-round home on MLK Jr. Way. The team dubbed this site the Fabitat. The atelier was (and continues to be) outfitted with a beat lab and lyricist lounge complete with musical equipment, a hands-on legal graffiti art workshop and dance studio designed to cultivate community by instructing and inspiring creative youths.
Today, the organization estimates that it serves hundreds of teens and young adults a month in a studio setting as well as out in the community. Program participants host break dancing demonstrations and competitions in the community, continuing the association's 15-year legacy of urban art through dance. Other artistic members have helped to create many of the murals in the Tacoma area. The collective, for example, played a notable role in the creation and maintenance of the now-decommissioned Graffiti Garages on Antique Row.
Work like advocacy of community spaces is evident at the Garage, in conjunction with the City of Tacoma's mural project, and in a handful of murals along 6th Ave as well. Instructors at Fab-5 help plan out sites and oversee the development of these murals, but ultimately children, teens and members of the community are responsible for creating these celebrated murals.
360-degrees of sustainable creativity
One of the young people to take advantage of these programs in 2006 was a high school student named Kenji Stoll. He and a handful of his friends who shared an interest in urban art took part in Fab-5's LIFE program several summers in a row. He cultivated relationships and eventually partnerships with some of the people he'd had a chance to meet through the program, and when he graduated high school in 2009, Kenji was invited to join the program as an instructor.
In 2016, Fab-5 has between six and eight active members and instructors, including Kenji, who has made a career as a working artist in Tacoma and its neighboring communities. The initiative is in its third generation of leadership now, and Kenji sees that as a real testament to the community's need for the service that Fab-5 offers. The initiative is supported by grants and like-minded partnerships in the South Sound, and that, Kenji says, keeps the program accountable to the youth it serves and not its sponsors.
The group has developed partnerships with organizations like the Broadway Center for the Performing Arts, The Evergreen State College and the Museum of Glass, among others. Its curriculum has been successfully adapted for successful collaborations with local businesses, juvenile detention facilities and conferences, too. Founders, volunteers and instructors at Fab-5 have touched the lives of thousands of young people, adults and families each year in public school programs, at special events and at their community center, Fabitat.
The result of all this collaboration and volunteerism is an uplifting organization with a cool urban edge that's shaping young people into creative leaders and inspiring real change in Tacoma's underserved communities. The program plans to continue to match divergent creatives, young and not-so-young alike, with practicing art professionals in a multi-purpose instructional setting for years and years to come.
Keep up with happenings, studio hours and classes at the Fabitat by following the Fab-5 on Facebook, or shoot the instructors an email to info@fab-5.org to find out more.