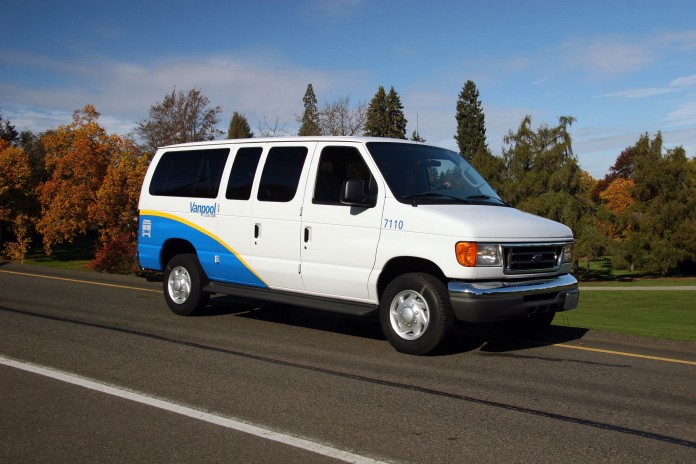 For 35 years, riders have been able to count on Pierce Transit to get around as an alternative to driving their car. Fixed-route bus service and paratransit SHUTTLE vehicles are great ways to get around, and Vanpool services benefit an impressive number of riders into, out of and around Pierce County on a day-to-day basis. Starting in 2016, some of those dependable vehicles are finding new work even after they hit commuting retirement age with the Care-a-Van program.
Pierce Transit has roughly 366 Vanpool vans on the road this year, all of them hard at work to get commuters where they need to go. All that to and fro' adds up to roughly 2,500 Vanpool customers, and a whopping 850,000 Vanpool boardings each year. The goal is to replace Vanpool vans when they are about seven years old, or have 150,000 miles on them. Around that time, Communications Manager, Rebecca Japhet, explains the cost of maintenance on these vans can outweigh their longevity, which is why these vehicles are typically sold at auction once they reach that point.
The team at Pierce Transit recognizes, though, that there are many wonderful non-profit programs in the community that could use a little help providing additional transportation in the Pierce County region. Some are in a position to offer transportation alternatives that extend beyond Pierce Transit's service hours or service areas, and could provide a benefit not only to those who need the rides, but also to Pierce Transit by reducing publicly-funded trips.
Pierce Transit will continue to sell some of their vans, but the notion that there are other organizations that serve the community that could use a little boost has not gone unnoticed by the team. "Our goal is to serve our community," Japhet explains. "We care deeply about people having access to transportation. So, with this new program, we've found another way to promote that."
Starting with the donation of two vans on May 9, 2016, the agency began a new legacy of transportation service with a creative community connection they have dubbed the Care-a-Van program. The initiative involves the donation of passenger vans and SHUTTLE vehicles that are ready to be retired to local non-profits that serves adults and children in Pierce Transit's service area.
Qualifying non-profits, government organizations, community agencies or organizations with 501(c )(3) designations are eligible to apply for the Care-a-Van Grant Program. Here's how the process works: When a Pierce Transit van or SHUTTLE vehicle has been earmarked for retirement by the agency, the vehicle will be evaluated for donation. Members of Pierce Transit's maintenance team will evaluate these vehicles, which have been regularly serviced and kept in above-average condition, before each one is deemed to be in good working order at the time of donation.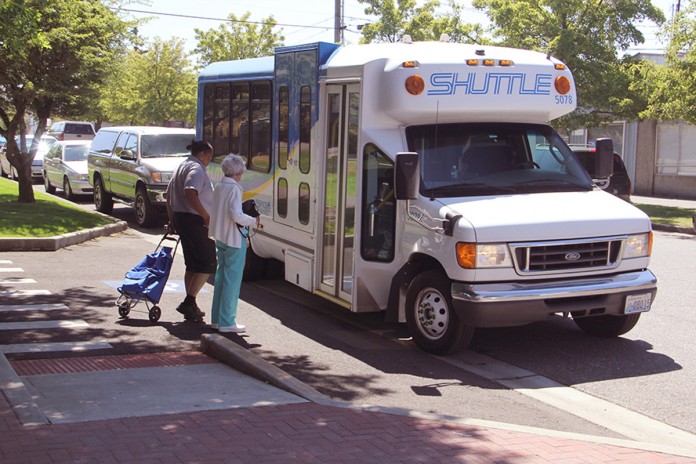 The recipient selected to receive the van will be one that provides trips that would otherwise be unavailable or provided by Pierce Transit at a greater expense. Recipients must serve those who reside or work in the county, and will need to fulfill certain conditions in order to be awarded the title to the vehicle. Even over a short time, the agency expects that the trips these non-profit organizations take will more than "buy back" the value of the vehicle.
Japhet says that the response to the call for applications has been ample. "We saw a very wide range of organizations respond during this inaugural application period. Some of the nineteen applications we've seen so far render services like shuttling young people back and forth to school, providing mobility to low-income seniors, and transporting individuals with disabilities to jobs. Applicants included groups focused on education, youth services, churches and a YMCA."
Two non-profit organizations were selected for the inaugural donation in May: Puget Sound Educational Service District, a no-cost transportation program designed to get veterans, low-income citizens and those with special needs to and from work sites, and Before and After School Enrichment at Spanaway Lutheran Church, a program designed to deliver daycare services to at-risk children. There were many wonderful applicants, Japhet says, but these two stood out because they met ridership requirements, had a strong plan of service already in place, and could grow their reach with the help of an additional vehicle.
"The overall number of people they each plan to transport is quite high," Japhet adds, explaining what made these two applicants stand out for the team of Pierce Transit staff who judged the applications. Also, with the PSESD application, that group is helping promote community transportation in additional ways. For example, one of their training programs helps people obtain commercial drivers' licenses. Many of those folks end up serving in other transportation capacities, such as driving buses. "That's a win for us, for those individuals and for the community," Japhet says.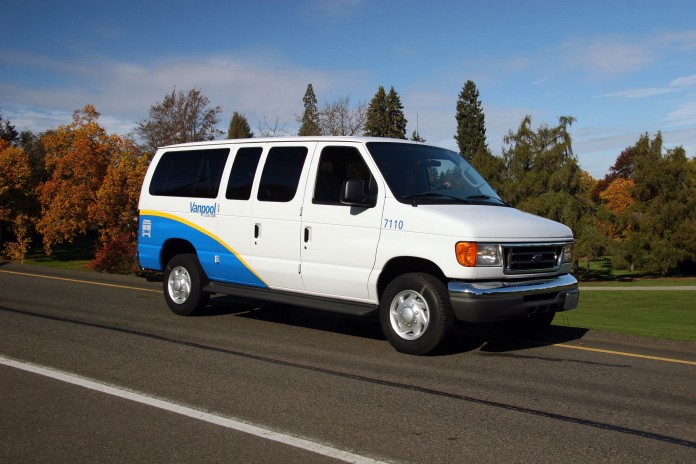 Suzanne Gayda of BASE, the other organization to receive a retired Vanpool passenger van, says that their team of caregivers and students couldn't be more pleased about being selected for this road-ready vehicle. Before adding this additional 15-person van to their daycare program, the students were often being shuttled to and from activities and schools over the course of multiple trips. This took up quite a bit of time, extra gas and limited the number of students that could be taken at any given time. "We try to keep costs and tuition down for our afterschool program. Receiving this van means we can open enrollment in all our schools. We can transport more kids to and from school as well as to field trips. For the first time we can share a vehicle with other programs at Spanaway Lutheran."
The Care-a-Van program will do more than help mobilize members of the community who are in need; it's also a way to reduce the impact on the environment. Pierce Transit has been a pioneer in sustainable transit options, and this initiative goes hand-in-hand with efforts to generate positive change and reduce transportation's environmental impact in the community. In recent years, the organization has placed a strong focus on reducing its greenhouse emissions, recycling more diligently, and tracking the results of these efforts with the goal of fine-tuning the green approach. In an effort to help public transit continue to set and meet goals like these, the Care-a-Van initiative aims to continue this tradition by keeping track of the each repurposed van's trip and usage statistics for a year.
Tracking trip statistics and maintaining metrics is the major requirement that applicants need to meet in order to receive this donation. In addition, organizations will need to maintain the vehicle, keeping it insured and road-ready to ensure the safety of program participants and riders.
If your organization has a not-for-profit designation and would like to apply for one of Pierce Transit's retiring vehicles, visit the Care-a-Van website to learn more, download an application, and submit your organization for consideration today. New vehicles become available on a continual basis, and application deadlines will be updated as vehicles are added to the program.
Sponsored