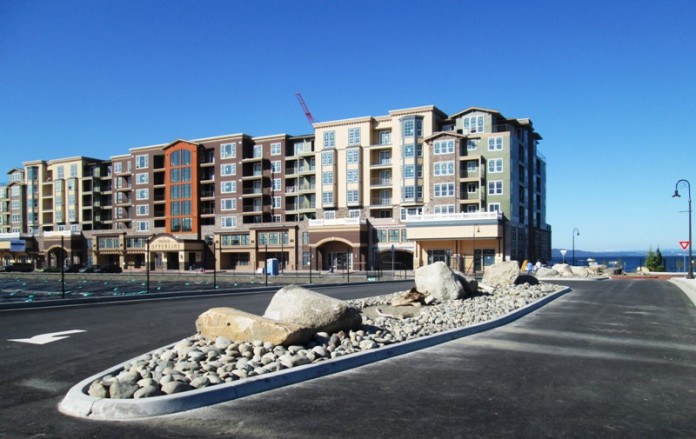 On January 17, 1993, the ASARCO smokestack was dismantled. Demolition of the Ruston smelter, which had roots dating back to the 1880s, was the exclamation point at the end of a long story intrinsically linked with the growth of Tacoma, both as an industrial powerhouse and a livable city.
Now a new story has begun. After years of intensive cleaning, restoration, and preparation of the Superfund site, the former smelter location has a new occupant. Say hello to Point Ruston, the growing multi-use community that hopes to revitalize Ruston and reinvigorate the waterfront. For aspiring architects and detail geeks, check the specs on the master site plan; for everyone else, here is a rundown of all that Point Ruston has to offer.
Waterfront Activities
The beautiful path around Point Ruston now connects the waterfront walk (going all the way down to Jack Hyde Park and the Chinese Reconciliation memorial) to Owen Beach and Point Defiance Park, providing a perfect route for walking, running, roller blading or biking. Bikes can now be rented from Wheel Fun at Point Ruston, including tandems, four people surreys, kid trailers and much more.
No matter how you decided to explore Point Ruston — whether by foot or bike — there's no shortage of things to do once you arrive. "We want this to be the backyard of the community," says Loren Cohen, managing director of the Point Ruston development. "[It's a] place to come to hang out."
The Promenade Playground on the water side of Point Ruston offers a fun, safe place for kids to play, including a jungle gym, which is modeled after the green and orange ferry parked nearby.
The spray park right outside WildFin is sure to be a hit with kids during the summer. It is operational from noon to 10:00 p.m., becoming a multi-colored light show at night.
One of the biggest draw to Point Ruston is the Century Theater. The full size, nine-screen movie theater (including 3D and XD screens) offers comfortable seating and the latest blockbuster flicks. Check their website for current show-times and deals.
Point Ruston Dining
Dolce Sí, a bakery and café specializing in a wide variety of Sicilian pastries, is the go-to place for morning coffee or an afternoon gelato. Read more about the delicious offerings and the story of owner, Elisabetta, here.
Mio Sushi is the most recent restaurant to open at Point Ruston, offering top quality sushi at an affordable price, this family-friendly eatery is a sushi-lovers paradise. Check out Mio Sushi's extensive selection of rolls and other menu offerings by visiting their website.
WildFin American Grill is "your neighborhood restaurant, casual, affordable with a comfortable sense of style," specializing in fresh Pacific Northwest fare and locally sourced ingredients. See their website for the complete list.
Two Town Pub and Café offers classic pub fare including salads, wraps, and fish and chips. With coffee in the morning and beer on tap in the evening, you can stay here all day. Check out their food offerings online.
Jewel Box Café is opening soon! Featuring crepes, sandwiches, and bubble tea, Jewel Box Café also promises weekly specials and live music from local bands. Stay tuned.
Home Sweet Home
If Point Ruston enchants you to the point where you don't want to leave, you're in luck.
Point Ruston currently consists of 300 apartment units and 85 condo units, split between the neighboring Century and Copperline buildings. Another 190 living units are slated for completion by February 2018.
Also currently under construction is a new Silver Cloud Hotel, which will allow tourists to the other (or locals seeking a staycation) unprecedented access to Point Defiance, Owen Beach, Ruston and other beautiful parts of our city that are hard to reach for those visiting without a car.
For floor plans, photo galleries, and availability of apartments and condos, see the Point Ruston website.
Coming Attractions
If you visit Point Ruston today, you will see plenty of construction going on. Right now, a second floor is being added to the parking garage, and the plan is to have a third floor, and a grocery store on the very top. This would be huge for the area, and would go far in making Point Ruston the "vibrant neighborhood community" that Cohen envisions. A pharmacy, pet supply store, and bank are also in the works to better complement the services already available in the area, which currently include a physical therapy clinic, dentist office, and a 24/7 gym.
Currently, there is no way to reach Point Ruston by public transportation, but Cohen says a regional circulator to bring people between here and downtown is in the planning phase. Bus stations have already been built in preparation. Until then, there is ample free parking in the bottom floor of the parking garage.
This summer, come by Friday through Sunday for outdoor live music. Local musicians will be busking in the afternoons around Point Ruston, and a concert is planned for the end of the summer.
To stay up to date on news and events at Point Ruston (and for residential tips) visit Point Ruston's blog.