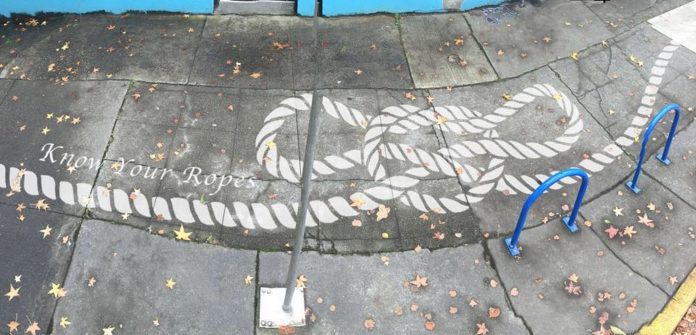 More sunny days than rainy ones are coming our way, and the Hilltop neighborhood in Tacoma plans to make the most of the South Sound's fair weather. A group of neighbors, with a grant from Tacoma-Pierce County Health Department, are working to design an expansive mural that will loop around several Tacoma streets and create a beautiful mile-and-a-half-long walking path. The objective of this ambitious open-air art installation is to beautify the neighborhood, as well as guide people around some of Hilltop's favorite community spaces.
Hilltop was one of the neighborhoods identified by TPCHD where walkability could be improved in 2015. Six different organizations in the South Sound, including this one, received a donation of $10,000 to help increase the number of and draw attention to safe, clean places to walk in our communities. Grant applicants represent area residents and organizations who are interested in developing the walkability of public spaces.
The canvas for this urban installation, which has been dubbed Know Your Ropes, will be a stretch of sidewalks and paths that go from 9th to 17th Streets in the Hilltop neighborhood and back. Oliver Doriss, owner of Tacoma's Fulcrum Gallery, is the artist behind this project. Once completed, this mural will depict a long and unfurling coil of rope punctuated by several artfully rendered knots. Oliver is known in the community for his distinctive blown glass artwork.
Oliver's fascination with the beautiful aesthetic of the knot inspired this mural, and organizers agree that the form lends itself well to the activity in that the rope graphic illustrates the trail. The artist's studio in Hilltop is the starting point for the inaugural walk on June 22, 2016, and also marks the spot for the reception to follow.
Hilltop resident, Public Art Administrator and Know Your Ropes project organizer Rebecca Solverson submitted the proposal for this installation. Rebecca recalls sitting on her back steps and having a conversation about this grant, which challenged organizations to empower and encourage people of all ages to get up and get moving.
"I learned about this opportunity in the fall, and Oliver had been wanting to do this mural before that. He had found and became inspired by this beautiful book of knots, and we both agreed we should just go for it. We had the framework and the basic idea in mind when we applied for the grant, but it's gone through several different changes since then and is shaping up to be a very fun graphic piece with some very beautiful designs."
Rebecca was thrilled, she says, when her project proposal was selected as one of the six grant recipients. "I think it's so cool that the health department was willing to fund a project like this — that the city of Tacoma is open to investing in an art project as a means to unify the community and get people moving. It's a different approach to addressing walkability and we're excited to see where this takes us."
Guided walks are scheduled, and these will serve as an opportunity to learn more about the neighborhood, its growth and upcoming developments in the community. Community leaders in and around the Hilltop area will captain these guided ambles and add a sociable, interactive element to this one-of-a-kind art project. Pedestrians are welcome to explore the walking path solo, too. No passes are needed, no prior notice need be given, and flash photography is most certainly welcome.
Rebecca says that she and her team will be working to track, record and report how many people attend each guided walk, how many individuals interact online, and how many community partners participate in the events. "We're hoping that this spawns a lot of organic activity," Rebecca says.
The installation will be created using temporary marking paint and is expected to last from June to late August or early September (or approximately three months). Project coordinators, however, have taken steps to ensure that this project survives beyond its season. Rebecca explains that Know Your Rope's organizers will be documenting the project, its evolution, aesthetic and impact on the community through audio, photography and video to preserve the trail.
"This walking path is physically temporary, but there will be an ongoing record of it. We hope that if other folks are interested in doing anything similar, this can serve as a reference and a source of inspiration." Organizers and health department officials are looking forward to observing how the community interacts with the exhibit with the goal of making Tacoma more pedestrian-friendly.
For more information about the Know Your Ropes art installation and to see a full schedule of guided walks, visit the program's website at www.knowyourropes.com.
You can learn more about Tacoma-Pierce County Health Department's mission and their work in the community by visiting www.tpchd.org.