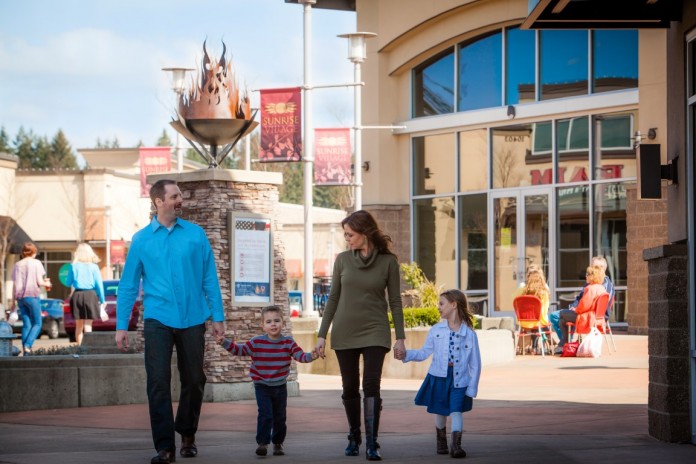 If you live in Puyallup, chances are you've been to Sunrise Village for shopping, dinner or maybe even a yoga class. Sunrise Village is a multifaceted retail complex, and it has more going on than just shopping and dining. Throughout the summer, Sunrise Village hosts family-friendly events that include everything from car shows to concerts, but perhaps the event with the greatest family appeal takes place in August. Family Night Out combines a bit of everything — cars, food, fun and an outdoor movie.
Sponsored by Anchor Bank, which is located right in the complex, Family Night Out will take place August 13 starting at 6:00 p.m.
"Sunrise Village is proud to offer so many fun events for our community," said Sunrise Village Marketing Manager, Cynthia Boyd. "Family Night Out is a free event where families are invited to enjoy the classic cars at our Saturday Cruz-in, eat delicious food at one of our restaurants, have fun doing crafts and get their faces painted by the Daffodil Princesses, and then end the evening cuddled up watching an outdoor movie. It doesn't get any better than that on a summer evening on South Hill!"
The evening starts with a Cruz-In, an event that takes place every Saturday throughout the summer. Cruz-Ins are public car shows where anyone with a classic car can quite literally cruise on in, register for free and showcase their wheels either along 156th Street or in the front lot (volunteers will let you know where to go). During Family Night Out, 156th Street will be closed to traffic for the event, which starts around 5:00 p.m.
Get to Sunrise Village in advance of the movie and enjoy dinner and/or dessert (you can do just dessert if you prefer, that's perfectly okay too!). Dining options in the complex include sit-down and fast casual restaurants alike, such as MOD Pizza, Q'doba, RAM Restaurant and Brewery and Trapper's Sushi. For dessert, look for Menchie's or Emerald City Smoothie, but the RAM also serves a mean ice cream cupcake. Some restaurants will have discounts during the Family Night Out event, so keep an eye out for coupons and deals. There will also be bounce houses, crafts and activities.
Starting around 8:45 p.m., the family-friendly Disney-Pixar flick "Inside Out" will be showing on a 40-foot inflatable movie screen.
"The movie screen will be set up in the parking lot behind Anchor Bank so people can bring comfy cushions or lawn chairs," said Boyd. "There really isn't a grassy area back there. The plan is to have it blocked off and there will also be spots for trucks and vans to pull up behind the area where people are seated so that some can watch it like a drive-in theater."
This is the first year Anchor Bank is sponsoring this event. Anchor Bank has a long history of helping the communities it serves with all kinds of events, from volunteer projects to family-focused activities like this one.
"The Sunrise Village business community is very family oriented, and Anchor Bank saw a great opportunity to help create a fun event for the entire family," said Anchor Bank Sales and Marketing Director, Sam Newberry. "Our Puyallup branch staff is excited for the fun and excitement that an event like this brings to the community."
Sunrise Village is great place to look for family-friendly events all summer long. In addition to Family Night Out on August 13, look for cruz-ins every Saturday now through September from 5:00 p.m. to dusk, and summer concerts on Tuesday evenings from 6:00 p.m. to 8:00 p.m. now through August 16. The summer concert lineup showcases all kinds of music, from jazz to rock to one concert just for kids!
For more information about Sunrise Village or its events, visit the Sunrise Village website. Sunrise Village is located just off the intersection of 156th Street E and Meridian in Puyallup (or you can map to the main office location at 10507 156th Street E.).
Sponsored