Day of the Dead – Día de Muertos – is a way to remember family and friends who have passed away. Primarily celebrated in Mexico, many countries have versions of this simultaneously reverent and festive holiday. On Tuesday, November 14, the Washington Center for the Performing Arts presents "Sugar Skull! A Día de Muertos Musical Adventure." This charming ensemble show features a candy skeleton coming to life and uses its eight-person cast to share traditional music and dance from Mexico.
Día de Muertos Comes to Life with Music, Dance and Laughter
Some cultures believe Día de Muertos is when the barrier between our world and the spirit world grows thin, and our loved ones celebrate alongside us. Families often set up altars with candles, flowers, decorated sugar skulls and their loved one's favorite foods. All this is reflected in the colorful show coming to the Washington Center.
The show is more than a multicultural learning experience, it's often bilingual too. Music, dance and laughter are timeless and universal, and both cast and crew hope you'll come ready to help celebrate the fiesta.
"Sugar Skull!" is a story about 12-year-old Vita Flores. She learns the true reasons behind Día de Muertos when her candy skeleton comes to life and introduces her to ancestors, sorceresses, tricksters and Catrina Calavera herself while collecting the needed items for her family's memorial altar. Audience participation is encouraged as history is enacted through sight, sound, costume and a joyous foray into this poignant, delightful holiday.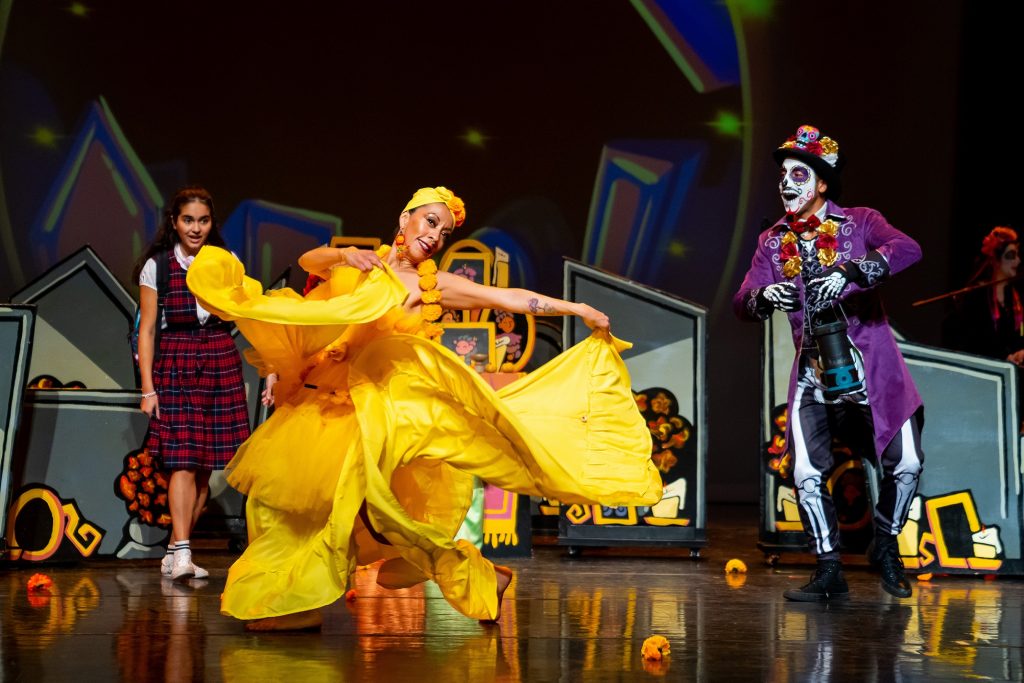 Touring and Performing, One Sweet Skeleton at a Time
Leah Keith, who works to promote and manage the production via Rhythm of the Arts, explains that this show is currently part of a 21-city cross-country tour that started on August 30 in New York City. Olympia is the penultimate performance before things wrap up in Yakima by November 17.
But this isn't the first road trip for "Sugar Skull!" The musical was originally workshopped in 2017, and this is their third national tour overall. "Audiences have been enthusiastic," says Keith, "and we've been received amazingly." One special detail is that all the music is created live. On stage during the performance are three live musicians, three actors and two dancers.
Their Tuesday show at the Washington Center will be followed by a second, identical performance for local schoolkids on November 15. Keith says general audiences are typically multigenerational, with whole families in attendance. School shows, when kids are surrounded by their peers, are often receptive and loud, with lots of extra audience participation.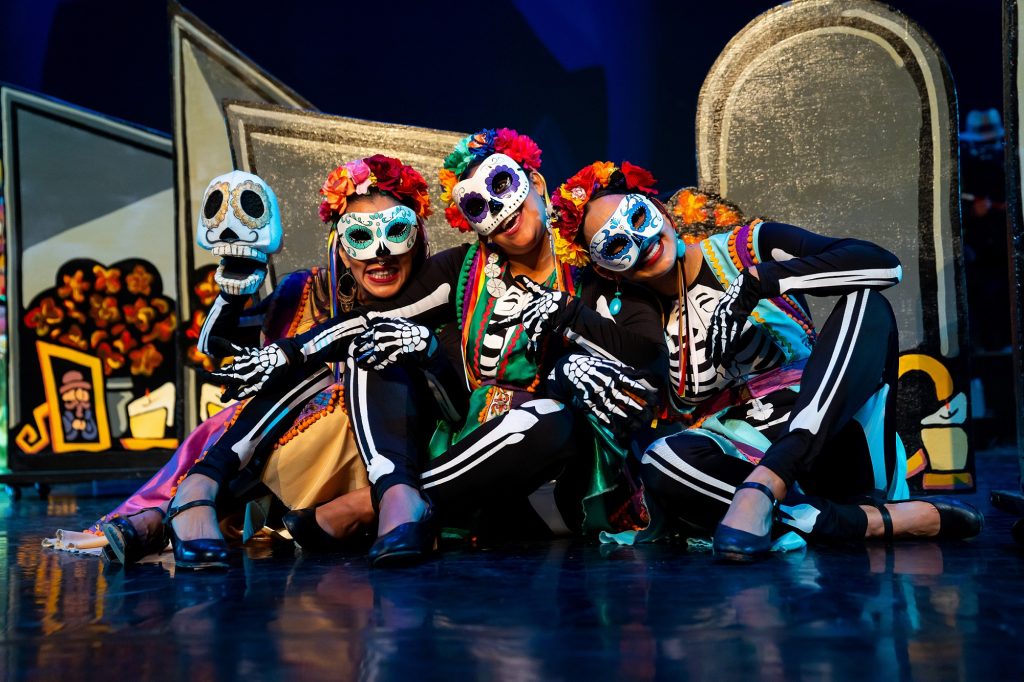 Representation in the Arts is Vital for Kids and Adults Alike
"The beautiful thing about this project is representation," says Keith. "All the people on stage are Latino. All except the musical director are Mexican, and he's Costa Rican but spent quite some time in Mexico and even won a Latin Grammy during his stay there. Sugar Skull! is a project that's been so well received it'll definitely keep touring. It allows kids to see themselves on stage and share the beauty and richness of our culture with their friends, to show them where they really come from."
The program is a collaborative labor of love between its producer, Rhythm of the Arts, Mexico Beyond Mariachi and the amazing cast. Their first performances in New York were in 2015, and sweeping tours took place in 2019, 2022 and now 2023, with a virtual project created during the pandemic. Rafa Reyes, who plays the Sugar Skull, has been with the current production the longest, having started in 2019. Sugar Skull! was written by Gregory Jafari Van Acker and directed by Elena Araoz.
Tickets for Sugar Skull! A Día de Muertos Musical Adventure ranges from $19 to $46 and can be purchased at the Washington Center Box Office. Box office hours are from 12 p.m. to 5:30 p.m., Tuesday through Saturday or two hours before any ticketed event. Email boxoffice@washingtoncenter.org or call 360.753.8586 with questions.
Find stunning photos and video clips from this colorful evening of music and history, then gather up your loved ones for a night of fun and reminiscence, honoring those who have gone before. Then consider setting up an ofrenda of your very own to celebrate and remember family and loved ones.
Sponsored