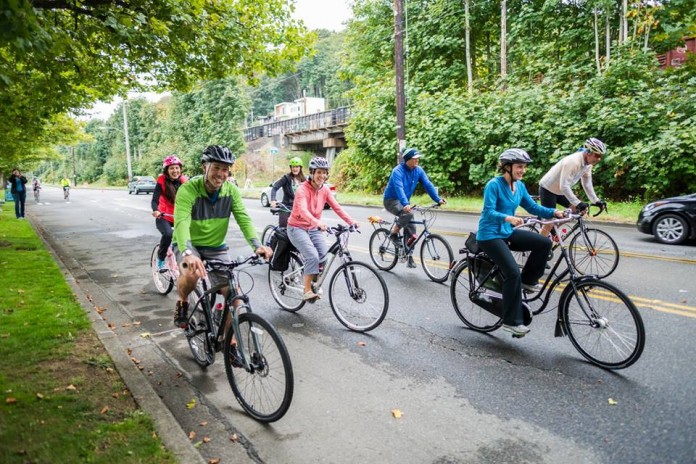 The sun has come out, the flowers have started to bloom, and spring has officially sprung. What better way to enjoy the nice weather than with a bike ride? May is National Bike Month and there are many ways to celebrate in Tacoma, whether you like to go on weekend joy rides or are looking to turn your commute into a workout. Catch the cycling bug this May, then continue biking year-round by exploring new routes, joining a bike club, or particpating in cycle-centric events.
National Bike Month
In honor of Bike Month, the City of Tacoma is sponsoring the Bike Everywhere Challenge, an incentivized program to get people out on two wheels. During the month of May, bikers are encouraged to log their trips online. Bike Everywhere Challenge participants who log a minimum of five trips will be entered into a drawing to win prizes (including gifts cards valued at $100), and participants who log a minimum of 10 trips will be eligible to win a weekend getaway to Hood River. If there was ever a time to get pedaling, it's now.
If you haven't biked much before, now is a great time to get comfortable on two wheels — and it may be easier than you think. Some Tacoma streets have designated bike lanes and others have wide shoulders in which you can safely ride. Remember to stay off the sidewalks and always wear a helmet.
As Tacoma continues to cater to two-wheeled commuters, the city is becoming a more bike-friendly all the time. After May is over, there are many ways for cyclists to continue enjoying all the perks that biking has to offer. If you want to learn more about the possibility of bike commuting, check out Downtown on the Go's website for safety tips, maps, and other useful resources.
Explore a Local Bike Trail
Over the years, the City of Tacoma and surrounding Pierce County have continued to become more bike friendly. With the completion of the walkway around Point Ruston, cyclists can now bike all the way from the start of the waterfront (in Old Town) to Owen Beach. That's a 4.5-mile bike path (one way) along our own beautiful waterfront! And for those intrepid bikers willing to tackle the hill up from Owen Beach, you can hop right onto the Five Mile Drive in the cool shade of Point Defiance.
For even more of an adventure, pedal over the Narrows Bridge. The protected bike lane on the side of the eastbound bridge is a little over one mile (each way) but connects to paths in both Tacoma and Gig Harbor for potentially all day excursions. Go on a sunny day or a little before sunset for an unforgettable and unique Tacoma vista.
For a full list of Tacoma bike trails, TrailLink provides a detailed map outlining the area's biking routes. Seasoned bikers looking for a challenge can even expand their search criteria to include routes that span from Tacoma to Seattle and beyond.
Interested in finding the the quickest bike route for your morning commute? use the bike layer on Google Maps to see which routes include paths, shared roads, and dedicated lanes.
Where to Buy a Bike
If you are without a two-wheeled cruiser or are in dire need of an upgrade, you're in luck — there's no shortage of bike shops in the Gritty City.
The following shops are all stocked with bikes, parts and knowledgeable staff members who can help you find the perfect ride or fine-tune your existing one.
Old Town Bicycle
3009 McCarver St.
Tacoma, WA 98403
253-573-9400
www.oldtownbicycle.com
Tacoma Bike
3010 6th Ave.
Tacoma, WA 98406
253-272-1351
Defiance Bicycles

411 S Fawcett Ave.
Tacoma, WA 98402
253-777-5546
2nd Cycle
1205 M.L.K. Jr Way
Tacoma, WA 98405
And beginning in May, bikes can now be rented 7 days a week from Wheel Fun Rentals at Point Ruston. Check out Wheel Fun Rentals' website for all the fun options of wheels they offer (including tandems and surreys).
Cruise into a Bike Club
Don't put away your pedals after May — Tacoma is a great city for biking year-round. And the best part is you don't have to go it alone. Whether it's a biking buddy or a cycling crew, riding is better — and safer — with others. Here are a couple of local clubs that can help you get in touch with other riders and local bike events.
VeloFemmes
VeloFemmes is a ladies-only cycling group that empowers women to don their helmets and take to the streets. With regular events that provide a great place to meet other women bikers and learn more about riding in Tacoma, VeloFemmes is a supportive group centered around cycling, community and fun.
Tacoma Wheelman's Bicycle Club
This local club has roots dating back to 1888. With the mission of providing "Cycling for Fun, Fitness and Livable Communities," it's no wonder that this club has endured the test of time.
If you don't want to join a club but do want to find a biking partner, Downtown On the Go offers resources for connecting cyclists with other bike-minded commuters and joy riders. Visit Downtonw On the Go's website for more information.
Particpate in a Pedaling Event
For the occasional biker who likes to pedal with a pack, biking events are a great way to get out in the community on two wheels. From routinely scheduled events like BikeroBrew's sudsy cycling tours of historic Tacoma to special activities like Bike to Work Day, Tacoma boasts countless cycle-centric events, year-round. For a full list of biking events in Tacoma, visit Bike253's website.
For even more resources on biking in and around Tacoma, visit Pierce County's transportation website.