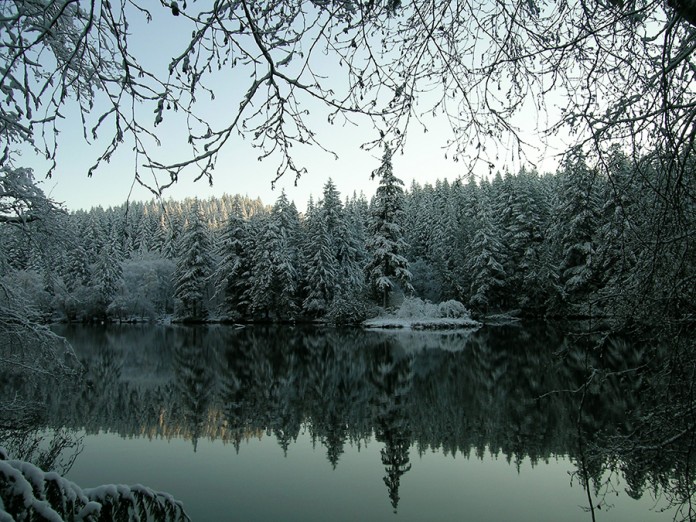 By Mariah Beckman
The South Sound offers some amazing opportunities to play outside for nature enthusiasts of all ages. Kayaking and paddle boarding become a little less attractive as the rainy season descends upon the Pacific Northwest, but fortunately for us hikers, there are still some fantastic winter treks available. The great tragedy for those with a deep wanderlust? There aren't many year-round hiking opportunities to help ramble away the wintertime blahs within a close driving distance of the Tacoma area. But there are a few.
Many Tacomans know how to use Metro Parks Tacoma and other great online resources such as Discover Parks to zero in on family friendly walks at places like Snake Lake, Titlow Park, or Point Defiance, and SouthSoundTalk has covered other great walkabout before, including the Tacoma Nature Center which offers families a fun and sprawling park to explore. Nearby Spanaway Park is also vast and there are several trails surrounding the grounds and lake at Bresemann Forest Park Trail that can be fun to explore in any weather. Wapato Parks are another option for unwinding outdoors without having to travel very far.
There are some other great trails in and around the South Sound that could be classified as more of a walk than a hike, ones that are ideal for families, dogs, and bikers. The Foothills Trail in Orting is a great example. This 25-mile stretch runs from Tacoma to Mount Rainier, and connects to the equally convenient and peaceful Riverwalk Trail bordering the Puyallup River. For those who like trail running, Wildwood Park in Puyallup offers a series of interconnected trails and circuit training equipment. All of these parks are accessible year-round, and are in most cases just a half-hour drive outside of the Tacoma area.
There are more than a handful of state parks that are conveniently close to home for those who are in the mood for a more sprawling expanse. Kopachuck State Park, for example, offers year-round hiking trails, as does Penrose Point, Millersylvania, and Flaming Geyser State Parks.
The beauty of these nearby old-growth forests, marshlands, and beaches offers the outdoor aficionado a chance to explore the wilds of the South Sound alongside the convenience of parking areas, restrooms, and covered picnic shelters. For a more complete list of South Sound area state parks, the Washington State Parks (WSP) website is very comprehensive. Washington State Park's blog, Adventure Awaits, is also an amazing resource for stir-crazy South Sounders looking to stretch their legs in the winter months.
For those with an itch that a paved pathway just won't scratch, there are some really great opportunities to take a hike out yonder. Just be sure to dress warm and gas up the ride, because many of Washington's most scenic hikes are outside of the metro area. Finding the best and most idyllic adventure depends greatly on factors like hiking experience and available gear. The map below highlights some of this writer's favorite spots to hike, most of which are available within a three hour drive, and are accessible year-round.
While winter hiking might sound daunting at first, there are a few really great reasons to complete a scenic trail or two during the winter months. For one, popular trails aren't so congested during the winter season. For nature lovers looking to decompress and revel in the sights and sounds of Washington's trails and vistas, winter may well be the perfect time to do it. And, the flora and fauna are very different in Washington's parks, forests, and shorelines during the winter, too – what makes a better selfie than a snowman backed up against an icicle-lined waterfall?
In addition to fewer bugs (yea!), the hibernation and migration patterns of animals in the region changes with the seasons as well, making some otherwise familiar hikes a new experience altogether.
The Washington Trails Association's (WTA) Kindra Ramos reminds explorers that it's very important – not just during winter hikes, but also year-round – to be prepared on the trail. "Hikers should have the Ten Essentials (a topographic map, compass, extra food, extra clothing, fire starters, matches, sun protection, a pocket knife, first-aid kit, and flashlight), call the land manager to check trail conditions before they head out, and not let an itinerary push them further than they should safely go." Kindra loves low-elevation hikes near the river during winter and recommends that hikers check out WTA's trip reports to help select ideal or popular winter hikes. Using the advanced search functions, users can see where people were hiking last December through February, as well as what kind of trail conditions they encountered.
Anna Roth is the content coordinator at WTA and she agrees that the hiking guides on WTA's website are a great tool to help find hikes in the South Sound and beyond. Anna also suggests checking out some of the hikes on the higher level Puget Sound and Islands, as well as the Kitsap Peninsula, and the East side of the Olympic Peninsula. There are a number of scenic hikes listed on the accompanying map, which are color-coded based on their driving distance from the Tacoma area.
Grab your gear, lace up your boots, and get ready to explore some of the South Sound and surrounding region's premier winter hiking destinations.
All photos courtesy of Washington State Parks.